FILMED July 1971
Television has never been hesitant or disinclined when it came to stealing from the movies. I should know. I've been involved in several of those heists. On DR. KILDARE, when I was the assistant to the producer, Buzz Kulik directed a lovely episode, SHINING IMAGE starring Suzanne Pleshette that was a reimagining of Bette Davis' classic weeper, DARK VICTORY. On THE FBI I directed an episode, ORDEAL that was a rip-off of the French film, WAGES OF FEAR. My STAR TREK episode OBSESSION was MOBY DICK in space. PRINTERS DEVIL on TWILIGHT ZONE was just another version of FAUST. I directed a Movie-of-the-Week, DEATH CRUISE that was another version of Agatha Christie's TEN LITTLE INDIANS that had first been filmed as AND THEN THERE WERE NONE. Our version however only killed six little Indians; we would have needed another half hour to get rid of the other four. And then there was the series, NANNY AND THE PROFESSOR, which owed a great debt to MARY POPPINS. All of these shows had one thing in common — they didn't acknowledge their connection to their previous source.
Not so my next THE PARTRIDGE FAMILY. Direct reference was not only made to its source several times in scenes in the show, the title of the episode itself paid homage: THE UNDERGRADUATE.
WHEN MOTHER GETS MARRIED, my first show for THE PARTRIDGE FAMILY, had been a Shirley story as was this one, my seventh and what turned out to be my last. The college we chose for Shirley's return to school was USC, the University of Southern California. That was my first time filming there. Many years later I would spend a great deal of time on the campus on PAPER CHASE, which had USC standing in for Harvard Law School. The location day's work on campus added up to five and a half pages; but not all that was filmed that day ended up in the final cut.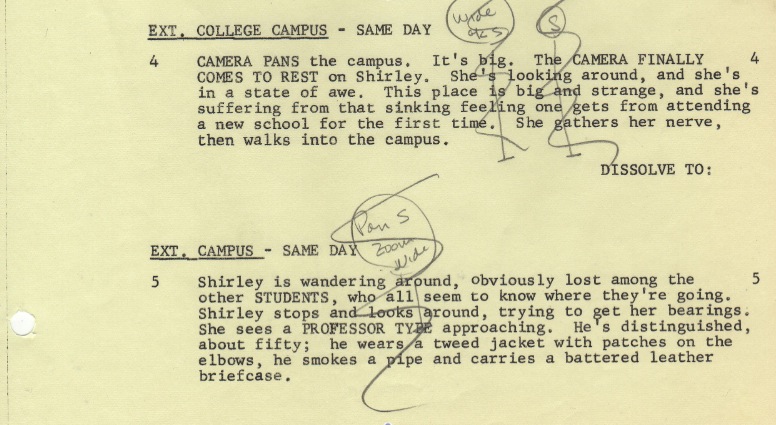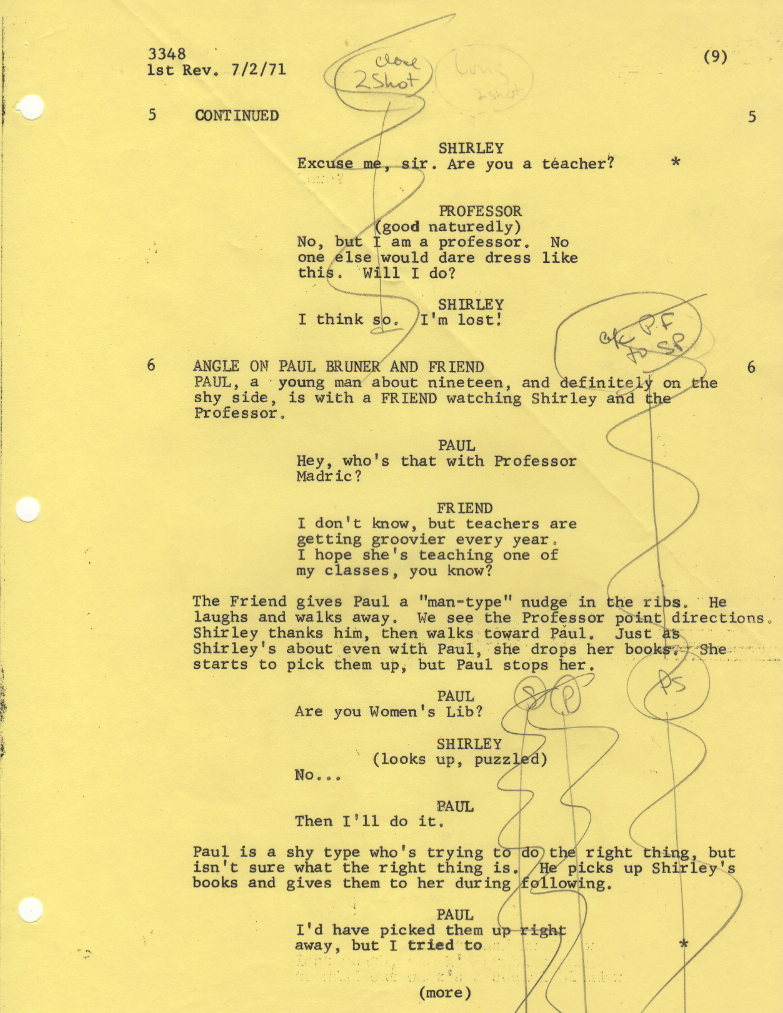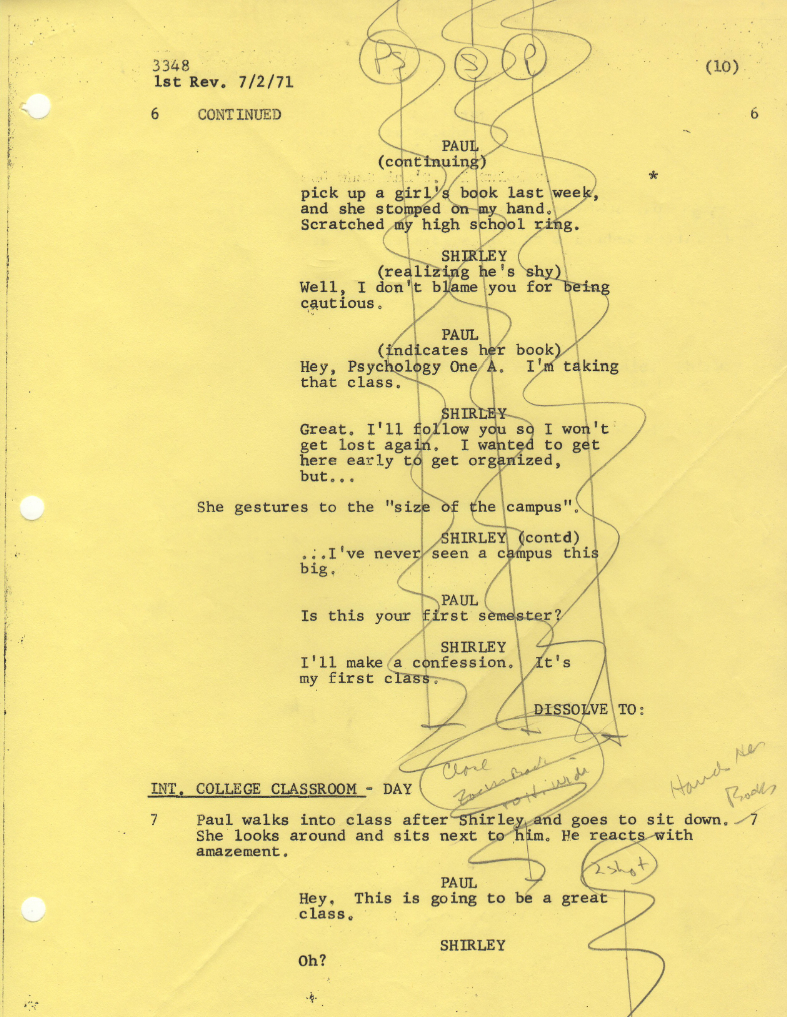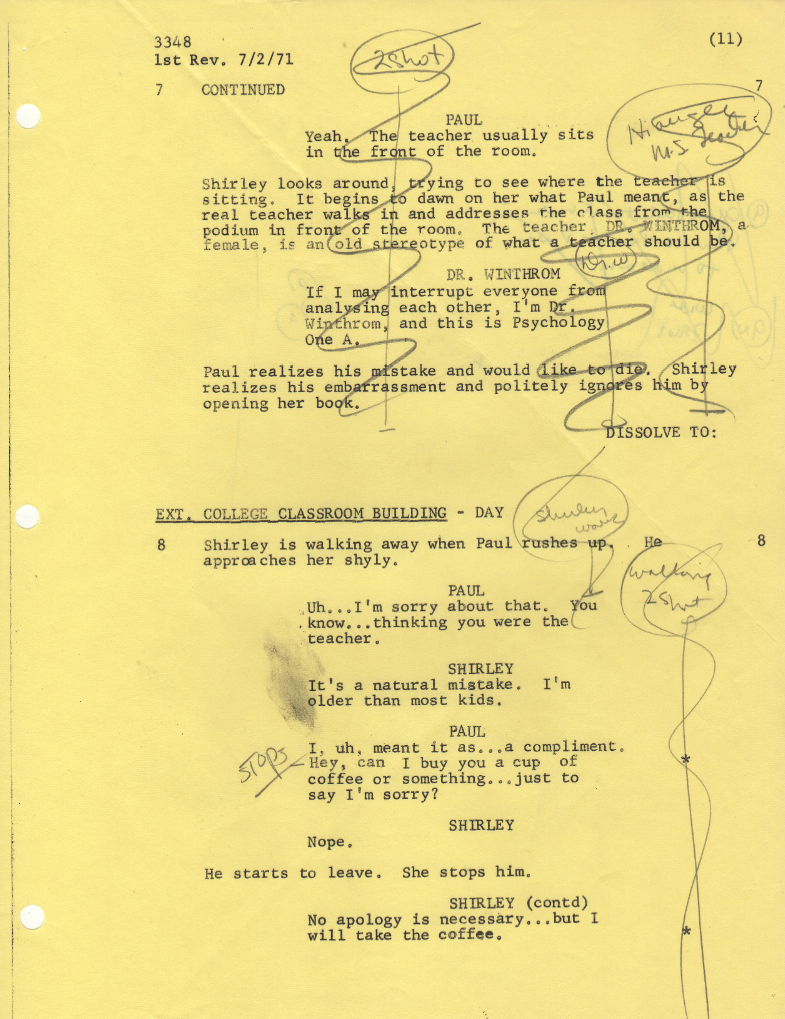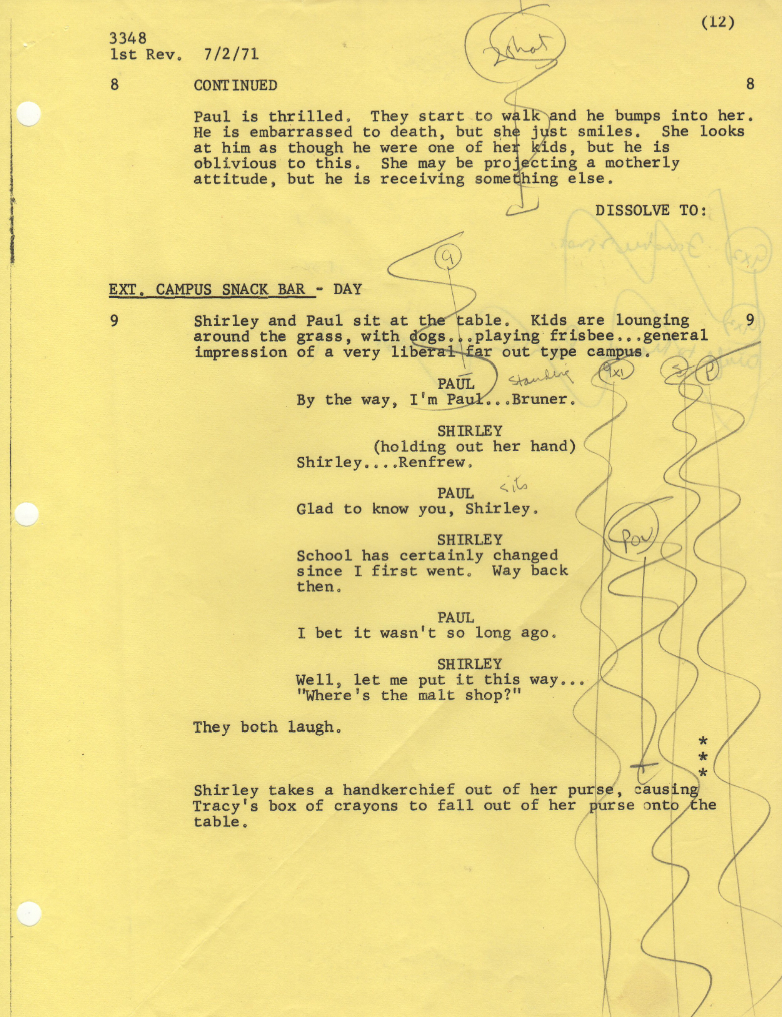 The limitations imposed by the half hour length were most pronounced in this episode. Interesting things happened BEFORE Paul picked up Shirley's books. Gone was Scene 5 of Shirley seeking direction from a college professor, a scene emphasizing Shirley's nervousness at entering this new facet in her life. Gone was the beginning of Scene 6 where Paul and another student admired Shirley, thinking she was a new teacher on campus, a scene showing shy Paul's immediate attraction to Shirley. Gone was Scene 7, an interior classroom that we filmed on campus when Paul embarrassedly realized Shirley was not the new teacher. And gone was Scene 8 where Paul admitted his error and invited Shirley for coffee. So how did we get them from their first confrontation to the coffee shop? In the editing room Paul's vocal invitation in Scene 8 was laid in on a shot across his back at the conclusion of their first meeting.
Mission: Accomplished! Damage to story: Almost Irreparable. It was all very facile but eliminated the detailed moments that were the foundations for their forthcoming relationship. Unlike the movie, THE GRADUATE, where Mrs. Robinson was the pursuer, Shirley was the pursued. But her pursuer was a very inexperienced, innocent and impressionable nineteen-year old.
This was the only time I worked with twenty-four year old Michael Burns who started acting in films when he was eleven years old, but I had been aware of him since 1962 when he had appeared in what I remember as a wonderful series, IT'S A MAN'S WORLD, produced by Peter Tewksbury. It had to be exceptional; it only lasted one season, another example of something too good to succeed.
The sequence where they ran out of gas was filmed at the end of the second day when we were on location at USC. It was filmed day for night, a yes-yes at Columbia Pictures but a no-no at QM Productions.
Playing Paul's parents were Norman Fell and Ann Morgan Guilbert, two fine actors whose fame does not match their talent. I had already worked with Norman. By the time I filmed this episode, my STAR TREK generated exile was over so I was also filming hour length dramas again. Norman was one of the regulars on DAN AUGUST (which I will get to next), but he is is best known for his Mr. Roper in THREE'S COMPANY, a role that won him a Golden Globe. Ann Morgan Guilbert also had an extensive filmography but is remembered fondly by television audiences for her performance as Dick Van Dyke's neighbor on his classic comedy series. Norman had one other distinction owned by no other member of this cast: he had appeared in the big screen THE GRADUATE.
I never worked with Michael Burns again. In fact I never saw him again after we finished his final scene asking Shirley's permission to take Laurie on a date. There are many questions I would like to ask him today. He was so good, why six years later did he leave the acting profession? Was he being limited in the roles in which he was cast because of his perennial youthfulness? Or was his interest in history an overpowering influence? Because that's the road he took. He graduated from the University of California, earned a Ph. D. from Yale University, became a college professor of history and wrote an acclaimed history book, "Dreyfus" about the Dreyfus Affair. Academia's gain was Hollywood's loss.
Upon completion of THE UNDERGRADUATE I stayed on to direct the remaining two shows I was committed to direct of the Bobby Sherman series, GETTING TOGETHER and bumped into a very new situation. I became aware of the presence on the set of a very young lad who was not a member of the crew. I learned he was there as a spy, to check on what I was doing and to report back to the producer. Needless to say I was not happy with that situation. I had a nice conversation with executive producer Bob Claver, who was the one responsible for me working on the show and expressed my desire to end the affiliation. He understood, so I completed the episode I was directing and cancelled the fourth contracted one.
Forty years later I am still a little astounded at the enduring success of THE PARTRIDGE FAMILY. What was it about that show that made it so successful? What was it about that show that still appeals to people all these years later, as proven by its continued airing on cable television and the successful marketing of the series on DVD. I don't have the answer. But I do know that I too am a fan; probably a bigger admirer today than I was back then.
The journey continues