FILMED September 1962
I wrote my post for HASTINGS' FAREWELL on my blog, RALPH'S TREK, 3 months shy of 7 years ago. The subject of the drama: Aphasia. A year and a half later in March, 2011, I updated the material for my website, RALPH'S CINEMA TREK. In a few days I will be doing a telephone interview with a scholar in Canada who is writing a cultural and disability history of THE WALTONS. We will be discussing GRANDMA COMES HOME, the episode I directed in the 6th season when Ellen Corby returned to the series a year after suffering a major stroke. She, like Grandma Walton the character she portrayed, was an aphasiac. That disability will be the main subject in the coming interview. In preparation for the interview I have watched again the two films and reread my posts, and I now realize there was more to be said, especially on the Hastings case. HASTINGS' FAREWELL was the 3rd episode of DR. KILDARE and only the 4th television film I directed. The script, written by Peggy and Lou Shaw, was a powerful story of a man, brain injured in an automobile accident, who was now a complete aphasiac. I had directed some powerful theatre scripts onstage: THE GLASS MENAGERIE, DEATH OF A SALESMAN, THE CRUCIBLE, THE ICEMAN COMETH. HASTINGS was my most challenging film script to date.So pull up a chair and we'll go back 54 years to September, 1962. I suggest you bring some Kleenex.
On my previous post for HASTINGS I commented: We had come a long way since 1939 when David O. Selznick had to get Congressional approval for Clark Gable's Rhett Butler to say, "Frankly my dear, I don't give a damn." Today I would comment we have come a long way since 1962 when "damn" was still considered foul language.
There was a doctor on set for technical guidance when we filmed hospital scenes with doctors and patients.
I never discussed with Harry Guardino what he had done in his preparation to play Hastings. Was I so intent on my own chores (I still was a novice) or was I intimidated by Guardino's star presence? I had seen him perform several years earlier in the national company of A HATFUL OF RAIN. In the role of the drug addict's brother he stole the show. Noted actor Malcolm Atterbury told me he too had seen the show and been very impressed with Guardino's work. Later when Malcolm acted in a television production with Harry, he told him how much he had admired his performance. He said he had wanted to come backstage to compliment him, but since he didn't know him, he felt he might be intruding. Harry's reply — Malcolm would have been very welcome. It seemed everyone felt as Malcolm did, and there were no visitors. I now regret not having that discussion with Harry. I would like to know just how he prepared for his remarkable performance.
Here is the script for the latter part of the previous scene. You can read the words on the page that were the basis for what you saw.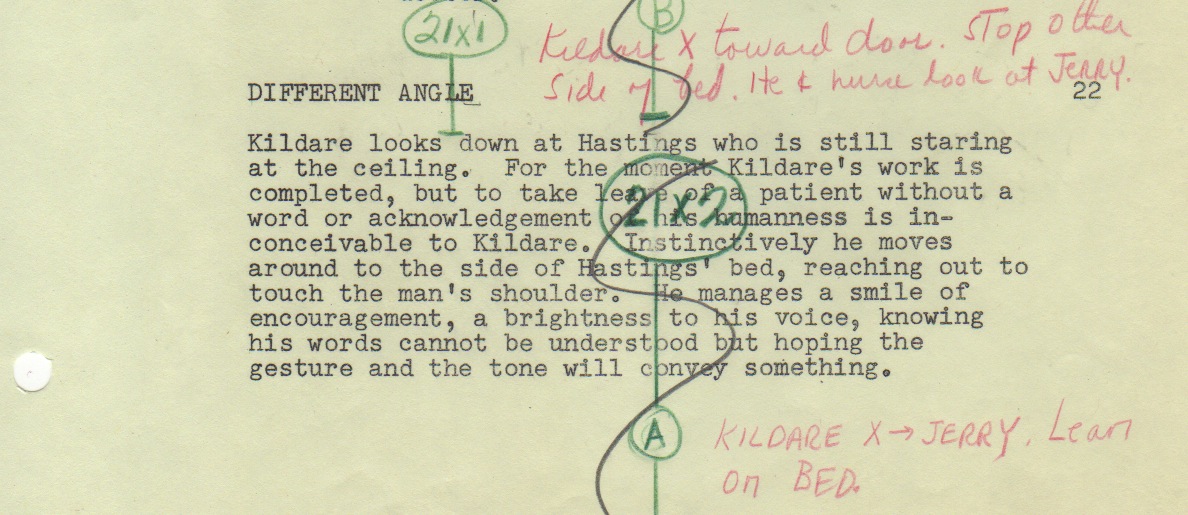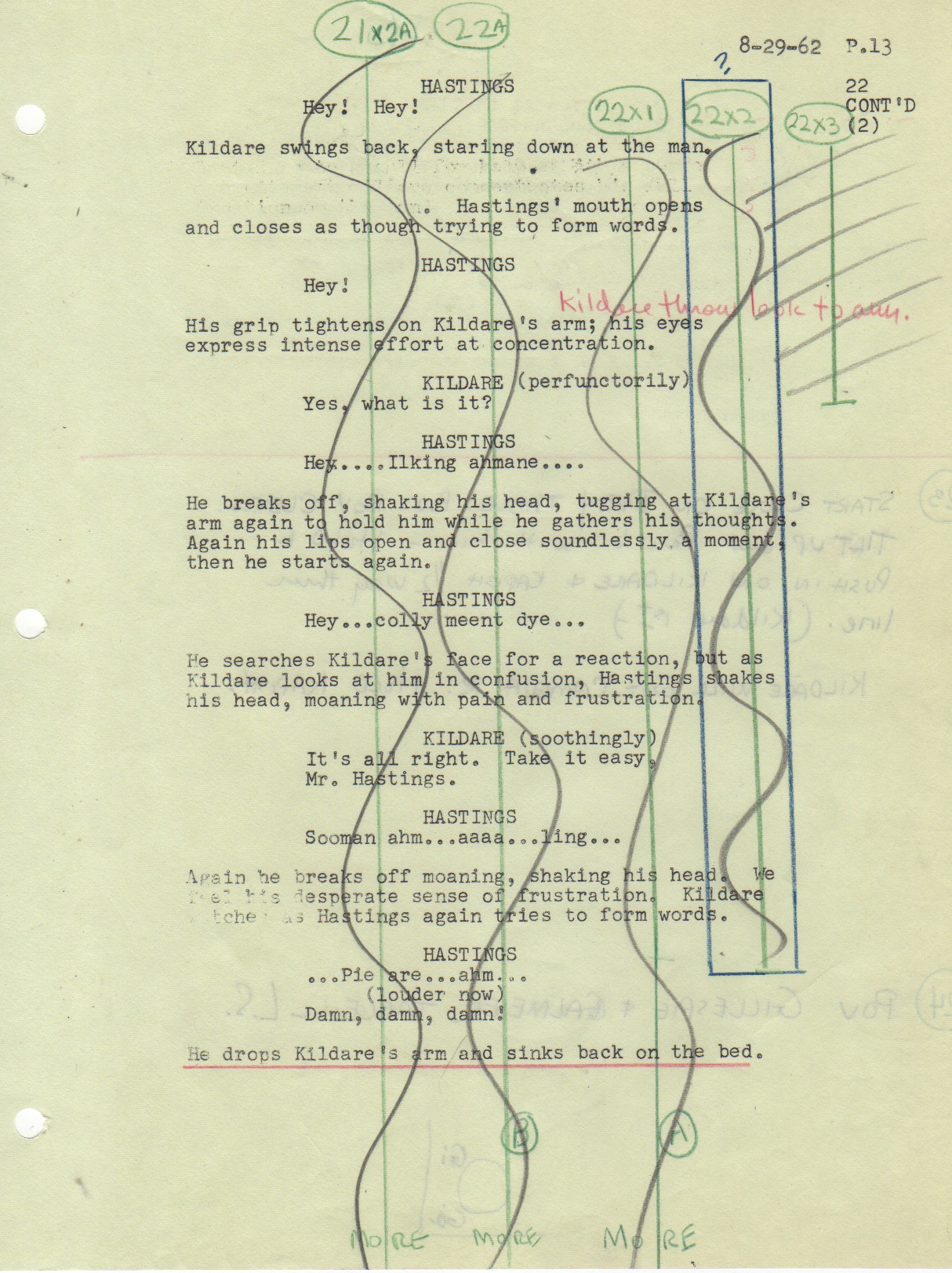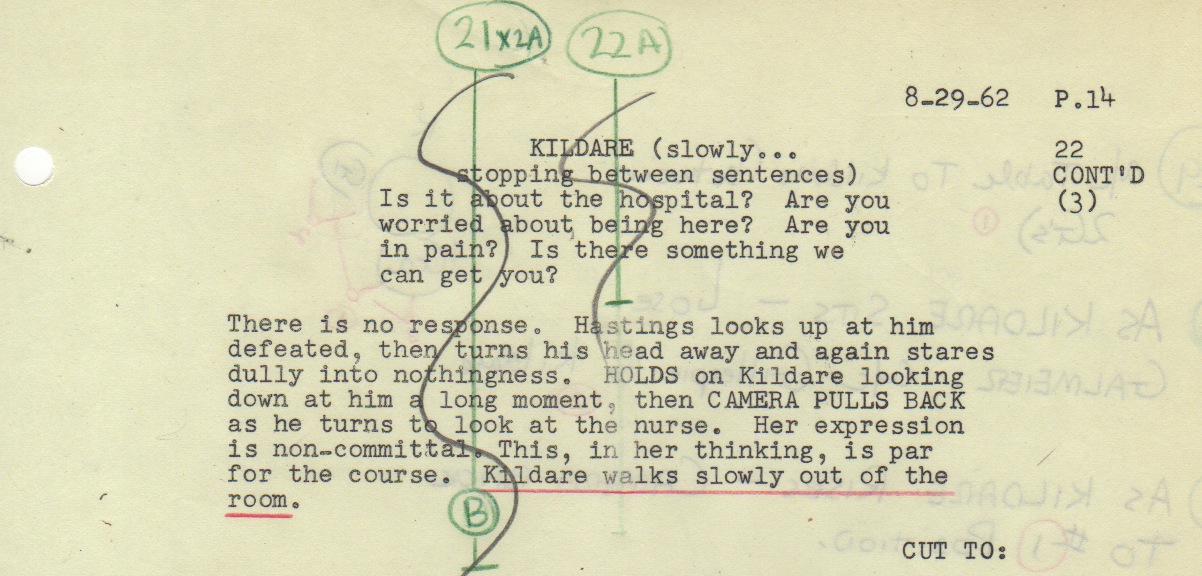 HASTINGS' FAREWELL was the only time I directed Ken Berry (Dr. John Kapish), but I had been aware of his talent for several years. Ken had been a cast member of the BILLY BARNES REVUE at the Cabaret Theatre in Hollywood. He was a sensational dancer. As I remember he danced with a Fred Astaire-like grace. The casts for the Kildare series always included fellow internes. As the assistant to the producer the first season, I viewed the parade of them at the daily rushes. Any young actor who impressed in the role would be summoned back for repeat appearances. Ken made an impression. HASTINGS' FAREWELL was the 14th of his 25 appearances as Dr. Kapish on the series. And as happened to some of the other internes, it provided a springboard. Ken gave up medicine after his internship and joined F TROUP as one of the stars of the series.
I remember that we sometimes facetiously referred to the series as the illness of the week. But it was so much more. The illness was our Hitchcock MacGuffin. It was the motivator for the sequence of events and for the relationships and interactions of our lead characters, it was the driving force for our plot. In the case of HASTINGS' FAREWELL, that plot was about to take a major turn.
Midway through my prep period I was informed Peggy and Lou Shaw, the writers of HASTINGS' FAREWELL, were going down to the Aphasia Unit at the Long Beach Naval Hospital. I immediately hopped aboard. Our visit provided a whole new chapter to our script.
The patients in the scene were all actors, not an aphasiac in the group. I was impressed with the work of Mike and Mr. Baker. Art imitates life, but interestingly art many times informs life. One of the friends I made when I moved to Carmel was a former speech therapist at UCLA. Another was a recovered aphasiac. He could speak, though at times haltingly, but I was interested that he, like Mr. Baker, used the one-two-three method when he was searching for a number.
The Shaws went home and wrote the sequence you just viewed and brought it to the studio the next day. I wrote in my previous HASTINGS' post about casting the role of the speech therapist. I think that information is worth repeating:
On my return to the studio I consulted with my casting director, Jane Murray, and told her I wanted to cast our speech therapist just like the one I had met. I described her to Jane. She was a sweet white-haired lady, more like a fraternity housemother. Jane loved the idea and brought three or four character actresses in to meet us. I liked one because she looked so much like the therapist we had met at the hospital. Jane favored one of the others, Betty Bronson, a very pretty lady who looked like a Pasadena matron, which I think she was. But her credentials were intriguing. She had played Peter Pan in the 1924 silent film.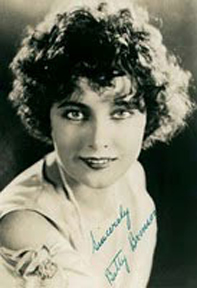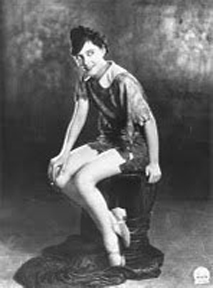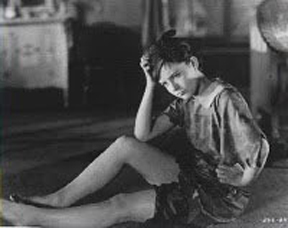 I couldn't resist. Peter Pan won.

I have great respect for life's caregivers – not only the professional ones, more importantly the family members, the ones caring for a spouse, a parent, a friend. I saw it in my own family. Being a caregiver was a totally consuming, overwhelming task. Acting a caregiver was easily as difficult, especially one like Mrs. Hastings, a very strong, complex, sensitive woman with competing love and responsibilities to both husband and children.
HASTINGS' FAREWELL was the first time I left the studio to film on location. We went to a residence with a swimming pool close to MGM in Culver City. Since we didn't need sound, we took a skeleton crew and filmed with the smaller Arriflex camera. What I didn't know at the time was that 4½ months later I would be filming away from a studio again, but the next time would be in Corpus Christi, Texas.
The first three DR. KILDAREs I directed, Kildare was an interne. Since as an interne he rotated from service to service, there was a vast range in subject matter for writers of the series and great potential for Kildare's growth as a doctor. Kildare's voluntarily going to the Aphasia Clinic on his day off provided an important insight into his character, a trait shared by Richard Chamberlain. I knew that Richard was a member of several classes: acting, scene study, singing, dancing. As I understood, there was a class each evening. Because of his work schedule, he was not able to attend all of them, but whenever possible, when time and his work load allowed, Richard left the set and spent the evening in a class. There was a reason why his career did not end with the final episode of DR. KILDARE.
HASTINGS' FAREWELL was filmed in 6 days – no overtime.
That was where I felt the show should end, but networks didn't like to leave their audiences feeling sad, even if they were uplifted by what they had seen. Happy audiences were more responsive to commercial messages.
The first half of the 1960's was a golden time. Television was still in its infancy. The ardor of live television shows like PHILCO TELEVISION PLAYHOUSE, STUDIO ONE, KRAFT TELEVISION THEATRE, ROBERT MONTGOMERY PRESENTS and of course PLAYHOUSE 90 was taking root in film. There were many shows like DR. KILDARE presenting meaningful drama, dramas that affected audiences. Here is a COMMENT left on my original post for HASTINGS' FAREWELL:
Thank you so much for this! I dug out my old diary from 1962, and here was what I wrote about that show on Nov. 1 (I was a teenager):
I watched 'Kildare' – it was the best show I've ever seen in my life! It was about a man with aphasia, or brain damage, whose wife wanted him committed. When he tried to speak, it was all mixed-up and backwards-jumbled, but he thought that of normal language, and what he was saying, he considered right. Finally, Dr. Kildare visits a clinic, and teaches the man one word, 'wife.' It was so touching that I cried.
That was written by a teenager at the time! Isn't it too bad our teenagers today aren't being exposed to programming like that!
The journey continues