FILMED April-November 1980
I returned home from the Newhall Airport with my head buzzing. Producer Phil Parslow had told me that George Peppard had been fired; that the Shapiro's had gone to the executives of ABC with the announcement that it was him or them – that they found it impossible to continue working with him. But that was all the information I was given. Would production on the movie/pilot continue? Was the proposed series still on ABC's future calendar? Should I report to the studio the next morning? And then the telephone rang. It was a reporter inquiring about the Peppard firing. The phone call was very brief. I offered no more information than to confirm the firing, but that raised another question — how did he find out so soon? As I remember, it was the tabloid, CONFIDENTIAL, that carried the explosive story in their next issue, and again as I remember, it was on the front page and it was not brief. According to them I had been very informative in providing them with the lurid details of George's departure, all of course made up by them in the sanctity of their editorial newsroom.
I reported to the studio the next morning and learned production on the movie would continue. The role of Blake Carrington would be recast, and my immediate task was to work with John Woodcock, the film's editor, on the twenty-one days of film we had in the can. I don't think it was too long before I learned John Forsythe was signed to replace George Peppard as the head of the Carrington Oil Empire. I had never worked with John, but I had been very aware of him as a performer since seeing him thirty years earlier in Chicago when he played MR. ROBERTS in the national company that toured the country. One of the intriguing things I remember about that performance was that John sounded exactly like Henry Fonda, who had originated the role in the Broadway production.
John Woodcock was a veteran Hollywood film editor, whose credits ranged back to the mid-1950's, when he edited the Eve Arden series, OUR MISS BROOKS. He had been assembling OIL footage while we were filming, so it was not too long before my director's cut was ready for the producers to view. And that raised a problem – or a question. With three days of our original script of OIL yet to film, the running time for what had been assembled was 2 ½ hours – already a half-hour long. Obviously some major cutting would be needed. But since the project was scheduled to become a series, and since the Shapiro's were well aware of how much material a series consumed, why cut valuable material already written? Better to add scenes and tell the current story in three hours. And that was what the Shapiro's did. The script of OIL was extended into a three-hour movie. You might think that by doing that, the script was being padded and weakened. My feeling later when I saw the revised version was that the script had been enriched.
We had wrapped the original filming with George Peppard on May 8. It took the balance of the month of May and all of the month of June for the above to be completed. Also during that time arrangements were made to return to Filoli to film the scenes involving our new Blake Carrington. I received the revised and extended script on July 11 and went to work on my director's script – one that turned out to be the most unusual one in my entire career. There were pages showing scenes ALREADY SHOT preceded and followed by scenes that were designated as STOCK …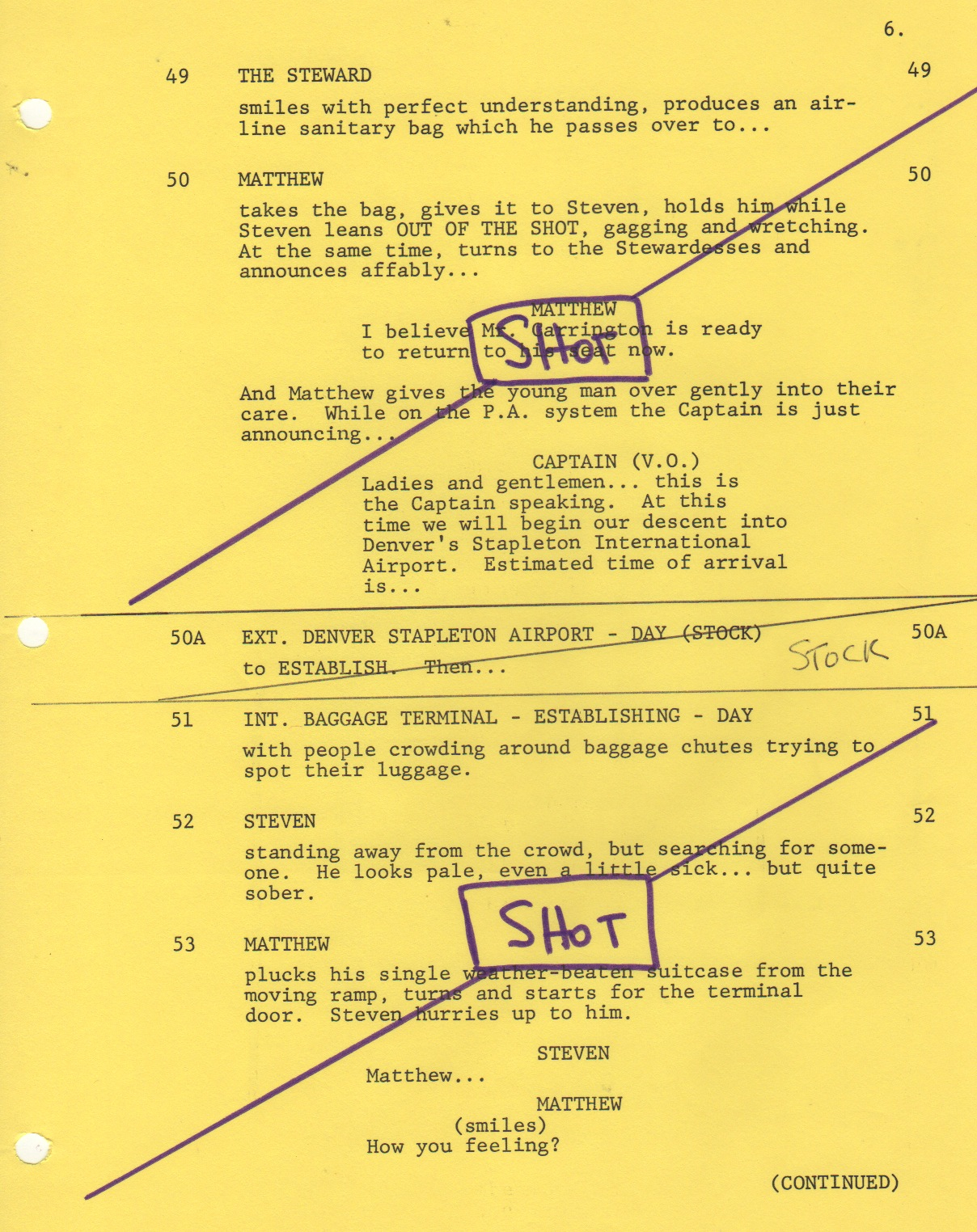 … and pages showing scenes ALREADY SHOT followed by scenes TO BE SHOT by a 2nd UNIT…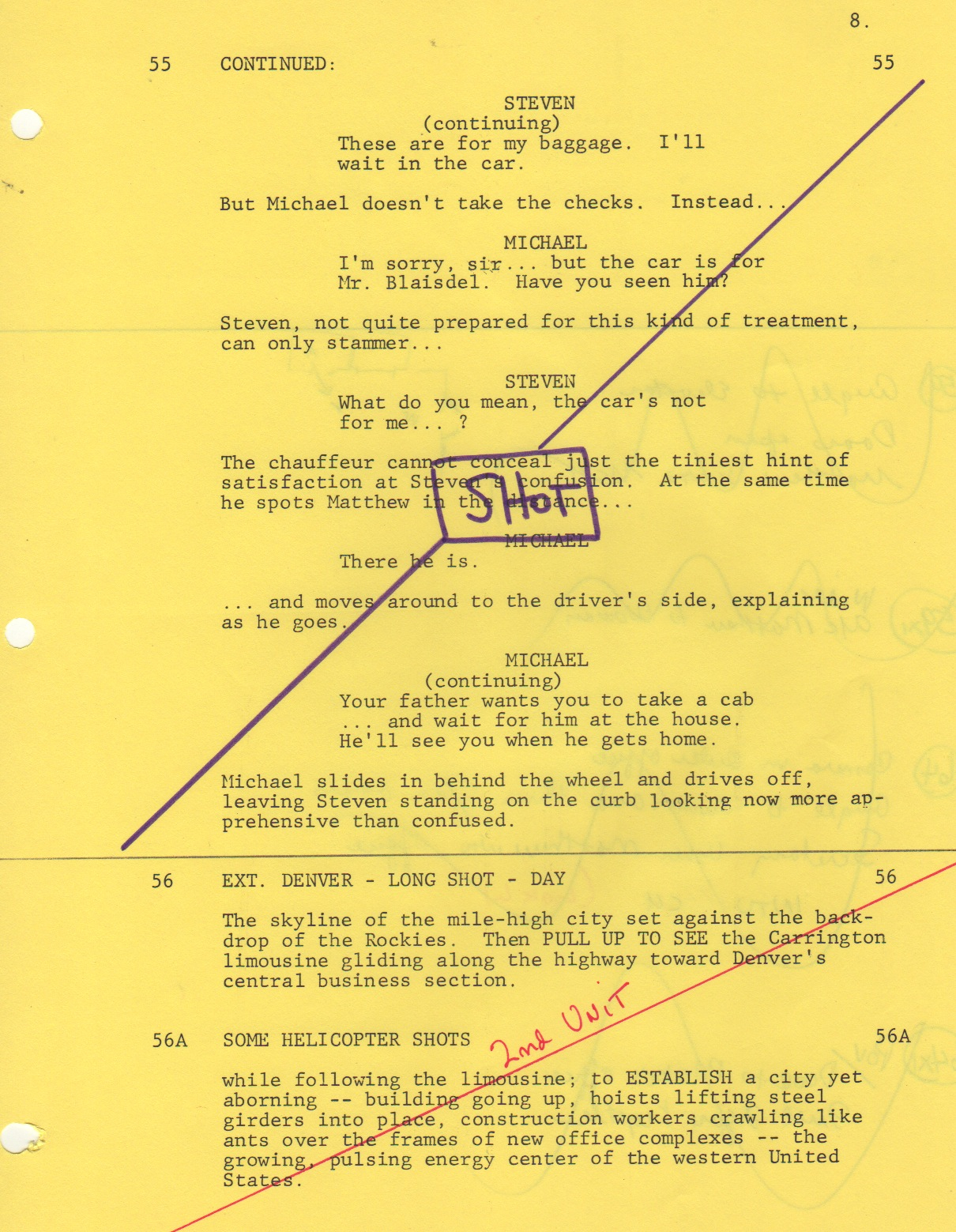 …and pages and pages and pages of many new scenes TO BE SHOT for the first time …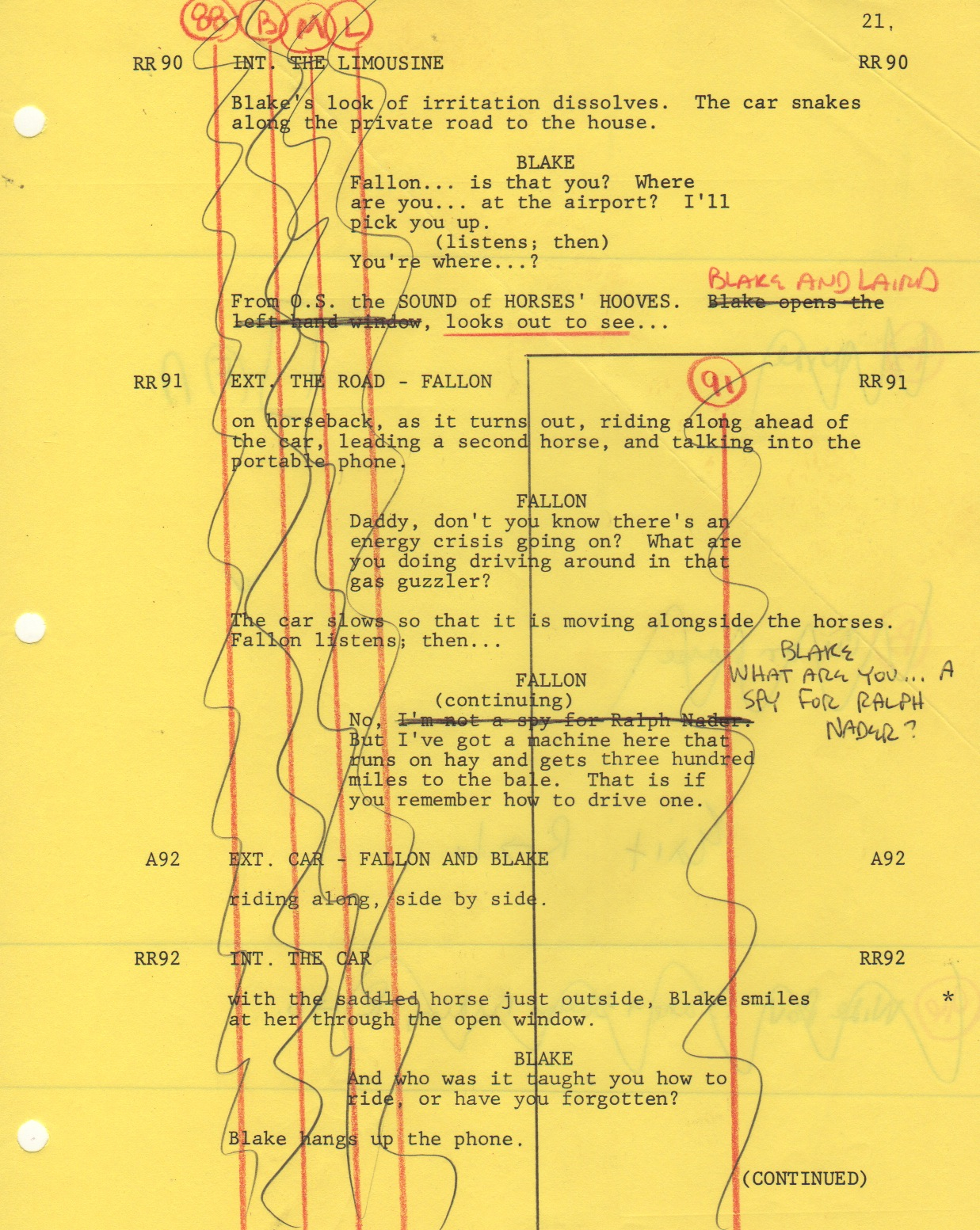 … and a page with a scene involving Blake (Scene R124) with his two children to be SHOT…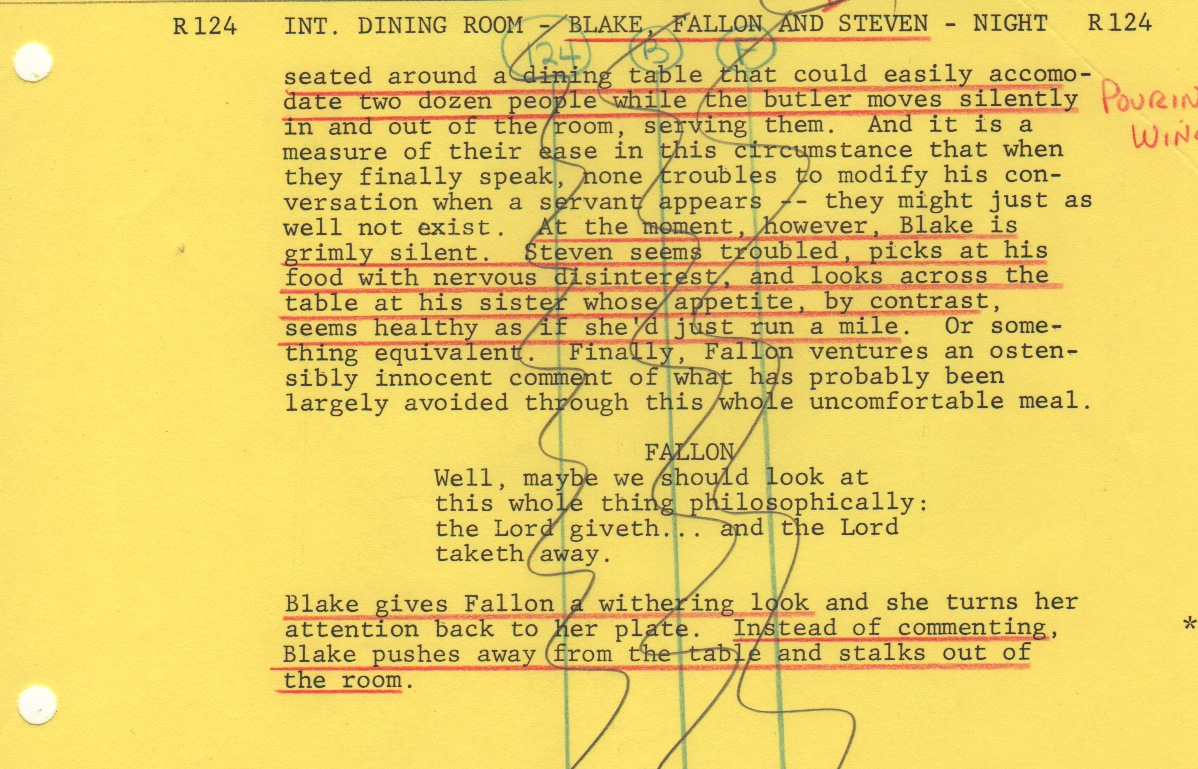 … followed by a continuation of the scene after he leaves that was ALREADY SHOT …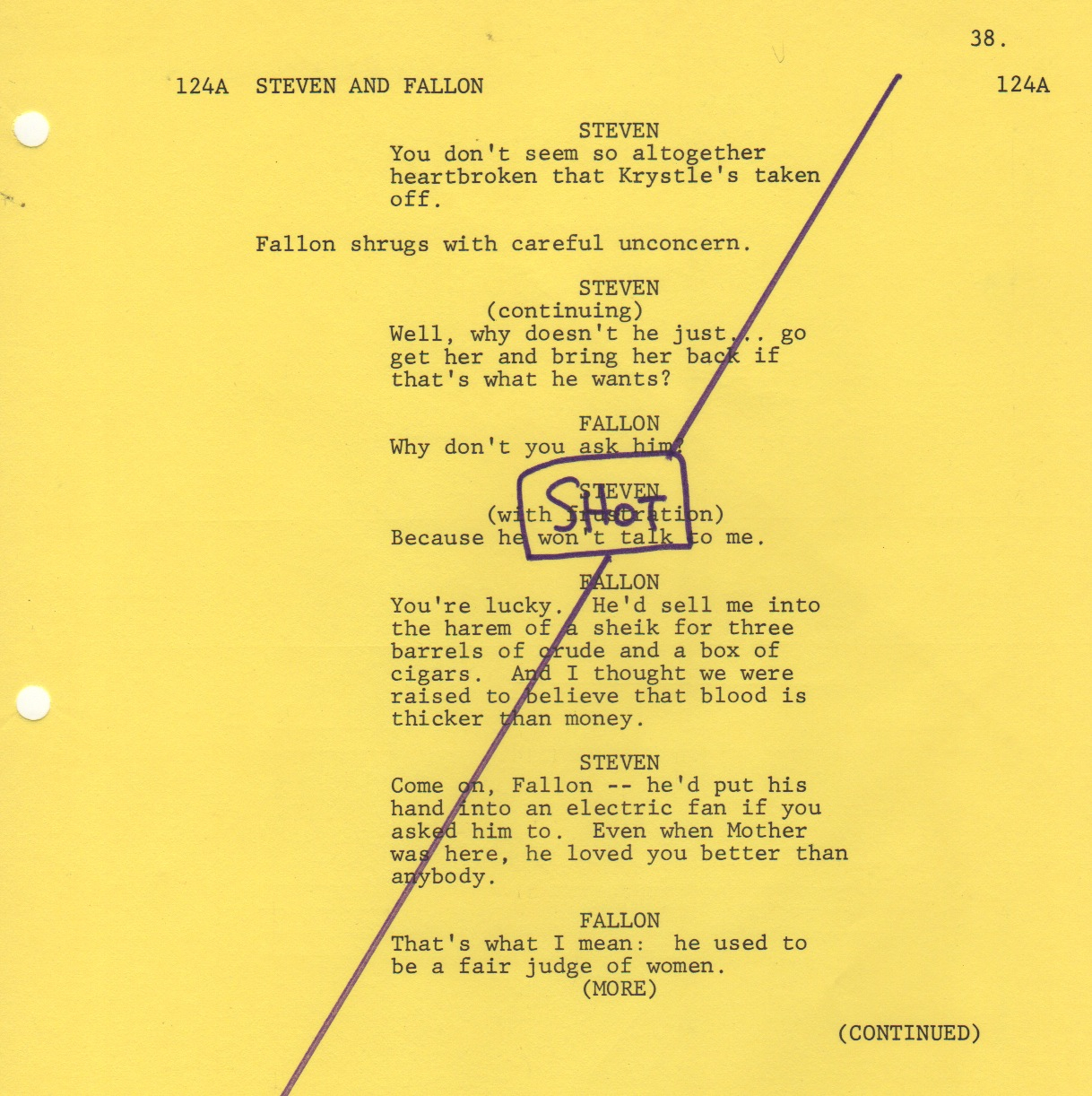 … and the fourth page of a four-page scene between Fallon and Jeff ALREADY SHOT …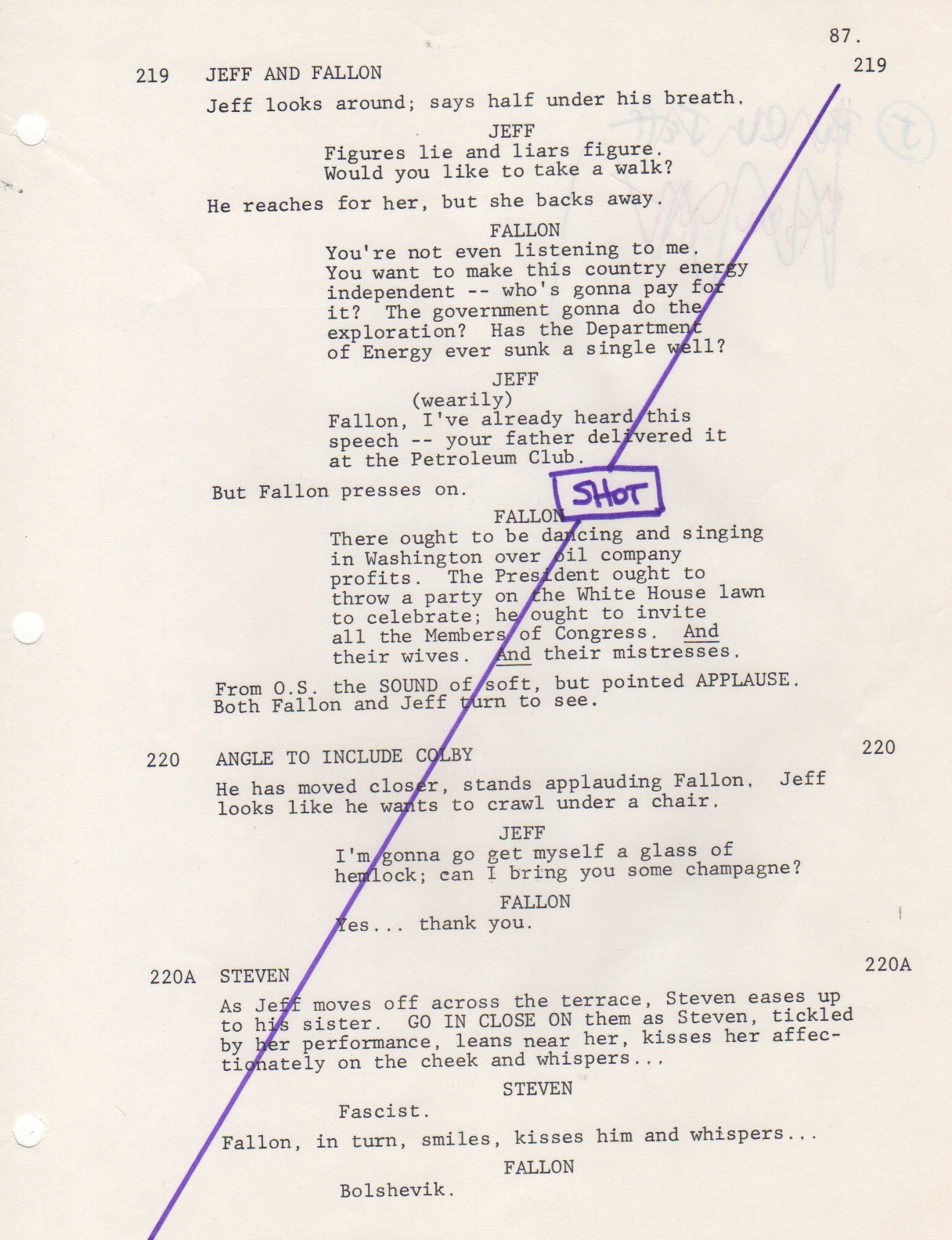 … that was rewritten to give Jeff something stronger to say, necessitating a close-up of him for that one speech TO BE SHOT…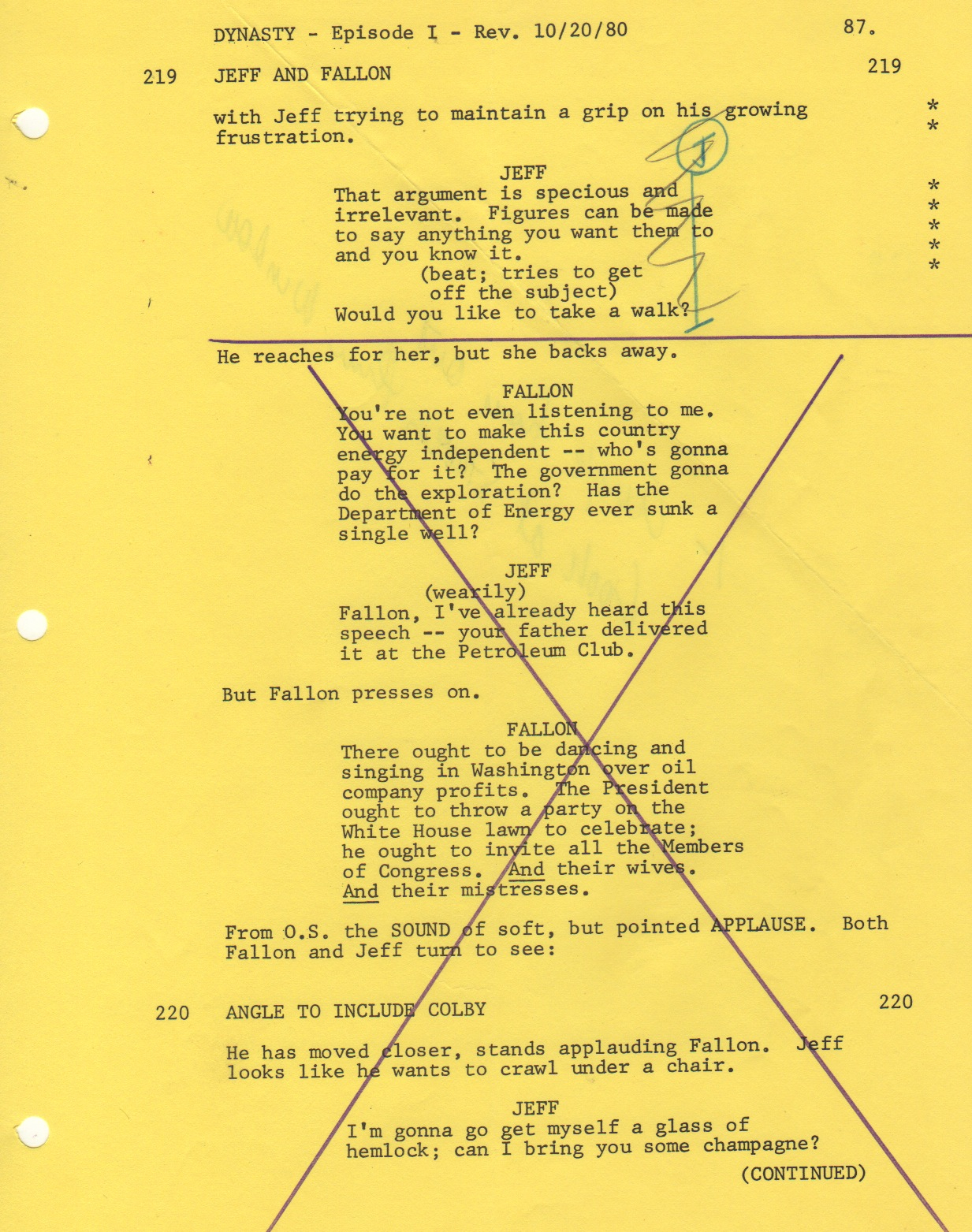 Get the picture? There were a lot of pages like those– over 200 of them.
By the middle of July everything was in place. We were ready and scheduled to head north to Filoli to continue production, when on July 21 the two sister actor unions – SAG (Screen Actors Guild) and AFTRA (American Federation of Television and Radio Artists) went on strike. Film production throughout Hollywood closed down. Pickets surrounded the movie studios. We wished and hoped the strike would end soon, but wishes and hopes don't affect union-producer negotiations. The strike lasted two days over three months.
Now you're probably thinking, "What was his problem? Wasn't he drawing a paycheck during that time?" No, he wasn't. I was paid a flat fee to direct a two-hour movie/pilot. I might add the amount of that fee was miniscule compared to the Hollywood salaries being paid today. No, it was back to the unemployment line on Santa Monica Boulevard.
But that time was not completely wasted. I did not know then, but learned later that Esther Shapiro had a campaign going. She wanted to air the complete DYNASTY we had filmed (the name replacing OIL as the new name of the movie and ensuing series) as a three-hour pilot. Her vision had always been that the film was the story of the wedding-of-the-century. The network balked. They said there had never been a three-hour pilot. By her own admission, Esther called Tony Thomopolous, head of prime-time programming at ABC, three times a day over a period of six weeks to try to convince him. Esther is a very persuasive lady. She won her point. When the pilot of DYNASTY aired, it would be the entire three hours. The strike was settled on October 23. We were ready. We headed north to Filoli with our new Blake Carrington, and filming resumed on the Filoli estate on October 25.
To be continued