FILMED February 1966
And so we have completed the first leg of our journey and have arrived back at STAR TREK where this journal began. But before we continue on to my endeavors after STAR TREK, there are some skipped-over episodes to explore. As I have stated, except for the six months I was exclusive to THE FBI, my normal trek was moving from studio to studio, from show to show. So let's rewind to early 1966, to when I had just completed THE PLUNDERERS, my second THE FBI.
Yes indeed, filmed television in the 1960's sometimes made for strange bedfellows — how else to explain my being booked to direct an episode of THE WILD WILD WEST. My resume at the time was loaded with films about neurotic, suffering people bearing baggages of angst. I had been tagged in a great many circles as being a "sensitive" director. Let me explain that in Hollywood that was not a compliment. And the wild west script I was handed was for a film that Robert Conrad in his commentary on the released DVD album for the first season states, "This is definitely one of the more bizarre episodes of THE WILD WILD WEST … so get ready for THE NIGHT OF THE DRUID'S BLOOD."
Professor Robey was played by Don Beddoe. I did not realize at the time the extent of his filmography. That was the benefit of having experienced casting directors. Don was a true Hollywood veteran. He had been in films for almost thirty years and was a member of that vast army of talented performers I have spoken of who never achieved stardom, but whose faces were recognizable because of the frequency of their screen appearances. With the advent of television he would continue to perform for almost two more decades. He died in 1991, just a half a year shy of his one hundredth birthday.
In contrast Sam Wade as Robert, the young student, was making his first appearance on screen. According to the Internet Movie Data Base Sam appeared in two more television shows and then disappeared from the profession.
Simon Scott was part of the new breed of Hollywood hopefuls, never a star but a formidable presence for many years on television and cinema theatre screens. I had known Danny (his real name was Danny Simon) since 1955 when I did the lighting for a production of Maxwell Anderson's SATURDAY'S CHILDREN at the Players Ring Theatre in Hollywood. Danny starred in that production.
The first day of filming went smoothly — almost ten pages completed and we were right on schedule. But the excitement and fun began halfway through the second day with the arrival of Don Rickles to play Asmodeus, our satanic magician. Don was a fanatically conscientious actor, deadly serious about his craft. But that was only during rehearsals and filming. Rickles between shots was the funnyman in charge. Between takes those final four and a half days seemed more like a Las Vegas showroom than a film set. Don was always on. With his incredibly sharp wit and acute skills of observation no one was safe. Robert Conrad was not the tallest creature on the planet, but according to Rickles, even with lifts in the shoes he wore, he barely reached the height of Billy Barty. Rickles was merciless, but funny. Everyone on the set was his potential next victim. Well that was almost everyone. For some reason Don never targeted me. I wonder if it was because he realized which side of the bread his close-ups were buttered on.
This was my introduction to the great Rhys Williams, our Dr, Tristam. A few months later he would guest star in THE ASSASSIN, the best of the sixteen THE FBI's I directed. The following year he would guest star for me in the Emmy award winning THE TRAIN on MISSION IMPOSSIBLE. Rhys, who had been a Hollywood fixture since his film debut in John Ford's Oscar winning HOW GREEN WAS MY VALLEY in 1941, was afflicted with crippling arthritis.
THE NIGHT OF THE DRUID'S BLOOD was a mini-reunion for me with director of photography, Ted Voigtlander. Four years previously Ted had filled in for Harkey Smith for three days on HASTINGS' FAREWELL on DR. KILDARE. Ted was another cameraman who had previously been a camera operator (at MGM) and with the advent of television had become a distinguished director of photography and eventually the possessor of sixteen Emmy nominations and four Emmy statues.
The ten pages of exteriors that were filmed the first day on the CBS Studio Center backlot in Studio City were all night sequences, but filmed day for night, something that had been a no-no for Quinn Martin.
This was my introduction to the great Gene Coon, producer of the series, and writer extraordinaire, who would a year later fill those same positions on STAR TREK. It was on this series that Gene told me that because of the uniqueness of the series, he rewrote most of the scripts; that he used the writer's first draft submission as a frame for him to build on as he did the rewrite. There was a four and an eighth page sequence that was an illustration of the fine detailed descriptive writing that came out of his typewriter.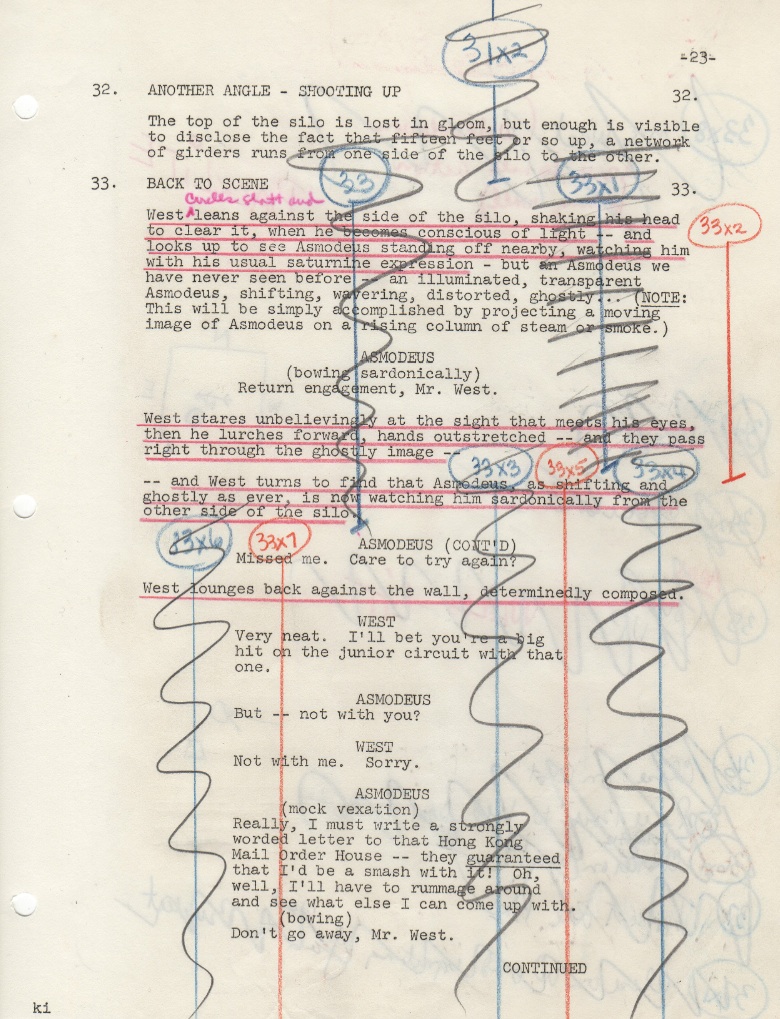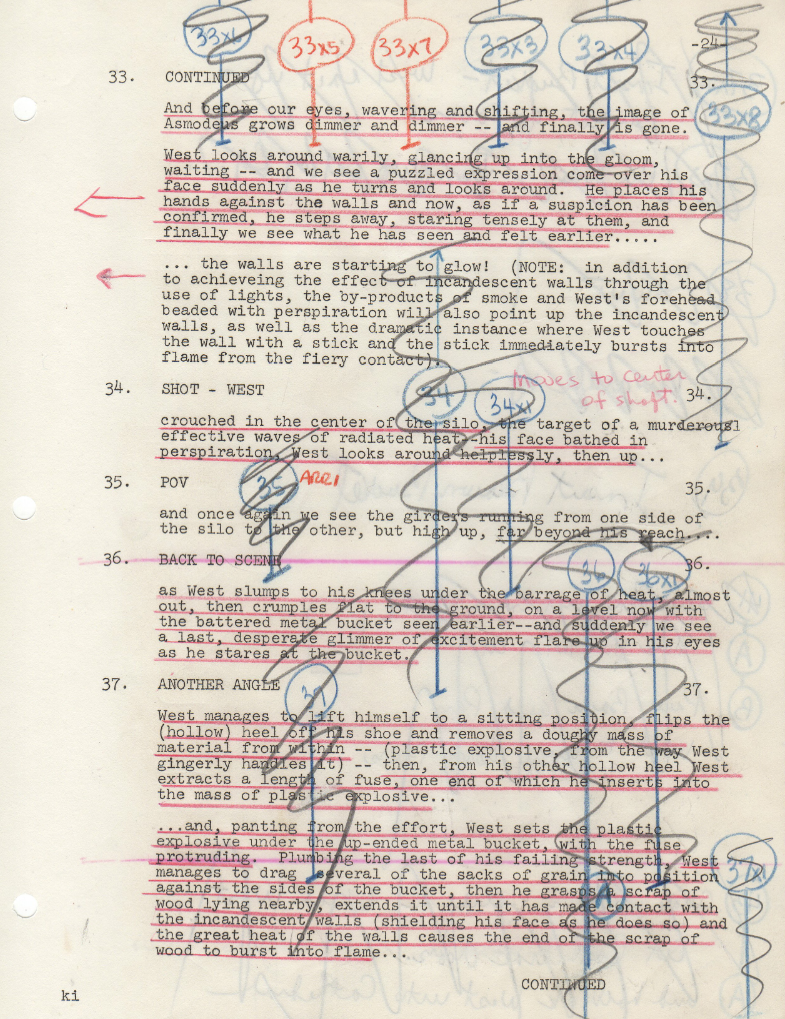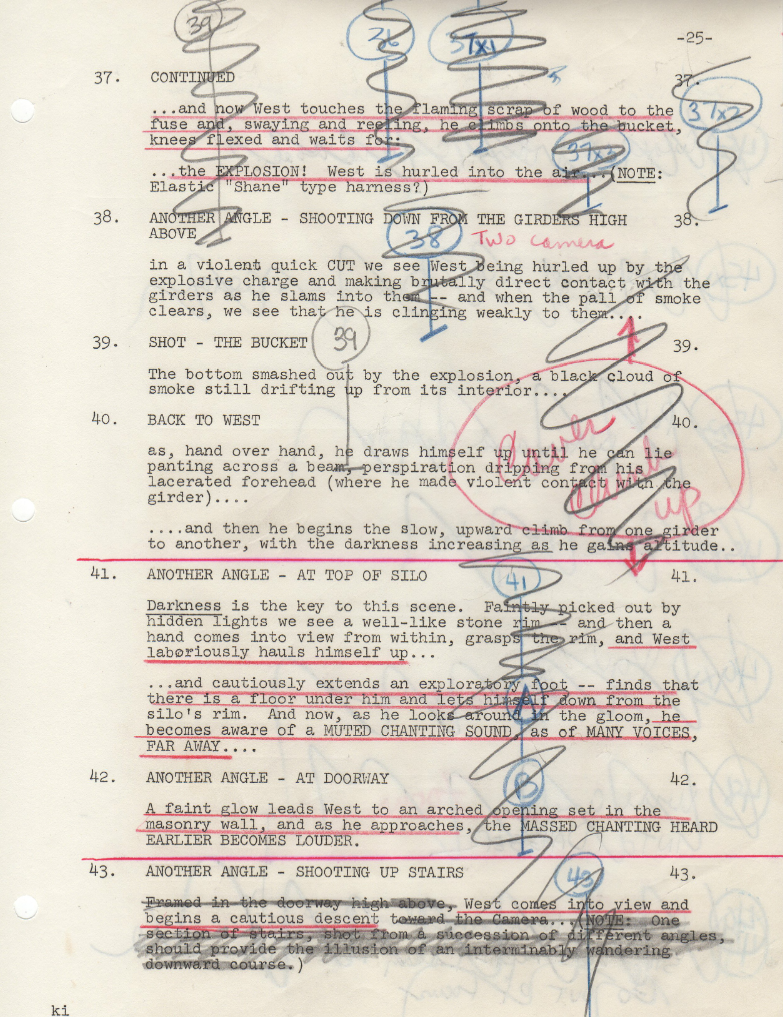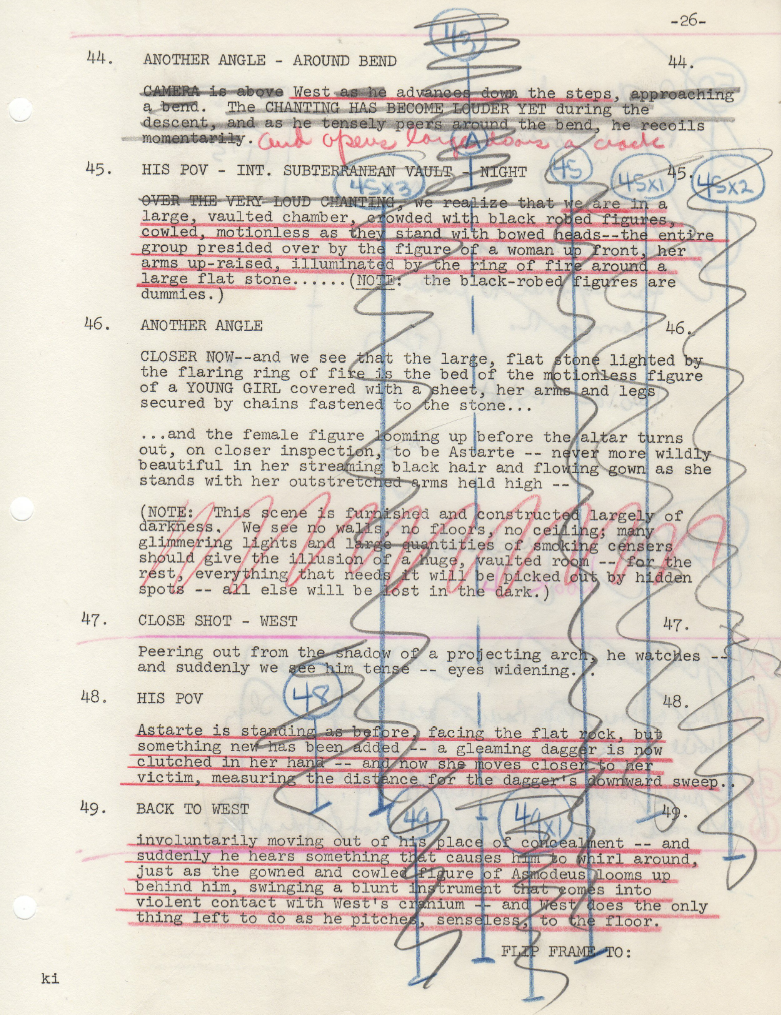 Gene's writing was remarkably clear and illuminating. A director seldom expected more and rarely received as much.
I remember that Michael Garrison was very impressed and vocal in his appreciation for the silo sequence. He kept saying, "That long sequence and with no dialogue."
Conrad did all of his own stunt work. However he did not make that high leap from the pail to the girder overhead. We filmed him hanging from the girder and then dropping. In the editing room the film was reversed.
And I must point out the enormous contribution to this sequence by the fine photography of Teddy Voigtlander and the art direction of Albert Heschong. Al was another reunion for me; he had been one of the alternating art directors those many years before on PLAYHOUSE 90. Al really had his work cut out for him on this series. Unlike most series, there was only one standing set, the train that was home for James West and Artemus. It was not a large set but it was beautifully designed and provided fine opportunities for staging.
I would hate to count the number of real graveyards I filmed in during my career. The graveyard for this show was designed by Al Heschong and built on Stage 12 at CBS Studio Center. This studio incidentally was the old Republic Studio, where John Wayne (before he became a superstar) was under contract in the thirties and where Vera Hruba Ralston tried to duplicate on ice the stardom achieved by Olympic champion Sonja Henie at Twentieth Century Fox. She didn't!
THE WILD WILD WEST was similar to THE FUGITIVE. Although it was a weekly series, its production requirements were more like those of an anthology with the only standing set being the interior of the train. That provided a formidable challenge for art director Al Heschong. Each week he was faced with the problem of providing a wide array of new sets and because of the nature of the show, most of them were large, usually opulent and as in the case of this show, some of them were weird.
Bob Conrad did all of his own stunt work in that sequence, in fact in all sequences. But we had a stunt double for Don Rickles. Don did do the closer angle shots and I remember that he was not as adept physically as he was mentally. I especially remember the angle where he climbed into the chest and closed the lid. That bit of business took take after take and it was almost as funny to see the bad takes as to hear some of his insulting dialogue. But we finally got it.
I have viewed many episodes of the first season and most of them were wild wild WESTERNS. THE NIGHT OF THE DRUID'S BLOOD was definitely NOT a western; it was more the sixties' James Bond meets the thirties' mad scientist.
THE NIGHT OF THE DRUID'S BLOOD was the last black and white film I would direct. My second THE WILD WILD WEST was in color. And if you thought our scientist this time was far out, wait till you see what's in store for you. It'll be Ida Lupino playing a scientist who was almost a reincarnation of Dr. Frankenstein. That's next!
The journey continues