FILMED January 1973
As I wended my way back into hour-long shows after the debacle of THE THOLIAN WEB, my major employment was in shows of crime, and I think that was because crime shows had become the programs of choice at the networks. It eventually reached the time when if the networks had a major star in a retiring series, they returned him to the airwaves as a crime solver: David Janssen in HARRY O, James Garner in THE ROCKFORD FILES, Andy Griffith in MATLOCK, Dick Van Dyke in DIAGNOSIS MURDER; and some of them even as detectives of advanced years in age. Possibly the earliest (and oldest) of these returnees was Buddy Ebsen as BARNABY JONES.
BARNABY JONES was a midseason replacement, first air date January 28, 1973. THE MURDERING CLASS was the fourth show to air during that first short season. The series was an immediate success and remained on CBS for seven more seasons, making it I think the second longest running series for QM Productions, surpassed only by THE FBI which ran nine seasons. An interesting side note: John Carter, who played George, the murdered man just rolled down the hillside, returned at the beginning of the second season as a new character, Police Lt. John Biddle, and appeared in ninety-four more episodes of the series.
Our first day of location filming was at the Odd Fellows Cemetery in East Los Angeles. The screenplay writer had provided just a few lines for the Chaplain's service. Anticipating that I would need more words, Executive Story Consultant Robert Blees sent me an inter-office memo …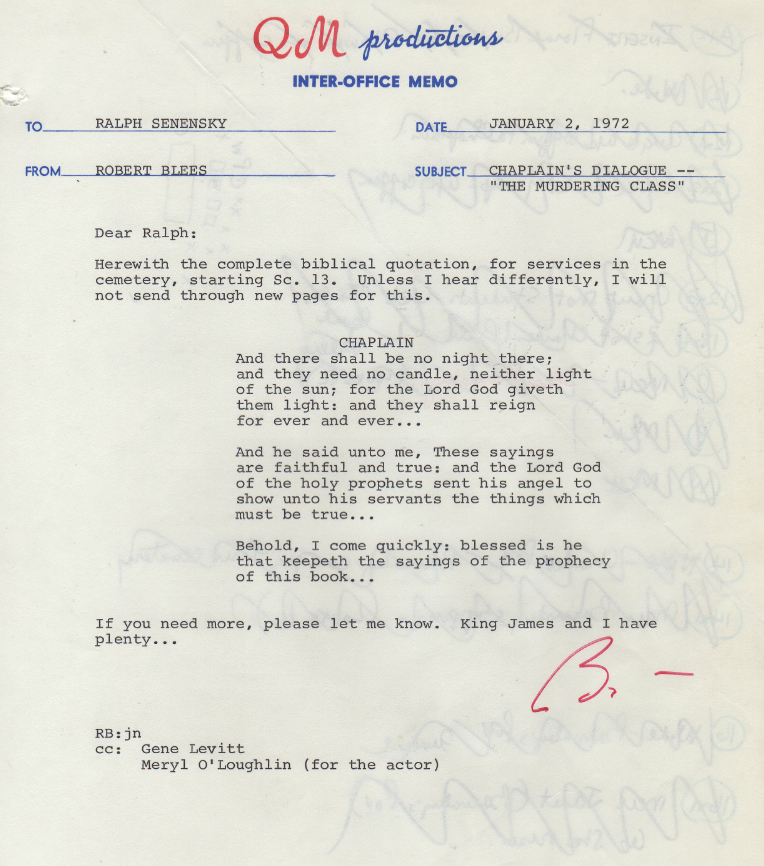 …which was fortuitous; I did indeed need more words for the Chaplain, who was played by John Graham, an actor who had appeared in my 1960 Equity Library Theatre production of MORNING'S AT SEVEN, the production that propelled me into film directing. You can read about that in my post of JOHNNY TEMPLE on DR. KILDARE.
People today are usually amazed that these productions were filmed in six or seven days. What they don't realize is that even more was filmed than they have viewed. There were two scenes that occurred after the cemetery sequence that were filmed, but because of the time restriction had to be eliminated in the final editing.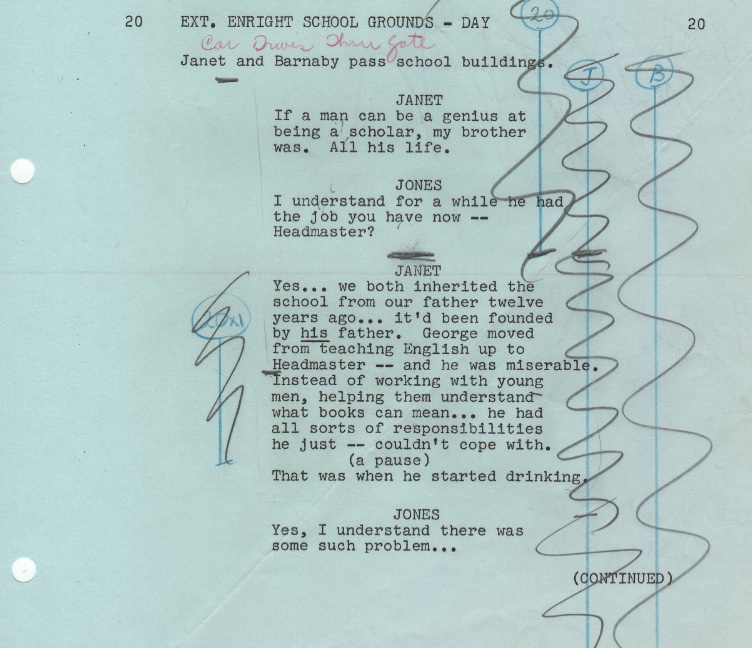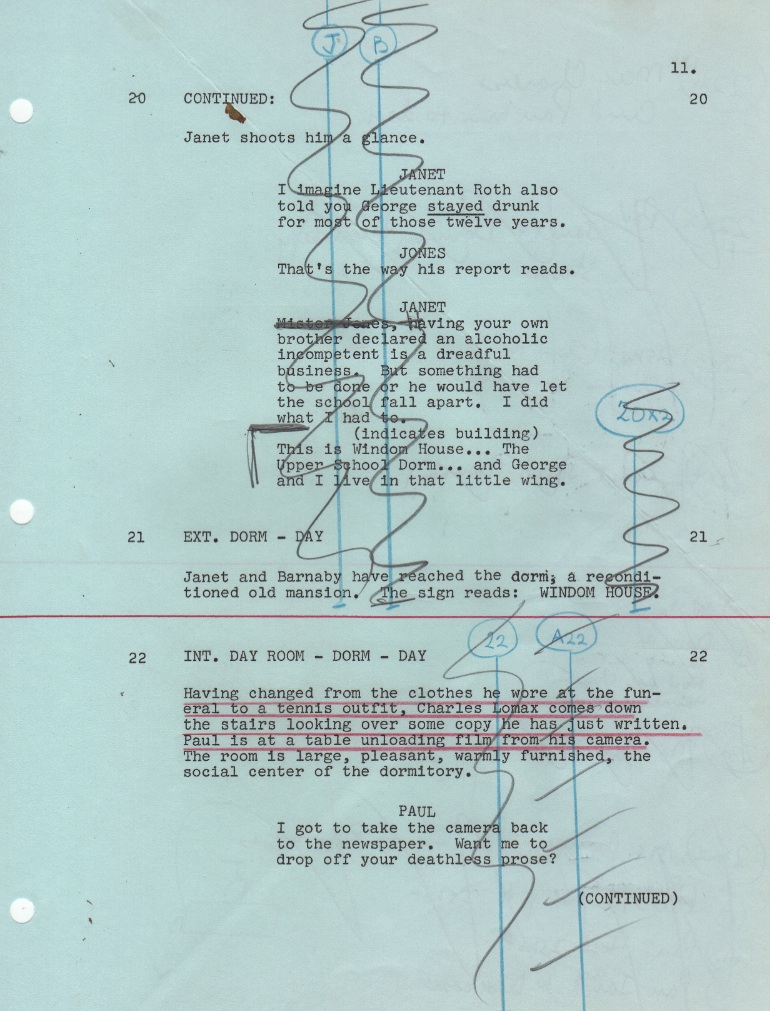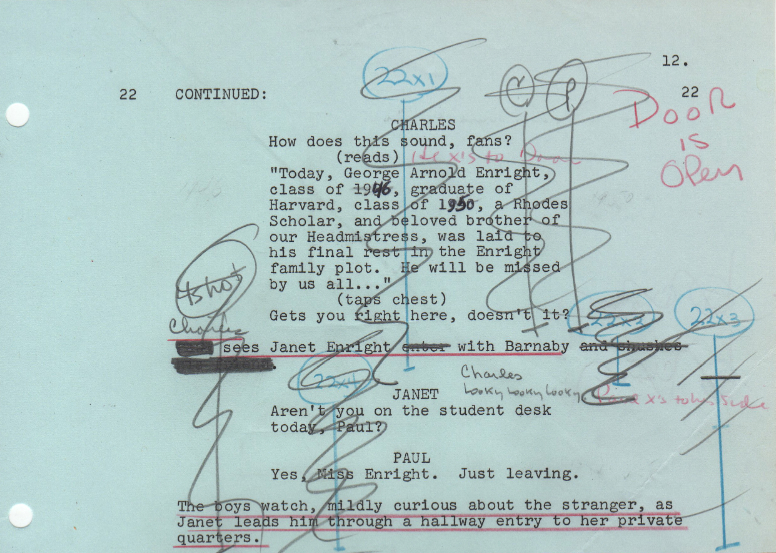 George's book-lined office was NOT a set on a soundstage at the studio. It was a ready-made live location. For this production the usual QM schedule of four days location filming and three days studio soundstage filming was changed to five days out and two days in. The script, in addition to the school exteriors, called for so many school interior sets, it was more practical to film many of those interiors live at wherever we picked for the school rather than build them at the studio. The location selected for filming our boys' school was the Villa Cabrini in Burbank, an establishment with a history worthy of having its story filmed. It was founded as a preventorium, a clean and safe environment for girls to study, by Mother Frances Cabrini, the first United States citizen to achieve sainthood. In 1933, the preventorium became the Villa Cabrini Academy high school. The academy closed in 1971, and with no students filling the corridors and with a beautiful campus for our exteriors it provided an ideal site for our location filming.
It had been a year and a half since I first worked with Jerry Houser in THE GAME OF TERROR on THE FBI, which was only his second film appearance. As I think I've made clear, I am very interested in the craft of acting. I like to trace the growth and development in actors, past and present, by studying their performances from their starts and through the years. Starting in the fifties there was a tidal wave of young James Dean emulators. How refreshing it had been when novice Jerry Houser had appeared in THE FBI episode, where he had created a real character based on his own persona.  It was gratifying to see the growth in Jerry in the short time since — no longer a novice, already a seasoned professional.
Andrew Parks was another Hollywood prince, the son of two illustrious talents, Larry Parks and Betty Garrett. His mother had come from Broadway to an MGM contract, where she appeared in many of their big musicals. His father, put under contract by Columbia Studio in 1941, spent five years before he broke through big time with an Academy Award nominated performance as Al Jolson in THE JOLSON STORY. Both careers were on an impressive upswing, but in the early fifties both careers came to a halting stop. Because of their past affiliations with the Communist Party they were summoned to appear before Joseph McCarthy's House Un-American Activities Committee. Betty Garrett could not appear, because she was pregnant with Andrew. Larry Parks did appear and testified that he had belonged to a Communist cell from 1941 to 1945. He tearfully cooperated with the Committee, but he was the first Hollywood celebrity to come forth with a confession, and the political scandal that erupted brought about the cancellation of his contract with Columbia Studio. The two returned to the theatre, and Betty Garrett was later productively employed in television. Larry Parks died two years after we filmed THE MURDERING CLASS. I had not seen Andrew in the interim, but I attended the moving memorial service that was held for his father at the Mark Taper Forum in Los Angeles.
There were three sequences to film on our location day at the cemetery, one of them night.  We started filming the show on a Friday, so the cemetery location was scheduled for that day to take advantage of the turnaround that the weekend provided for the actors' calls.
Because of Buddy's age, scripts for BARNABY JONES were different than the scripts for the other QM show I had directed. No actions sequences like the ones I had staged for THE FBI; no stunts for Barnaby like the ones performed by Burt Reynolds' DAN AUGUST. The scripts were more cerebral, involved with the minutiae of the case, similar to the old PERRY MASON series.
This was the second and last time I would work with Geraldine Brooks. A decade before she had appeared in the first color film I directed, A HERO FOR OUR TIME on SUSPENSE THEATRE. I had been a big fan since her appearance in her second film, the 1947 Joan Crawford starrer, POSSESSED. Interestingly her real name was not Brooks. She was Geraldine Strook, but took the better marquee name of Brooks, the name of New York City's most famous theatrical costume house, owned by her father.
They don't make performers like Buddy Ebsen any more. He could dance, he could sing, he could act comedy or drama; he appeared in vaudeville, on Broadway, in the movies and on television. His seven decades long career started when, like Fred Astaire, he paired with his sister Vilma as a dance team; in fact they were known as "The Baby Astaires." He made his film debut in MGM's BROADWAY MELODY OF 1936. He danced with Shirley Temple in CAPTAIN JANUARY and with Judy Garland in BROADWAY MELODY OF 1938. Buddy was cast as the Scarecrow in MGM's THE WIZARD OF OZ. Hollywood lore has it that Ray Bolger, cast as the Tin Man, convinced Buddy that they should swap roles. Buddy went through all the rehearsals and began filming, but he soon began experiencing cramps and shortness of breath, eventually leading to hospitalization. Doctors determined that he was suffering an allergic reaction to the aluminum dust used in the Tin Man makeup. Buddy was forced to leave the production for health reasons. He was replaced by Jack Haley, the aluminum dust makeup was replaced by a paste, and Buddy missed becoming a part of the legendary foursome that danced down the yellow brick road.
But by the time Buddy became BARNABY JONES, he was a television legend having played Jed Clampett  for nine seasons on THE BEVERLY HILLBILLIES.
By 1973 scripting in television had changed. BARNABY JONES, because of the high standard of production by the Quinn Martin organization, was one of the quality series on the air. But I thought the scripts, although they were professionally written and were very entertaining, were slick and glib, lacking the depth, the sense of importance, the dealing with a true humanity that had infused NAKED CITY, ROUTE 66, BREAKING POINT. What I didn't know then was that over the hill on the sound stages of Burbank, a new series was filming that would bring back those qualities for me in my work in just half a year – THE WALTONS.
The Journey Continues