Filmed October 1965
"Missy. Call me Missy." That was the insistent request from Barbara Stanwyck when I introduced myself to her on the set of THE BIG VALLEY and addressed her as Miss Stanwyck. Although she was  5'5", she seemed smaller, her figure no different than the one I had been viewing on movie screens for over thirty years. THE BIG VALLEY was her second television series, preceded four years earlier by THE BARBARA STANWYCK SHOW, a half-hour anthology.
Once in a conversation with writer-producer Tony Spinner he said something very meaningful. In discussing presenting projects to the network for possible new series he said the trick was to give them the same thing, but just a bit different. Two years earlier NBC had knocked THE JUDY GARLAND SHOW, a great television program on CBS, off the air with their production of BONANZA, a western built around three brothers and their patriarch father. THE BIG VALLEY was ABC's answer, a western built around three brothers, BUT with an added sister AND an added illegitimate half brother. To complete the required slight changes a la Tony Spinner, the Lorne Greene patriarch of BONANZA was replaced with a matriarch who was played by Barbara Stanwyck.
I remember when filming a short scene between Stanwyck and Peter Breck that as I called "Cut" after her closeup, I was torn. I wasn't totally satisfied with what I had seen, but I had no reason to give for asking for another take. So I went ahead and said, "Print." Later I realized what was missing was my expectation of the dynamics I usually associated with Stanwyck's onscreen appearances. Her roles from the early thirties when she started in film had always been of strong indomitable women. Victoria Barkley was a strong, indomitable woman; but in the transformation of the BONANZA patriarch into the BIG VALLEY matriarch television's sixties view of women's place in society had had its affect. Here she was playing a strong but low-key sympathetic mother who maneuvered to get her way, she didn't command. To have turned up her inner emotional voltage and played the scene otherwise would have been wrong, for the scene and for her fellow actor. That was very much not the way Stanwyck operated.
Stories about her generosity to her fellow performers were legion and legendary. Eight years earlier when I directed Malcolm Atterbury in a play, he told me of an experience he had just had when working on CRIME OF PASSION, a film starring Barbara Stanwyck. They were filming a scene in which he did not appear, but being a fairly recent arrival on the west coast and still struggling to adapt to movies, he hung around the set observing. He said they were doing a scene in a hospital corridor with the camera doing a long pullback dolly shot of Miss Stanwyck walking, ending in a two shot with a young interne. She asked him a question, he responded and she continued on down the corridor. The interne was being played by a very nervous young actor in what Malcolm felt could have been his first ever onscreen job. To complicate matters, Stanwyck had a sprained ankle and when she was not performing, she hobbled around the set. Came time to film the scene, she limped to her starting position and when the director called "Action", she strode down the corridor showing no sign of her injured foot. She stopped by the interne, delivered her line and the interne responded. But midway through his short speech he faltered and the director called, "Cut." As Miss Stanwyck limped back to her starting position for take two and as the dolly grip pushed the camera back to its starting position, Malcolm said he watched the young actor, now more nervous than he had been and Malcolm wondered if he would indeed ever be able to finish the scene. Camera rolled, the director called "Action" and again Stanwyck strode down the corridor. As she reached the nervous interne she delivered her line, but she fumbled it and again the director called, "Cut". Stanwyck reached over, touched the young man's arm and said, "Forgive me. We'll get it this time." She limped back to her starting position, having put the young actor at ease and Malcolm said they did indeed get it on the third take.
Possibly the most illuminating story of Stanwyck occurred in 1939. She was signed to star in Columbia Pictures filming of Clifford Odets' Broadway success, GOLDEN BOY. Unable to borrow John Garfield (for whom Odets had originally written the role) from Warner Bros, Columbia made a deal with Paramount Pictures to borrow William Holden, a twenty-one year old actor recently discovered by a studio talent scout at Gilmor Brown's Playbox Theatre in Pasadena. Holden at this point had made two uncredited screen appearances. In contrast Stanwyck two years earlier in 1937 had been nominated for an Academy Award for her performance in STELLA DALLAS. Filming began under the direction of Rouben Mamoulian and the young actor's inexperience soon had the powers at the studio worried. The decision was made to replace him, but Stanwyck put a stop to that. She insisted that Holden remain cast as Joe Bonaparte. And from then till the end of production, at the conclusion of each day's filming Stanwyck would rehearse with Holden for his scenes for the following day. When the movie opened it was a smash hit and Holden's career was launched. Hollywood lore has it that from then until his untimely death he sent her flowers every year on the anniversary of the first day of filming on GOLDEN BOY.
THE BIG VALLEY was my first western and I was having trouble planning the location work. The beaches of Texas had not been a problem in my two ROUTE 66's; the streets of New York had not been a problem in my three NAKED CITY's. But somehow as I sat staring at my current script, I was stumped by all those horses and that wide open space. I know it sounds silly now, but I solved the problem in a ridiculous way. I said to myself, okay if you don't know what to do with the horses, pretend they're police cars. Stupid as it was, it worked.
THE BIG VALLEY had a permanent green set (an exterior set created on a soundstage) that they could adapt to various locations as scripts demanded. A green set had had me concerned when I directed DETOUR ON A ROAD GOING NOWHERE on THE FUGITIVE; it was no longer a problem. This was the first time however that I had to film part of a scene in a green set and then complete the scene on location. To complicate matters just a bit, the latter part of the scene that was filmed on location was filmed first.
Crews adored Stanwyck. And they took special care of her. Her closeup in the scene on location at the bank of the river was not filmed there; it was filmed later under more controlled conditions on the green set at the studio.
Eugene O'Neill's DESIRE UNDER THE ELMS was almost a template for the plot of this show. In the O'Neill play the young wife of a much older man had a torrid affair with his young son. In our version there was the fiancée of an older brother attracted to his illegitimate younger half brother, but this was the world of television where sex could wiggle a come hither finger, but under the watchful eyes of the Dorothy Brown's of the Program Practices Departments sex was never allowed to rear its ugly head.
The fight and its aftermath was filmed on the green set on the soundstage. But that set did not have a steep embankment for Nick's final fall. There was such an embankment at the end of the studio behind the soundstages, so plans were made to film there. Only two setups were going to be required: Nick's fall followed by Eugene's run down the embankment to the side of his brother and the shot of Nick on a stretcher being pulled up the hill.
Since it would require night work, it was scheduled for Friday. Although Stanwyck was not scheduled to work that Friday until we moved outdoors after dark, she was perched in her high director's chair by early afternoon, made up, in costume with small tissues tucked around her collar to prevent her makeup from soiling her shirt. At one point I heard Jules Levy, one of the show's producers, speaking to her. He was assuring her that there was not that much night work to do so the filming should not be too late.
Stanwyck: What about dinner?
Jules: Missy, we'll have your tray in your dressing room when we finish filming in here.
Stanwyck: What about the crew?
Jules: We'll work straight through, but they'll have their meal penalty.
Stanwyck: F___ the meal penalty. Those men have been working all day. They need food.
And so an order was placed at the deli just down the street from the studio and when we moved outdoors, a table was set up and luscious sandwiches were handed out to cast and crew. And who was there helping to hand them out? Missy! When she was finished there, she then took more sandwiches as she went around to the trucks where equipment was being unloaded to give sandwiches to the men still working. Only when she knew that every member of the crew had been given his dinner did she retreat to her dressing room for her own meal.
Once Stanwyck reported to the set, she never left. She sat perched in her high directors chair, aware of everything that was happening around her. My friend Amzie Strickland told me of her experience working on the show the second season. In that episode Victoria Barkley had been committed to an insane asylum and Amzie was playing one of the inmates. Amzie had a highly emotional scene where her character went berserk. She did it and director Virgil Vogel said, "Cut. Print." Amzie happened to look at Stanwyck, who was not involved in the scene, and saw her almost imperceptibly shake her head no. Amzie immediately realized she had overacted and she turned to Virgil and asked for another take. Virgil assured her that the take was fine, but Amzie persisted, saying she knew she could do it better. Virgil agreed and they shot the scene again, this time Amzie reining in her performance. When Virgil called, "Cut", Amzie immediately looked at Stanwyck and saw her head move in an almost imperceptible nod. Stanwyck had quietly helped a scene without challenging the director's authority.
In 1962 when I was preparing to direct a theatre production of GOLDEN BOY, I attended an evening of discussions on theatre in which Clifford Odets participated. At one point in the evening Odets was speaking about the great actresses who were no longer performing. He then read the list of those women and it was riveting and startling. Great stars whose talent was enhanced by their age, but that same age was what was keeping them off the stages and screens. Today in 2011 the situation has not changed. Diane Baker is a brilliant actress. THE BIG VALLEY was the second and (unfortunately) the final time I would work with her.  She was an exceptional…she IS an exceptional actress.  Why is she not working today?
The scenes in the ranch house were filmed on the sixth and final day of production. I had had five days to observe what was happening on the set and to reach some conclusions. The procedure was that I would stage a scene, the camera crew would mark the floor where each actor stood and as the director of photography took over to light the scene, using stand-ins on the marks, the members of the cast would retreat to their dressing rooms. Except for Stanwyck. She would seat herself in a directors chair beside the camera. When the lighting was completed and the assistant director called places, Stanwyck immediately took her place on her mark and waited while the cast was rounded up. This same thing happened with each setup in the sequence. At one point as Stanwyck sat down next to the camera, I said to her, "This isn't right, Missy. You're always out there on your mark, waiting for the rest of the cast to show up. They should be out there waiting for you." Assistant director Marty Moss, who was standing nearby, spoke up. "That's right, but that's Missy. That's the way she is." Stanwyck smiled. Marty continued. "Bob was the same way, (Robert Taylor, Stanwyck's second husband) never left the set." Barbara Stanwyck had a look. It was riveting, sexy, vulnerable and when she used it her voice was always very low, quiet, and totally in control. That was the way she looked at me when she said with a rueful smile," I trained him right."
There are stars.  There are superstars, And then there are those rare few who stand apart, somehow taller. I remember attending a show at the Universal Theatre. The opening act was Helen Reddy. The main attraction was Frank Sinatra. And as he made his entrance from stage left, his figure seemed out of proportion to everyone else on the stage. He was bigger. He was taller. It was as if I was looking at him through a giant magnifying glass. As I write this in 2011 it has been eighty-two years since Barbara Stanwyck starred in her first film, THE LOCKED DOOR. And she is still one of the tallest stars of the silver screen.
Barbara Stanwyck is indeed one of the screen immortals.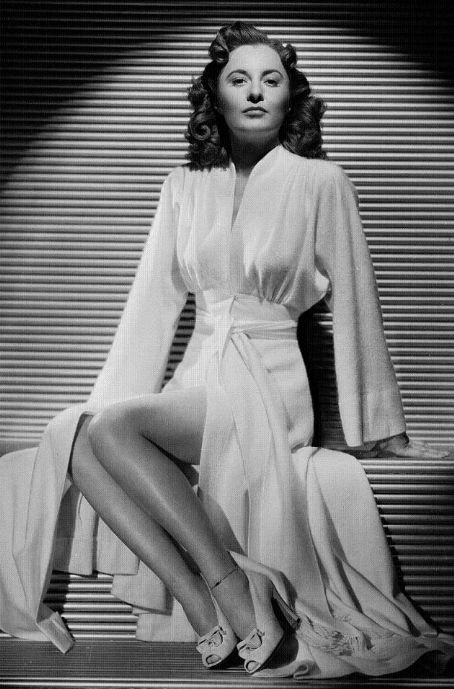 The journey continues