FILMED APRIL 2013
If I were to describe Marlyn Mason's personality as being scintillatingly gregarious, I could be accused of making a gross understatement. During her frequent visits to Carmel she takes a daily walk through the village. With a colorful scarf draped dramatically around her neck and one of her charming parchment parasols perched on her shoulder she does attract attention. But even without these inducements I don't think Marlyn has ever seen a person with whom she didn't initiate a conversation, which does have its advantages when you're searching for locations for a movie. One of the locations on our long list for THE RIGHT REGRETS was the interior of Lily's house. Lily was the character Marlyn was to portray. Marlyn made it a point to ask almost everyone with whom she came in contact if they knew of a house that would be available. One day she asked that of a woman in one of the small shops she regularly visits. Soon after she returned from her walk, she received a phone call from that woman. She was given a name and telephone number. Marlyn made that phone call, and when she hung up she notified me that we had an appointment the following Saturday morning at 11:00 am to check out a house right here in Carmel. Saturday morning we walked a half-mile to the post office and an additional three blocks and met Lindamarie Rosier in one of the charming reminders of what Carmel used to be. Lindamarie greeted us warmly and then began a guided tour as she told us her home was one of an original five or six cabins built as I recall a year or so before I entered the world. The other cabins have been torn down and replaced with modern abodes, but Lindamarie's father bought the house early in this century and had Lindamarie redesign it, keeping the original structure. At his passing, she inherited the house. Marlyn and I were enchanted. Lindamarie, keeping the original garage doors sealed off as the fourth wall, converted that space into an amazing music room with an organ. She teaches music in Oakland, where she resides with her husband, but she spends almost every weekend in Carmel. Unfortunately our story didn't call for a music room. We were looking for a living room, a bedroom and a kitchen. And what a living room awaited us. With its beamed ceiling and paneled walls it did what a set is supposed to do – reflect and add dimension to the character living in it.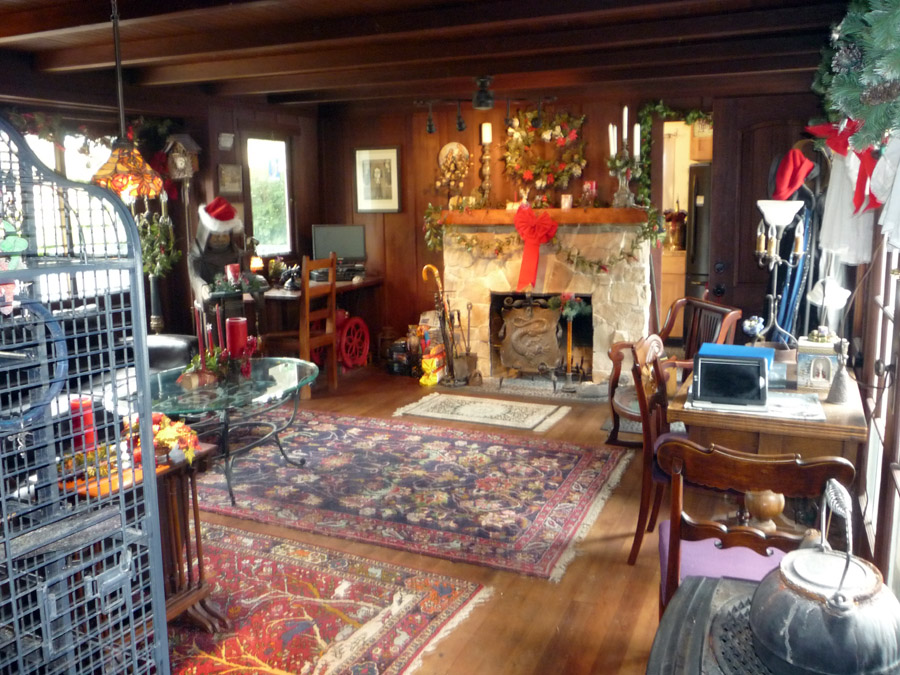 In addition the room was furnished with a wonderful array of antique and unique pieces.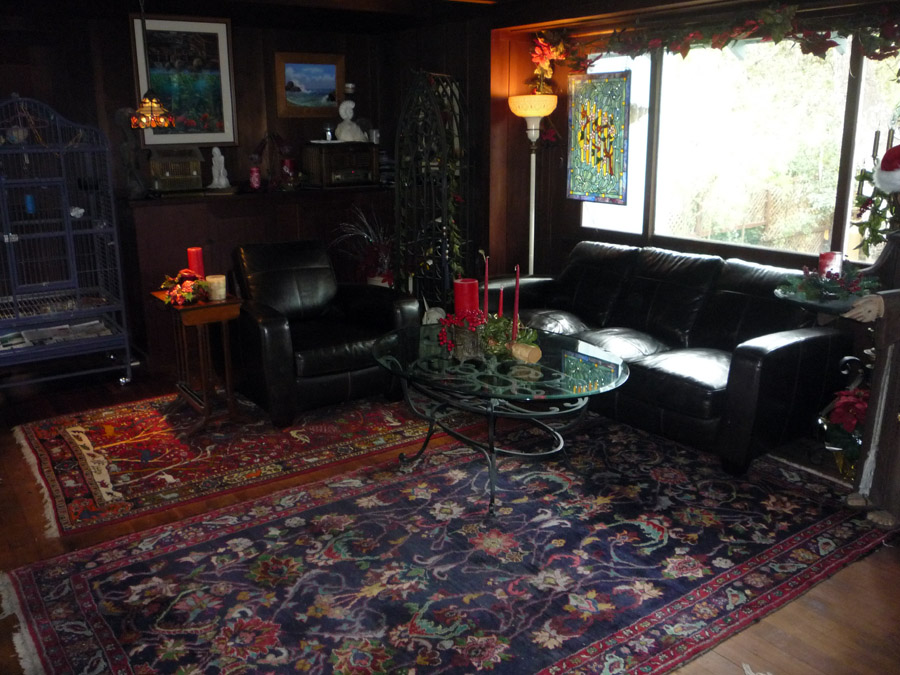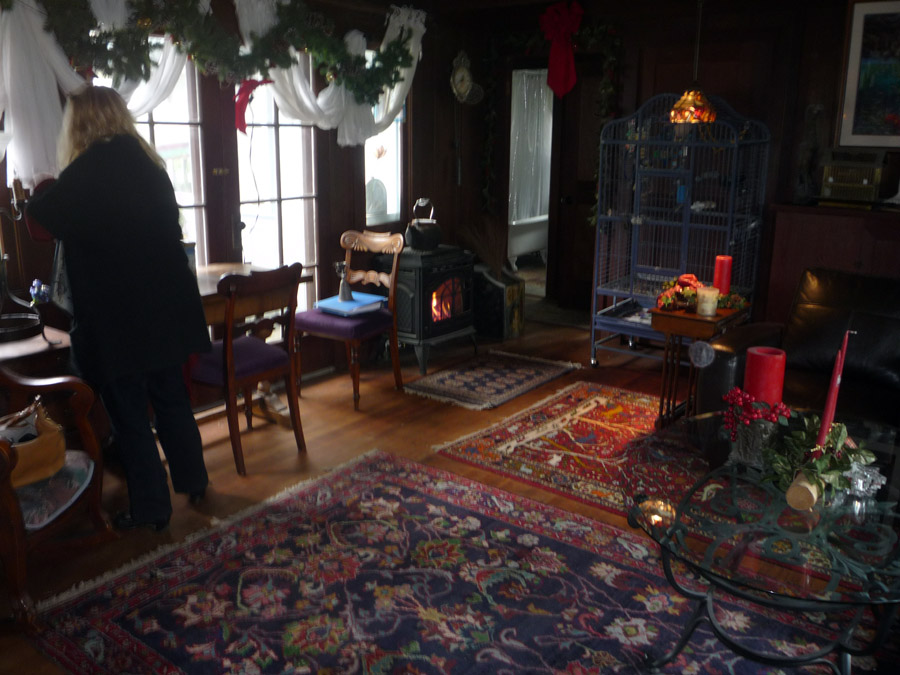 Lindamarie told us she would remove the Christmas decorations, and that we would be free to relocate the furniture and remove anything from the room that we didn't want to use. I knew immediately what I intended to do. The leather sofa would move from under the window to in front of the fireplace, and the small table that Linda Marie was using as a desk …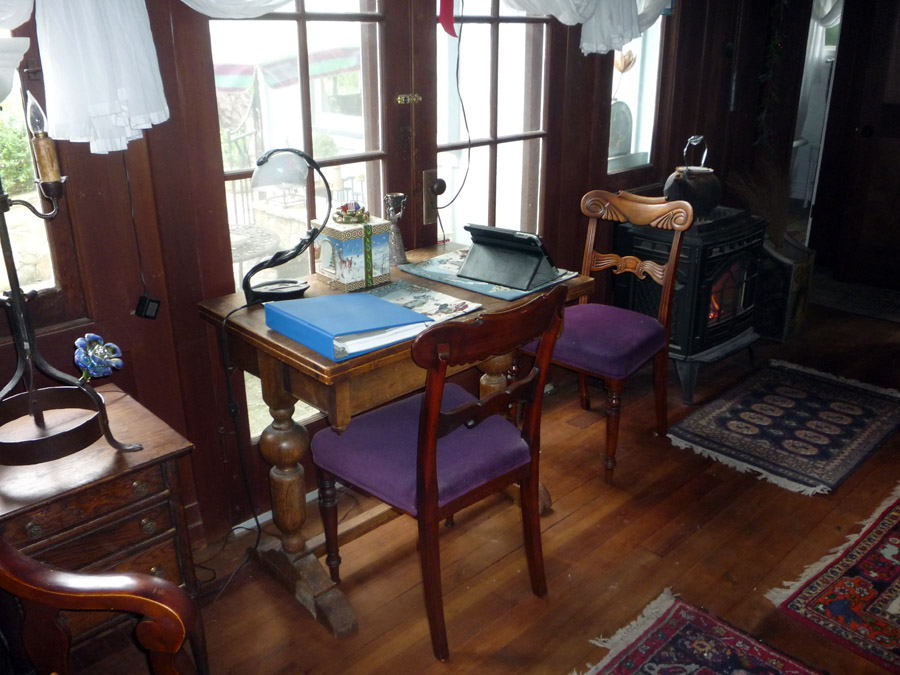 … would be placed behind the sofa and with the two purple-seated chairs would be Lily's dining area. Lindamarie told us that small table was a "booze" table. She swiveled the top of the table to reveal the space beneath, where liquor was hidden during Prohibition.
Left of the fireplace was a built-in telephone table. I decided I would move the telephone scene scripted to occur in the kitchen to that area, which would be more interesting to photograph and would save time by eliminating lighting another room. It even came propped with a telephone. However, the telephone was a dial phone. That was certainly passé.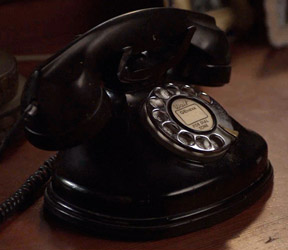 But when I lifted the receiver and found the telephone actually functioned, I realized it too added to Lily's character. The dial phone stayed. A final look at the bedroom, where I had two sequences to film, …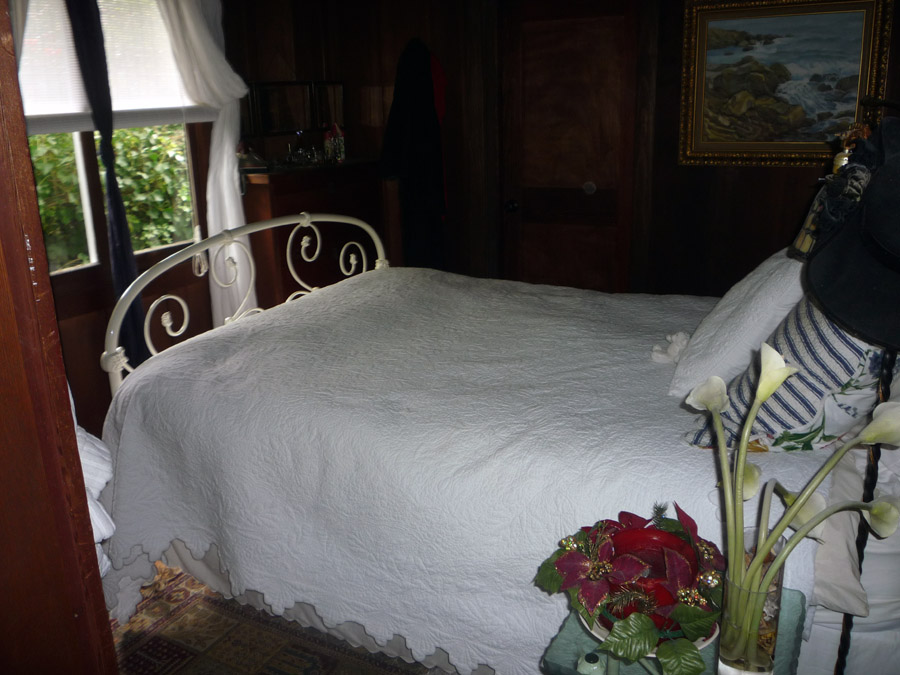 … and I knew three quarters of a mile from my home we had found a gem. LIndamarie told us we would have to film on a weekend, since she was employed in Oakland during the week. With only one weekend of filming in our schedule we settled on Saturday, April 6, since Sunday, April 7 was already allocated to another location.
CUT TO:
8:00 am, Saturday, April 6. The cast (only Marlyn Mason; Maxwell had a later call) and crew arrived. I discovered that Lindamarie had heard my plans for rearranging the furniture and had gone ahead and done it. It looked fabulous. Production designer Lisa Lupo and art director Ryan Gibson immediately went to work, removing the extraneous and adding where necessary to turn Lindamarie's living room into Lily's living room. Three of Marlyn's phone calls were set in this room, and that was our order of business that morning—two of them at the built in desk in the corner and the third in the middle of the room.
We wrapped the phone calls late morning, which brought to an end the filming of the day sequences in the living room. The crew then went to work blacking out the windows for the night sequence. Lisa did her best with the drapes that were hanging to cover the windows, but there were blank spots where the blackened windows showed.
First: David Poitigian's filming of the crew's filming Take 3 of the master shot. The blond lady standing in the doorway is Lindamarie, the owner of the house, filming the scene with her iPad
Those windows did determine how I filmed the scene. Under normal circumstances I would have panned Marlyn's cross around the couch, but these were not normal circumstances. The windows had been blacked out, and there were not enough drapes to completely conceal those windows. Here is Take 8, as it appears in the final movie.
There were three more angles to shoot for the scene, and then we moved to the bedroom, where there were two scenes to be filmed. The major one of the two was a long phone call. As originally scripted Lily received the call while she was perched on her bed needlepointing, and Charles was phoning from his den. I had a double motive. I didn't want another phone call (remember, there were five) emanating from that same den, but more importantly this was a beautifully complex scene; — the couple had strong feelings for each other, but there was a definite abyss between them. I didn't want to do the scene with alternating close-ups. I wanted to see them side-by-side on the bed, and so I decided I would present the scene using a split screen. We had filmed Maxwell's angle in a bedroom at Dino Cocalis' house on our third day. At that time Brandon had taken precise measurements: the height of the bed and the distance to Maxwell from the foot of the bed. As we set up to film Marlyn on her bed, he was making the same measurements, and he realized that Maxwell's queen-sized bed had been longer, and that in the present location  there was not enough space between the foot of the bed and the wall for him to obtain that same distance. Fortunately there was a window in that obstructive wall. Brandon came to me and said he wanted to move the camera outside and shoot through the window. And that's what he did. They built a platform to raise the camera to its required height and then draped a black cloth to block out the daylight. We were filming a night sequence in the early afternoon.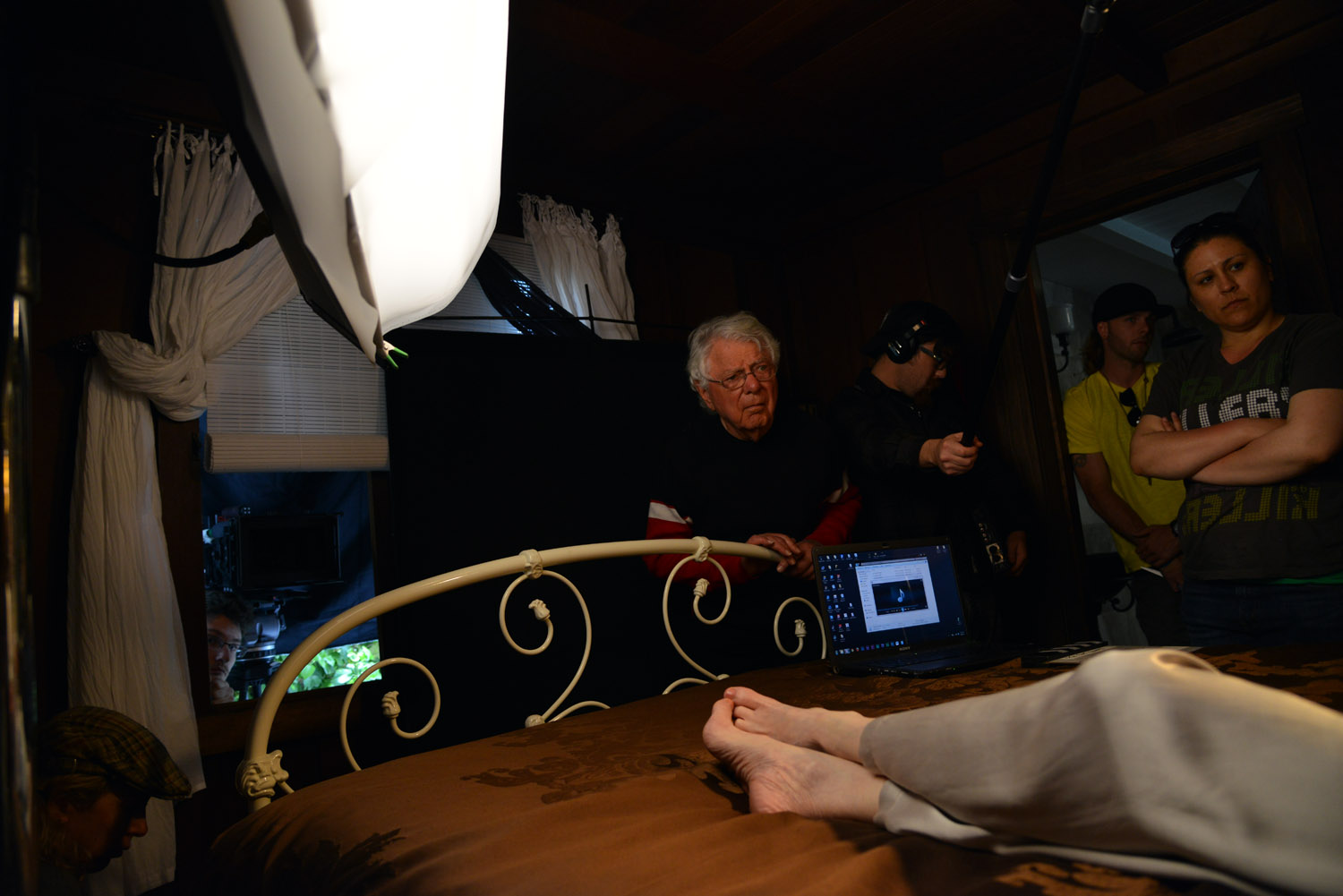 Brandon had one more request: he wanted to remove the iron footboard from the bed. LIndamarie declined. As usual set photographer David Potigian was lurking in a dark corner with his incredible eye locked into his trusty camera.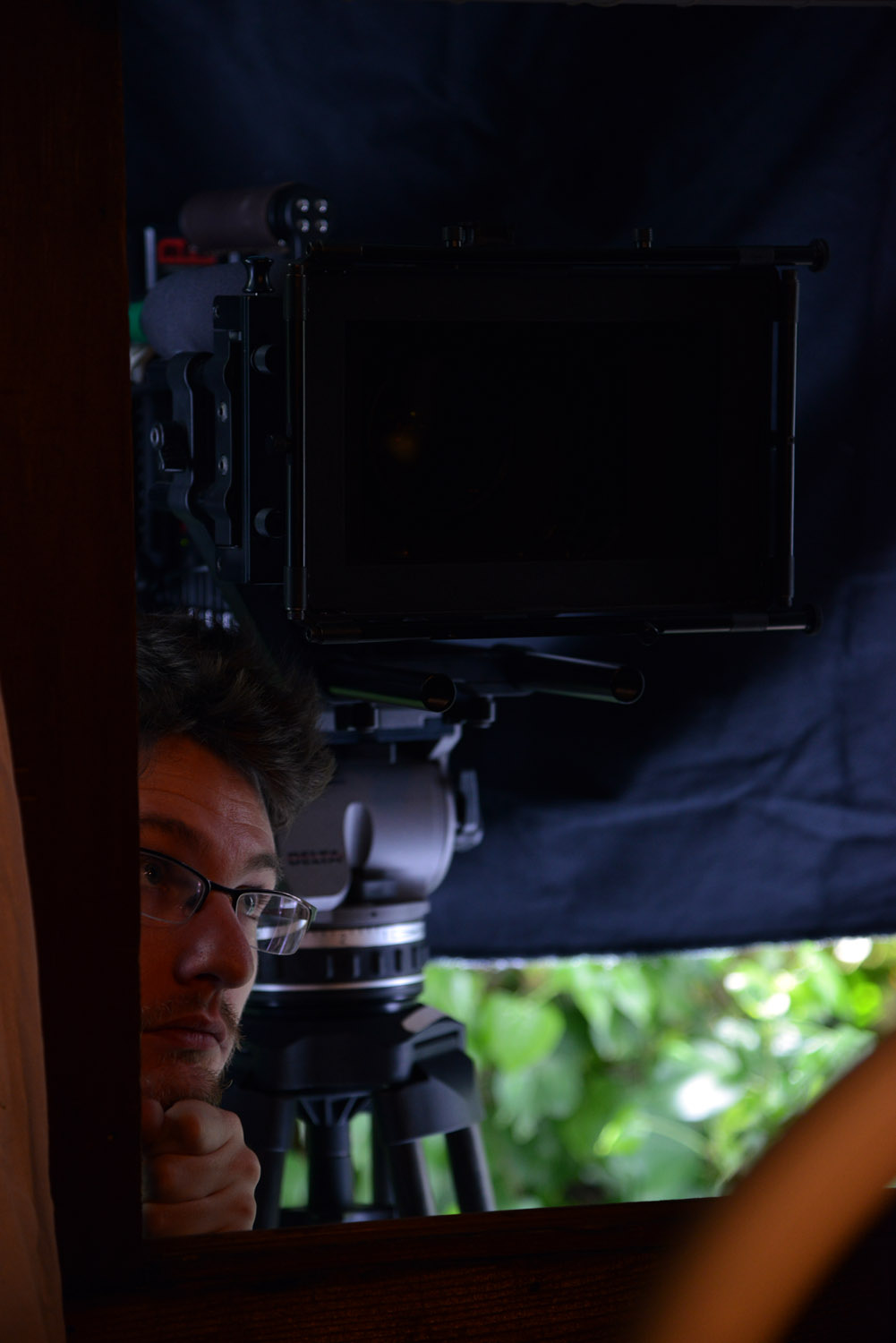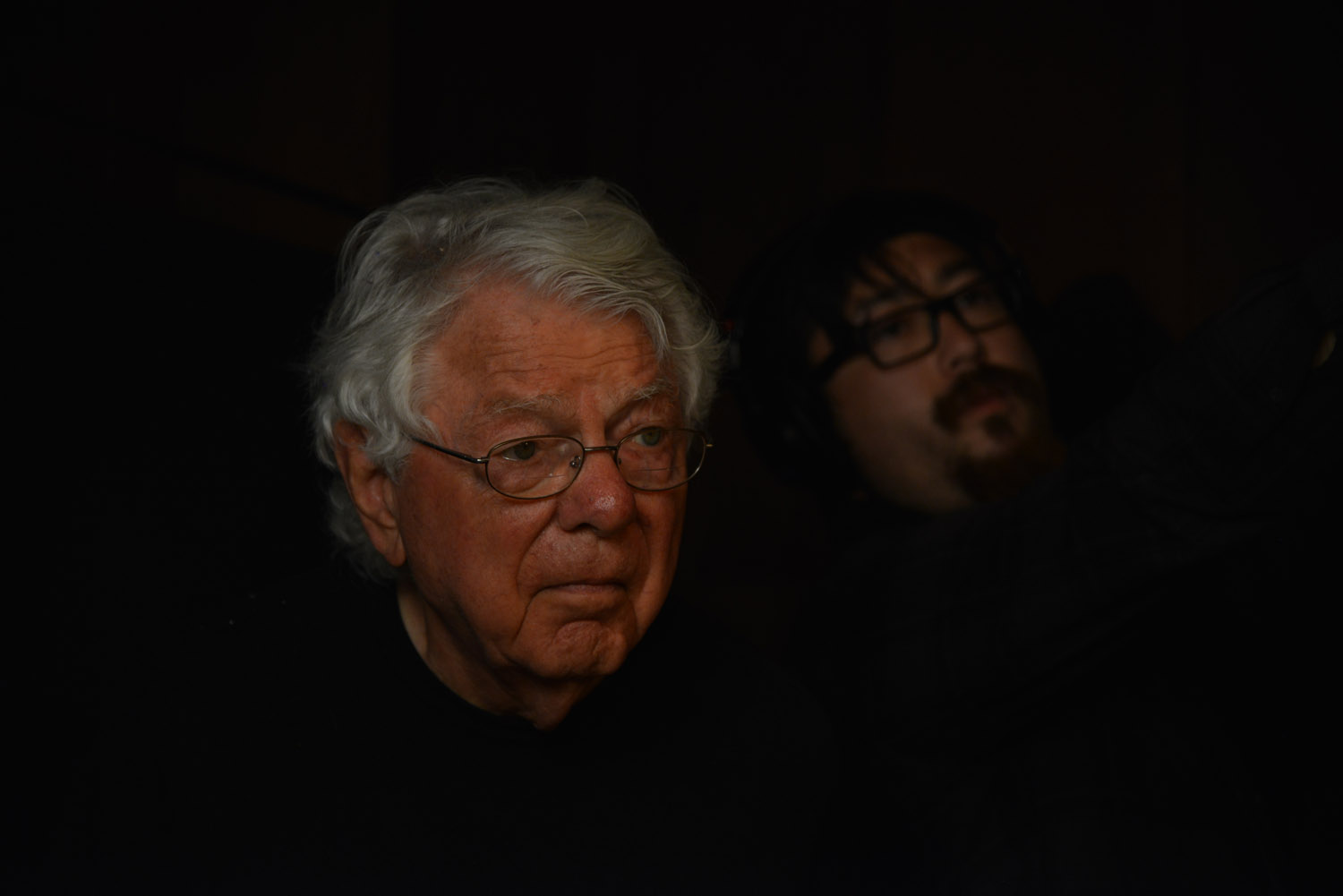 The scene was almost two minutes long, with lots of pauses. When we had filmed Maxwell's angle two days earlier, Marlyn stood beside the camera and played the scene with him. But if Maxwell were to do the same now, it would have created a problem. There was no way the timing of the two players would match exactly as needed for the split screen. If we had been filming on a sound stage, Marlyn would have been filmed acting to an audio playback of the take selected of Maxwell's scene, that playback being heard through a large speaker. But this was independent film making in a very small room. Marlyn ended up playing to a playback, but it was coming through a laptop computer. Assistant director Hope Garza was beside the bed holding the laptop. The quarters were so tight she also doubled and did the slate at the scene's opening. During the rehearsal Marlyn had difficulty hearing the scene, so Hope moved even closer. She was just out of range of the camera.
And so we completed our fifth day of filming. Another interesting day awaited us the next day, and then Monday would be a day off. We were all ready for that!
The journey continues