FILMED February 1965
Come September 2, 2014, it will be five years since I launched the trek that evolved into this website. As I approach this fifth anniversary, I am recognizing the journey has proved to be so much more than I anticipated. In delving into the past, I have, much of the time, found myself back there, reliving a very special part of my life, but with the realization that I was so fortunately privileged to be a small part of a very special era in entertainment history. But there has been an added dimension. I have found a part of me has been as an observer, viewing the past with an interested and mature objectivity. This has been aided to an enormous extent by the response and Comments from viewers of this website. To cite an example: with their encouragement I was able to finally make my peace (if Gene Roddenberry can split an infinitive, so can I) with my negative feelings for the STAR TREK episodes BREAD AND CIRCUSES, RETURN TO TOMORROW and THE THOLIAN WEB.
There has been another interesting conversion. When I started out on this journey, I knew one of the films I directed was going to be ignored — an episode of CHRYSLER THEATRE, filmed in 1965 guest starring Peter Falk. It was my 30th film in the two years and four months since I became a member of the Directors Guild of America, and at that time I felt like a seasoned veteran. But with Peter Falk I found myself in a situation unlike any that I had experienced. I thought revisiting those sets at Universal Studio would be too painful, and I was uncomfortable with presenting what I knew was an unflattering portrait of Peter. But now with the objectivity that has developed in my five-year Internet trek, I realize that I was part of the problem; I see now that it was my inexperience in dealing with that situation that allowed it to have the emotional impact on me that it had. So without any further comment, let's proceed to the sands in Malibu, California standing in for a beach in Mallorca, Spain.
Ironically and prophetically the title of the film was PERILOUS TIMES.
Filming began early Monday morning on Stage 30 at Universal Studio. Well filming didn't actually begin early Monday morning. Cast and crew assembled at that time in a sophisticated New York apartment set, which unfortunately didn't meet with Peter Falk's approval. Executive Producer Dick Berg, Producer Richard Collins, the art director, the set dresser and I think a couple of associate producers were summoned to the set. Peter's character of Bara was based on real life wartime photographer, Robert Capa, and Peter pointed out to the assemblage why the set was wrong for his character. I meanwhile stood helplessly by, knowing there were four sequences totaling 9 pages scheduled for the day, that the show was being filmed at Universal Studio on a six-day schedule, knowing time was being wasted, and all I could do was watch the charade of the set being redressed to Peter's satisfaction. What no one pointed out was that the set was NOT Capa's apartment. It was the resident of Paul Lepson, a character being played by Gene Lyons. Lep, as he was called in the script, was also a famous photographer, who was out of town, and Capa was staying in the apartment during his absence.
Peter had won an Emmy in 1962 for his performance in THE PRICE OF TOMATOES, an episode of THE DICK POWELL THEATRE. It would be six more years before his career-defining COLUMBO would take to the airwaves. There was a request, I think it came either from one of Peter's representatives or was relayed to me through the producer, that I stage all of the scenes involving Peter so that in his close-ups, he would look camera right. At the age of three Peter had his right eye surgically removed due to cancer. That was not problem for me, or at least at the time of the request, I anticipated it would not be a problem.
The scene in the restaurant was five and a half pages long and was filmed on the third day. Frankly I think filming the show at Universal contributed to the problem. One of Universal's stringent laws was that only one print was allowed for a take. Many times in a long scene an actor might not get every speech right, every reaction as it should be in one long take. That happened with Peter's close-up. As we were filming multiple takes, the assistant director came to tell me the production office was phoning to ask how much longer it would be to finish the sequence. I told him if we could print Takes 4, 7 and 11, we could quit right now. He returned to the telephone and then came back with their reply: "Print them!"
PERILOUS TIMES was the first time I worked with Diane Baker. Eight months later I would direct her for the second and last time when she guest starred on THE BIG VALLEY. She was (and is) a beautiful lady, and the thing I find most impressive in her acting is her intelligence. Her work as the mother in SILENCE OF THE LAMBS was exemplary. I understand that she teaches drama in San Francisco. The fact that she is not performing more frequently before the cameras is a pox on our current entertainment industry.
My friend John Dayton, a talented writer-producer, left the following Comment on my post for BY FIRES UNSEEN, the BIG VALLEY episode I directed in which she appeared:
While shadowing a director on Fox's "Lie to Me" last season, I mentioned to one of the plethora of young writer/producers how great it was to see Diane Baker playing a Judge on the show, although a small role, she was, of course, brilliant and beautiful – the young producer said, "Who's she?"
I did not often receive copies of the memos that the network sent to the producers. Usually the producer would relay on to me those items in the memos they received that pertained to staging. This time I did receive a copy of the memo sent to the producers by the Broadcast Standards Department of NBC. Most of the notes pertain to dialog changes that were made. A scene later in the script where Bara was shot and killed had been eliminated. The suggestion that the following scene be played in the living room rather than in the bedroom was ignored.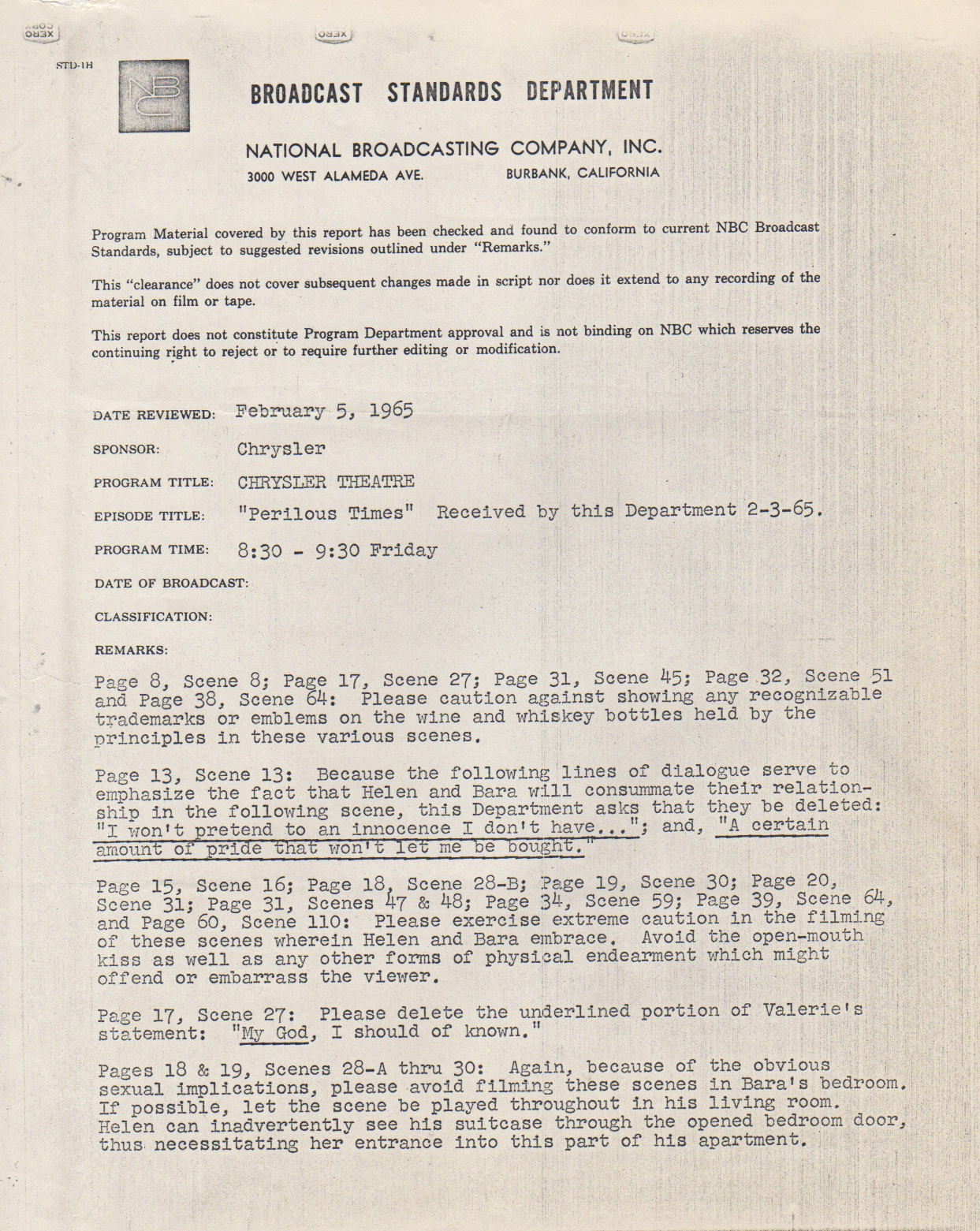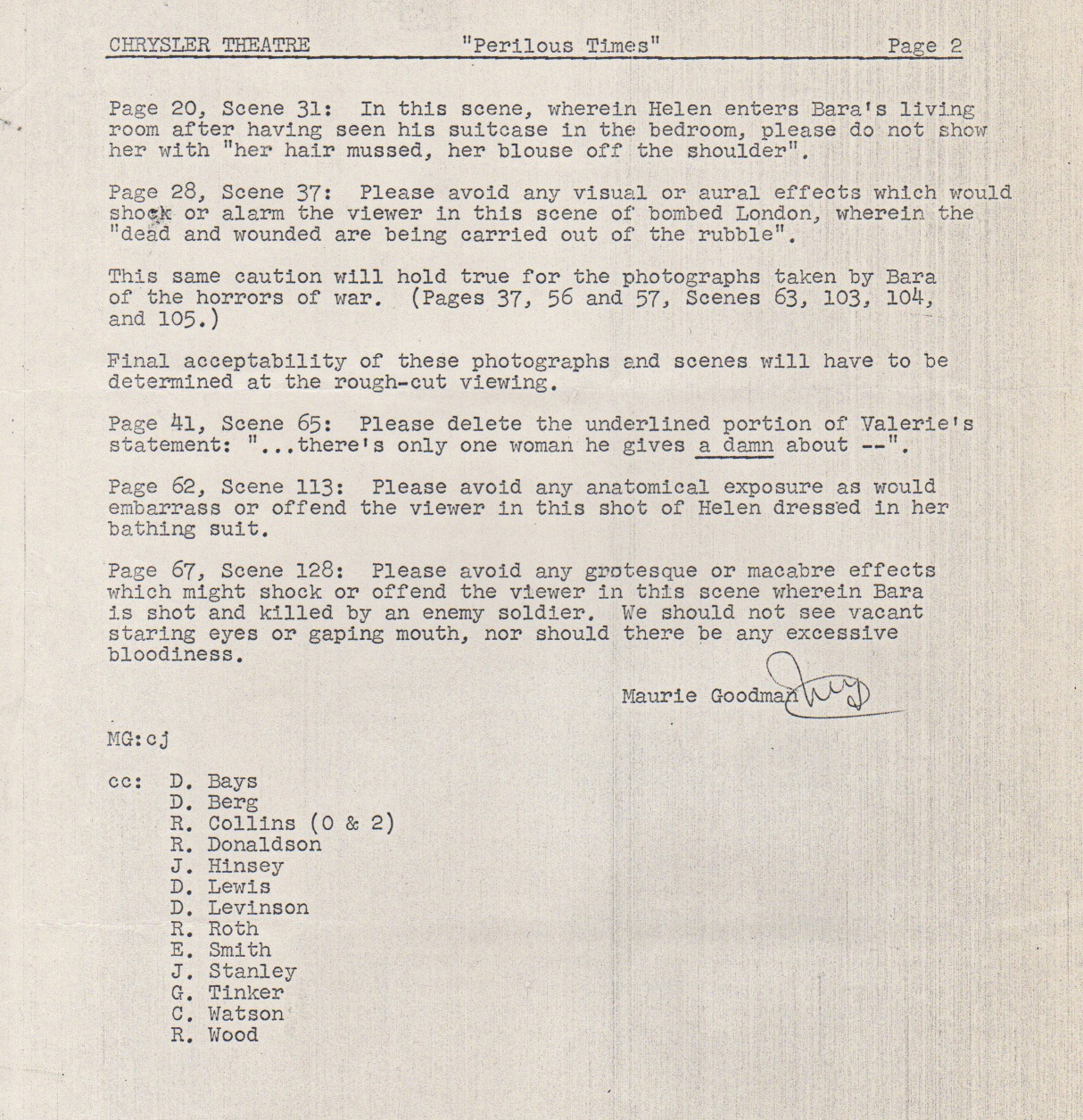 Arlene Dahl was a movie star – a gorgeous movie star. She was an in control actress, totally prepared, perfect line readings, never failed to hit her marks. It's possible her looks proved a detriment to her career and prevented her from being cast in more demanding roles. I've read recently that her never achieved goal was musical comedy.
That was the first time I worked with Nora Marlowe. Our best collaborations would not happen for another decade when I directed her several times as Flossie Brimmer on THE WALTONS. Her last appearance on the series before her untimely death in 1977 was in THE GRANDCHILD, a two-part episode I directed.
Peter was a member of the Actors Studio, having studied there with Lee Strasberg. He was very into The Method. In the few scenes where Bara was seated or lying down at the beginning of the scene and stayed in that position for the duration of the scene, Peter had no objections. But in the other scenes where movement was involved, Peter needed to "find" his own movements, to "feel" them. He would wander in and around fellow actors and furniture, until he felt comfortable with his moves. I want to make clear that Peter was not trying to take over the direction of the scene. Although I was annoyed at the added time this took and my feeling that it really wasn't necessary, I was able to accommodate and make the necessary adjustments in my camera coverage, except in one instance – in the second scene of the next clip.
When Peter came out of the kitchen, he ended up sitting on the sofa. He was playing the scene with Gene Lyons, who was camera left of him, which meant in Peter's close-up he would be looking camera left …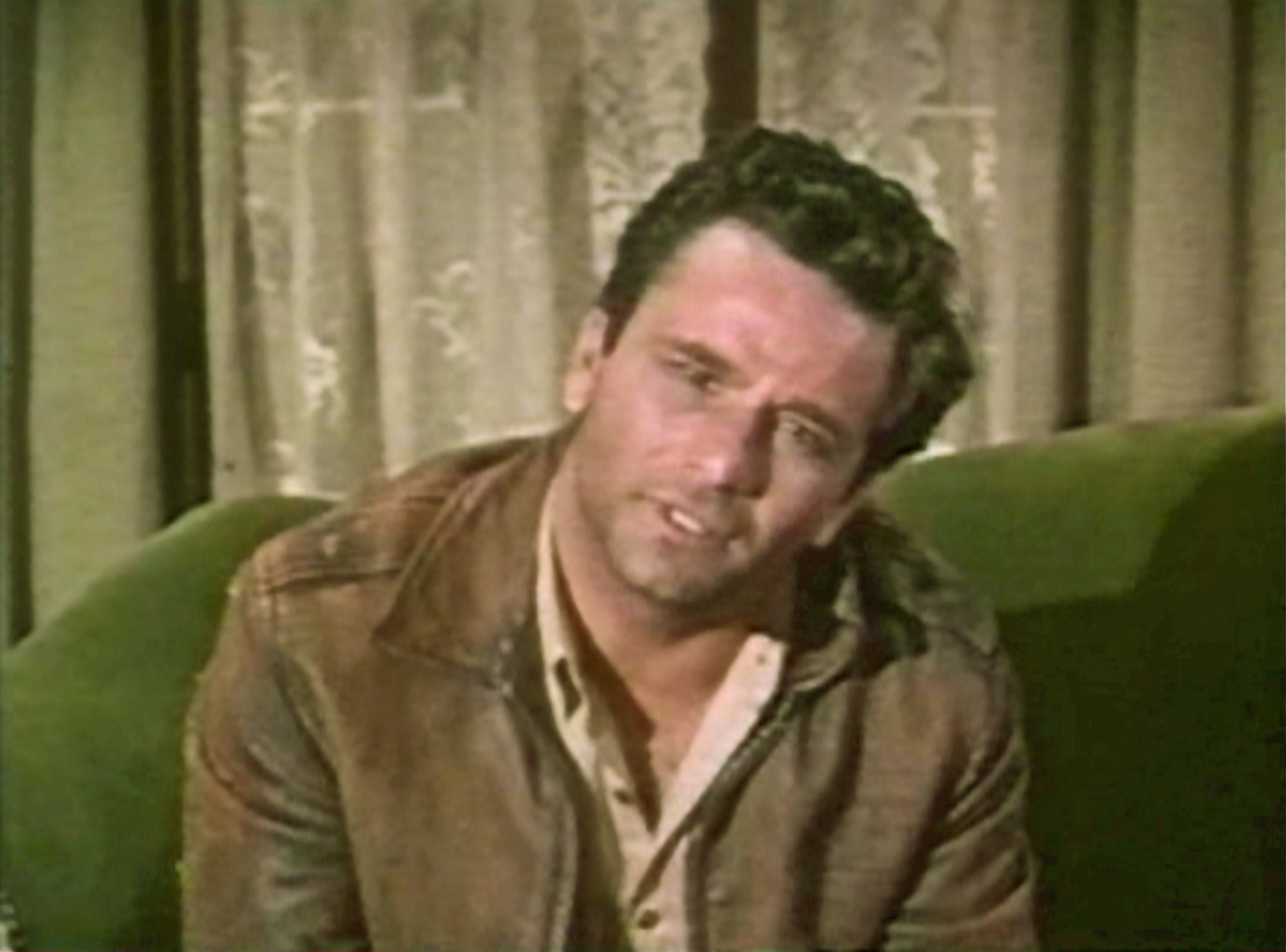 … not according to the request that had been made of me at the start to have Peter in his close-ups looking camera right because of his right glass eye. I only shrugged my shoulders. Peter could not object to his close-up looking camera left.
On the sixth day of filming when I camera blocked the last shot in the previous scene of Helen and Lep discovering Bara crouched on the floor, hiding from the photos on the wall, Peter had an objection. He wanted to be found in some other place. I had accommodated him for five days. I had thought if it helped his performance to do it his way, I would adjust. But the impact of the last shot in the scene was purely visual. I was not in an accommodating mood. I told him he could be wherever he wanted — that was where the camera was going to be, and I left the set until the scene was lit.
The packing scene was half a page. It should have been rehearsed, lit and filmed in half an hour. I remember so clearly my frustration as I watched Peter at the bureau. As he took items from the drawer he turned clockwise to come to the bed. Then he returned to the bureau and did the same business turning counterclockwise. This was the final scene to be filmed on our final day. The crew sat quietly waiting to do their job to wrap the production. The assistant director on the show was Wallace Worsley Jr. He was truly a part of Hollywood. His father, Wallace Worsley, had been a silent film director and amongst many credits had in 1923 directed the film classic, THE HUNCHBACK OF NOTRE DAME starring Lon Chaney. Then breaking the hush, from some far corner of the soundstage we heard a couple of the crew quietly chuckling. In one of the most totally defining moments I can remember, Wallace in a loud, unemotional voice called out, "There will be no levity. This is not a happy set."
The amazing thing for me is that as I view the film now, I see no evidence of the problems that prevailed during production. What also occurs to me is the personal wish the anthology format had not been banished from the networks' schedules. What would our programming look like today if the goal back then had been to continue to provide the far-reaching stories possible in that genre? And finally I land on the side of the ladies. I think Diane Baker gave a beautiful, illuminating performance in a beautifully written role. Why has Diane and her many talented sisters been relegated to the supporting status that has been their lot?
The journey continues