Filmed November 1974
I directed twelve episodes of THE WALTONS, but so far I've only done posts on eleven of them. The missing one is THE BEGUILED. Why has it been overlooked? Was directing it such an unpleasant experience that I resisted returning there, like I did with RETURN TO TOMORROW on STAR TREK? Au contraire! It was a very pleasant show to steer; I might add, I enjoyed doing it. Was the final film a disappointment, again like RETURN TO TOMORROW? No. Although I could add that the script (originally titled THE WHIRLWIND) had a plot that lacked a flaming issue comparable to the ones in either of the two episodes I had directed earlier in the season – the two-hour THE CONFLICT and THE MARATHON. Maybe that was it. Maybe I assumed directing THE WALTONS meant guiding the family as they faced a major crisis brought on by the difficult time they lived in, that the current venture was simply more that than a misadventure like those earlier two.
See what I mean about issues! THE CONFLICT had been about an elderly relative being evicted from her mountain home to make room for a national highway. THE MARATHON had shown the desperation of young people coping with the great depression. The year before in THE GIFT the young of the Walton family experienced their first major contact with death, when Jason's close young friend was diagnosed with leukemia, and in THE CRADLE Olivia's pregnancy ended in a miscarriage. Here in THE BEGUILED, as it had been retitled, I had shell games and a young prankster playing Houdini tricks.
This was my first time directing Willie Aames. He was fourteen years old, but had been acting in films since he was eleven. And he was a solid pro that belied his age. Willie came to the set with lines learned, his character established, and he was prepared to do the shell and pea trick. There were no fancy camera cuts there or with the disappearing item he was doing in the opening shot with Jim Bob, and he did all of the tricks with such ease.
The Walton home had two porches: one on the backlot as part of the house's exterior structure and one on Soundstage 26 attached to the interior set for the lower floor of the home. Usually porch 'Day' scenes were filmed on the backlot and porch 'Night' scenes were filmed on the soundstage. The scene with Elizabeth was tagged as 'Evening' and it could have been more easily lit and filmed on the soundstage porch. But our 4th day of filming was scheduled for the site of the house exterior on the backlot, and there were only 5 1/8 pages of Day scenes, which was not a full day's work. By scheduling the porch scene with Elizabeth and another Evening porch scene with John and Jim-Bob (a total of 3 pages), we were able to plan a full day's work at the backlot location, saving a move on that day (which took time) back to a soundstage.
People think actors' preparation is just learning the lines and developing the character. But there can be added extra talents needed. Another trick Willie had mastered involved moving a quarter across the knuckles of his hand. Unfortunately the only time that shows up in the final film is when he drops it in this scene with his father. That's similar to the situation Beulah Bondi told me about. When she was cast in SO DEAR TO MY HEART (and I think that was the film), she read in the script that in one scene she would be playing it while seated at a loom. So she had the studio send a loom out to her home so she could learn to weave, which she did. Her disappointment came the day they filmed that scene when the director didn't require her to use her recently acquired skills.
I thought the city streets on the backlots were too narrow. I came from a small midwest town, I'm positive similar to the town near where Earl Hamner lived, and our downtown streets just weren't that narrow. My normal solution when filming was to avoid showing both sides of the street (as witness in the previous clip the wide shot with the stop light in the foreground), but there were times when in order to show the action (as in the shots that followed) that was impossible.
The red brick building that was part of the university John-Boy attended was no stranger to me. I had filmed it years before as another university building on THE ASSASSIN, an episode of THE FBI. I'm not sure, but I think years before that it was part of River City, the small town in THE MUSIC MAN. It may even have been designed originally for that production. Just a reminder: River City was Meredith Willson's depiction of his and my hometown, Mason City, Iowa.
I was going to write, "This was the first time I worked with Darleen Carr," but before I did, I checked her credits on IMDB and discovered that six years earlier she had played a waitress for me in THE LIBRARY CARD, an episode of THE COURTSHIP OF EDDIE'S FATHER. Now I wonder if she too had forgotten. Of course, the fact that she looked different may have been the reason for my amnesia.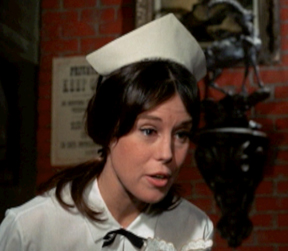 I discovered something else that was interesting. Three years earlier in 1971 she appeared in a film starring Clint Eastwood, THE BEGUILED,.
See what I meant before about flaming issues? My shell games and Houdini prankster have been joined by flat tires and lost notebooks.
That was the other porch scene moved to the 4th day's filming on the backlot to fill out that day's work. It was also another of the Andy Hardy/Judge Hardy kind of scene that this series did so well, slipping in a little message about everyone in a family needing to help.
I can't state this for sure because I have not viewed all of the episodes that preceded this late entry in the series' 3rd season, but I think Sis Bradford may have been John-Boy's first romantic relationship.
I want to state here that I thought Darleen Carr was absolutely terrific as Sis Bradford. It was a deceptively difficult role. She needed to be attractive enough to stir John-Boy's romantic feelings while at the same time inviting the viewers to like her, all the while she played a spoiled little rich girl with absolutely no scruples, willing to do any nefarious deed that served her purpose, and she had to do it all with a total demeanor of innocence that was provocatively sexy.
I refer often in my posts to "first times," but there were also "last times," although I didn't realize those at the time. THE BEGUILED had three last times connected to it. It was the last THE WALTONS that I would direct with Robert Jacks as producer. He remained on the series for the 4th season, but I didn't direct any that year. When I returned in the 5th season, he had moved over to produce EIGHT IS ENOUGH, also for Lorimar. He was one of television's best producers. He had been a producer in feature films at 20th Century Fox and really understood film production. It was also the last THE WALTONS I would do with story editor Carol McKeand. She was an extraordinary writer. I never knew for sure just what she had written or rewritten. What I did know was that the scenes in the scripts worked, and I knew some of the responsibility for that lay on her shoulders. That was also certainly affected by what Robert Jacks and Earl Hamner had established as the routine for the series. On the 3rd or 4th day of filming on any episode, a lunch hour was set aside for the 5 principals to come to Jacks' office to read through the next episode. At that time any suggestions and objections any of the actors had about the script would be aired, and when filming commenced a few days later, the scripts would have been amended to reflect those changes. I knew it was mostly Carol's responsibility to make those changes. Fortunately I would work again with both Robert Jacks (on EIGHT IS ENOUGH) and Carol McKeand (on FAMILY and BLUE SKIES). I would never work again with director of photography Russell Metty. He too had left by the time I returned in season 5. Russell was one of the old-timers from feature films with whom I was privileged to work. He had won an Academy Award for SPARTACUS, but I was more impressed by the fact that he had been a contract cinematographer at RKO Radio Studio in the thirties and had photographed Hepburn & Grant in BRINGING UP BABY, John Barrymore in THE GREAT MAN VOTES, Henry Fonda & Lucille Ball in THE BIG STREET, Fred Astaire in THE SKY'S THE LIMIT. Later as a freelance cinematographer he photographed the incredible and superb TOUCH OF EVIL with Orson Welles. He was one of Hollywood's greats!
And another 'Judge Hardy' scene, this time adding a dose of accountability.
And there we had what I thought was an intelligent and for the series so many dubbed as homespun a sophisticated scene of a young boy sharing with his parents his first pangs of love. Did you notice the different responses of his mother and his father? And did you notice what Olivia was doing, and how she used that activity as part of her response to what her son was telling her? She was using a darning egg to darn  a sock. Does anyone remember when that was done? And do you young ones even know what I'm talking about?
That was my first time also directing Beeson Carroll (Danny's dad), but not the last. A month later both Beeson and Willie Aames appeared in the movie for television I directed, THE FAMILY NOBODY WANTED. Although they did not play father and son, they did appear in a scene together.
When I attended Coe College for my sophomore year, my major was music; my instrument was piano, which I had been playing since I was seven years old. Most of those twelve years had been studying with Ruth Swingen, a music teacher in Mason City. She was an excellent teacher, an exciting performer on the instrument. I remember vividly her performance at one of the monthly recitals she held for her students, when at its conclusion she played Liszt's dynamic 8th Hungarian Rhapsody. I was blown away. That was what I wanted to do, and eventually I did play that Rhapsody. Her approach to the instrument was attack. My piano professor at Coe was Max Dahler, and his approach was diametrically opposite. He stressed getting the fullest, roundest sound from the softest ppp tone. It was not the volume of the sound that mattered – it was the quality. That was a challenge for me, and since I was only there for six months before being called up for active duty in the war, a challenge I never totally conquered. After the war, as readers of this website have learned, my career choice went down a different path, but music had a great impact on my new work. Max Dahler's approach to the piano became my approach to drama. I believed the fullest emotional reaction should be expressed at far less than full vocal throttle. Scenes needed to be performed as quietly, not as loud as possible. If a scene needed to erupt emotionally, the emphasis must be on the character's inner turmoil with the sound emanating from him or her reflecting that. It must never be mere bluster. And NO scene, not even a scene without dialogue, was immune to emotional involvement. When a look, a change of expression would suffice, there was no need for dialogue. On camera the two most deadly weapons an actor possessed were his eyes.
And now we return to my ambivalent feelings about THE BEGUILED. It was not the film that had me on the fence. It was the perception of the film, and it was not my perception, but the perception by the industry in which I worked. THE WALTONS opened a floodgate of attempted family-style clones. I know. As a director of THE WALTONS I was involved in many of those attempts. I directed THE FAMILY NOBODY WANTED, a movie/pilot about a family of multi-racial adoptees. It was not picked up. I directed THE FAMILY KOVACK, a movie/pilot about a Polish family. It too was not picked up. I directed two episodes of THE FAMILY HOLVAK, a lovely series about a minister and his family. It lasted only for half a season. I directed one of the five episodes of BLUE SKIES, a limited-series family show –not picked up. And there were a slew of them that failed without my assistance. The truth of the situation was that family shows were soft shows and were perceived as weak, and despite the protestations to the contrary, they were not what the networks were really seeking. In the mid-80's my agents asked me to provide them with a demo disc of my work. It seemed that they needed one to give to producers when they submitted my name for employment. I prepared one, and it included some of my best scenes from THE WALTON episodes: the green bean scene from GRANDMA COMES HOME; the book-burning sequence from THE FIRESTORM; the elimination rabbit-run from THE MARATHON. Soon after receiving it, the agency had a further request. They asked me to redo it and eliminate all of the sequences from THE WALTONS. I now realize that my feelings about THE BEGUILED are similar to those I had with WHEN THE WIND BLOWS, THE FUGITIVE episode where Kimble was involved with the young blond Kenny. Both were soft, gentle, sensitive stories that were very different from the other episodes I had directed for those series. But being soft, gentle and sensitive didn't make them inferior. Audiences seemed to love them, even if studio and network execs didn't. And to tell you the truth – so do I!
The journey continues