Filmed January 1967
STAR TREK was a phenomenon. I directed six and a half episodes of the original series, working a total of ninety days. I worked many more days than that on just the pilot of DYNASTY. I directed twice as many episodes of THE WALTONS and two and half times as many episodes of THE FBI; I directed more episodes of THE PARTRIDGE FAMILY and more episodes of THE COURTSHIP OF EDDIE'S FATHER than I did of STAR TREK. And yet today if you google-search my name on the internet, you will think I spent most of my career directing STAR TREK. So although STAR TREK was five years after I began my journey in film, let's begin our trek into the past there.
How and when did this phenomenon involve me? It was early December, 1966, when one of my agents called to ask if I would like to direct an episode of STAR TREK. I had not seen the show, and I was not into science fiction, but I also was not one to turn down a challenge, so I said, "Yeah, go ahead and book me." They did, and the studio sent me a script, THE DEVIL IN THE DARK by Gene Coon, which was scheduled to be filmed in early January, 1967. I liked that script a lot. I then packed my bags and flew back to Iowa to spend the holidays with my family. A few days after my arrival I received another script from the studio with a note telling me that they had switched scripts, and I would be directing one called THIS SIDE OF PARADISE. I was disappointed. THE DEVIL IN THE DARK was a strange, eerie script, totally different from anything I had directed, while THIS SIDE OF PARADISE, although it was science fiction, was not really new territory for me. It was a bittersweet love story. But the die was cast, so I went to work on the new script.
After the holidays I returned to the west coast and reported to the Desilu studio to prep. Desilu was the old RKO Radio lot at Melrose and Vine where Katharine Hepburn had made her first film and where Fred Astaire and Ginger Rogers had danced their way into our nation's heart. Our first order of business was casting. For Leila we cast the exquisite Jill Ireland, and for Sandoval, the leader on planet Omicron Cetti III, Frank Overton. The biggest problem facing us was finding the locations, the buildings of the colony. There was neither the time nor the money to build sets, so we were faced with the problem of finding something standing that could serve our purpose. Our search of the area produced only one possibility, the Disney ranch, and to use that we had to do some creative rationalizing. The buildings on the ranch certainly did not look like they belonged in the STAR TREK century. But what if the settlers on this planet went to the past for their architectural inspiration — back to early Americana. Good idea? It had to be; there was no other choice.
To start filming we were scheduled for three days at the Disney ranch. The first two days went swimmingly. We completed over eight pages each day, were right on schedule, and it all seemed as if I was just filming a rustic love story, the only difference being that the guys were dressed in funny suits and one of them had funny ears. Then came day three. We reported to the ranch as usual in the dark so that we would be ready to film with the first light of day. But before the first light got to us, the news did that Jill Ireland (who had not worked yet) would NOT be reporting to the location; it was feared that she had measles. We then went to work, completing all the scenes at the ranch that did not include her, after which we packed up, moved back to the studio and finished the day filming on the Enterprise. The next day we learned Jill did not have measles and would be returning to finish the show. However we hit a new snag. The Disney ranch was no longer available; it had been booked by another film company. The fortunate thing for us was that all of the scenes that involved buildings at the ranch had been filmed, so arrangements were made for us to complete our location filming in Bronson Canyon, an area in the hills conveniently close to the studio.
I was amazed then, and now inching toward a half a century later I am still in awe of those studio magicians, who in answer to a request for a 'garden' in the middle of a pristine green hilly landscape could fulfill my request, and on such short notice.
This was my first film with cameraman Jerry Finnerman, and it was the beginning of a friendship that has lasted over forty years. Jerry later told me that it was the following scene that made him sit up, take notice and decide that I was a director he really wanted to work with. That feeling was reciprocated.
Sometimes things do work out for the best. What may seem like a misfortune can actually be a boon. Bronson Canyon turned out to be a more idyllic setting visually for the remaining location scenes than the Disney Ranch would have been.
There was a first for me on this production, and I think a last. I had a scene blocked, lit, rehearsed and ready to shoot, but I was not happy with the way it was playing. To forestall any possible other recollections of what occurred, here is some archival evidence. First the script for the scene. You will note scene 53 is set in an Exterior Open Field.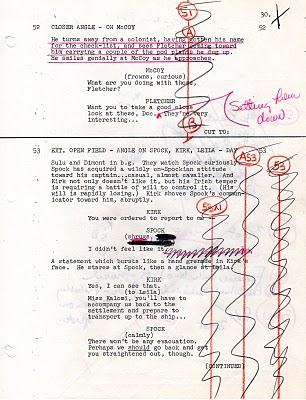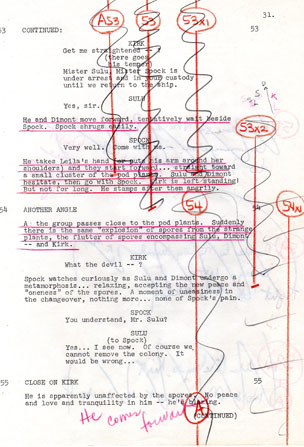 My pre-planned staging for the scene shows that I had planned a five-shot in the middle of the field.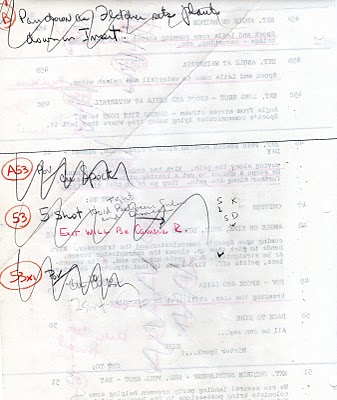 Fifty yards away I had spotted a very inviting limb.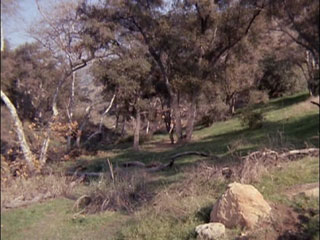 I asked Jerry if we could break the set-up and move to another location. He readily agreed. So we moved everything the fifty yards and filmed what has become a classic scene of the series.
Spock's character was not the only one drastically changed by the spores. Dr. McCoy, after his encounter with the spores (and a few mint juleps) suddenly emerged with his southern charm intact, embellished by Georgia-born DeForest Kelley's original sho nuff accent.
When we completed our location filming in Bronson Canyon, we returned to the studio to shoot the interiors of the settlement and the Starship Enterprise. Jerry Finnerman, director of photography, was a master at lighting. He had learned his craft from a giant in the film industry, Harry Stradling. Jerry was the assistant cameraman on Stradling's crew, and then he became Stradling's operator. His closeup of Jill Ireland in her first scene in the film I think is a master work. For his final step in lighting her closeup Jerry placed a small baby spot directly behind Jill's head. Her movements had to be totally  restricted or the lamp would show.
When Kirk returned to the Enterprise, Jerry not only lit the set beautifully for the mood of the sequence; he used light changes in Shatner's close-ups to illustrate visually his emotional feelings.
When staging fight scenes, stuntmen were usually used in the wide shots, with the principal actors doing the closer angles. As it turned out in the struggle between Kirk and Spock, the set was not large enough to shoot a wide enough shot to totally conceal the substitutions.
One of the important lessons I learned when directing theatre was that when doing comedy look for the serious moments, and when doing drama, look for the comedy. Spock hanging from the tree limb like a monkey was an injection of comedy into this serious drama. And Kirk's final line, "Had enough?" was, I thought, a fine comic touch to end a scene of violence.
With the crew back on board, the love affair over, all that Spock has to do was participate in my favorite final scene of the STAR TREK episodes I directed.
After production had finished, I received a very nice note from Mr. Spock.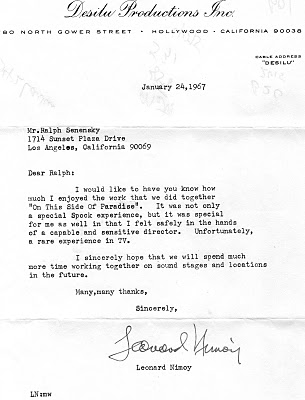 I was no longer disappointed that THIS SIDE OF PARADISE had been substituted for THE DEVIL IN THE DARK. What I didn't know at that time was than an even stranger and (I thought) better script than DEVIL (also written by Gene Coon) would be my next STAR TREK assignment.
The journey continues