FILMED October 1974
On Thursday, October 3, 1974, it was almost 13 years to the day since I was handed the JOHNNY TEMPLE script to start preparation for my first directed filmed television show. And how television had changed. I have repeatedly stated, I am not a historian. I was a foot soldier and I am reporting on my miniscule involvement in the gigantic, gargantuan, elephantine, cyclopean, brobdingnagian industry called Television. An indication of that change can be seen in the titles of the shows. During that period I had directed A HERO For Our Times, The HERO, Return of the HERO, Bullet For a HERO, and End of a HERO. If not totally extant …

… HEROES were no longer dominant. A current favorite: MURDER. The word "murder" was in the titles of 11 BARNABY JONES productions its first three seasons. The word "murder" was in the titles of all 3 BARNABY JONES episodes I directed: THE MURDERING CLASS, TO DENISE, WITH LOVE AND MURDER and the one I am reporting on here, MURDER ONCE REMOVED.
Is it possible?
Not a first, but a rarity,
The villain is a villainess
A she, not a he.
I was told that Buddy Ebsen owned his own sailboat, and since the beginning of this series he had urged the producers to do a script involving sailing. One had finally arrived, and we went out to Marine del Rey to sail it.
That sequence (4 1/8 pages) was our first day of filming. And what a day!
It was my first time working with Richard Eastham (Mr. Catlin, the unfortunate victim) but about a quarter of a century earlier I had seen Richard perform in Chicago in the national company of SOUTH PACIFIC, where he had taken over the Ezio Pinza role of Emile de Becque. His career had started in opera and Broadway musicals (he had a magnificent baritone voice) but Hollywood called and he came west for Ethel Merman's THERE'S NO BUSINESS LIKE SHOW BUSINESS. I don't think he sang in it. I'm sure he didn't sing a note in the following 37 years he remained out west to act before the camera.
That was Buddy's boat, but Barnaby didn't get to sail it. But he was with us, down below and quietly present. When we filmed, the only personnel present on deck were the 2 actors, the camera crew (director of photography, camera operator and assistant cameraman), the boom man holding the microphone extended on a long pole, the script supervisor and me. The soundman recording the dialog was down below with Buddy. The grips and gaffers, once a shot was set up, either squeezed into the limited space below or transferred to a neighboring boat, which of course stayed nearby but always in a position not to be photographed.
But there was a problem. We were quite a ways from shore, and there was the normal ocean movement, giving that small craft a bit of a tossing. Most of us on deck weren't affected, but the soundman down below in the confined space with Buddy was. I should say the soundmen! It wasn't too long before soundman #1 succumbed, and that nearby standby boat Inherited a new duty. It hurried to shore for a replacement, and then once the new soundman was aboard, it took the ill one to land. That boat became an ocean shuttlecraft. As I remember we had 4 soundmen that day. The script supervisor and I, seated beside the camera during filming, many times were cruelly but uncontrollably amused. Just out of camera range, a crewmember (usually the current soundman) was draped over the ship rail, being turbulently ill.
Four months earlier I had directed Beulah Bondi in THE CONFLICT on THE WALTONS. I was eager to work with her again. I submitted her name to casting exec John Conwell for the role of Aunt Meg. He referred the name to Quinn Martin. The response: Quinn said they would be pleased to cast Miss Bondi in a role, but he didn't think she was right for this one. I guessed it was her age. I couldn't be too unhappy with our next choice. I had directed Phyllis Thaxter 10 years earlier in DETOUR ON A ROAD GOING NOWHERE on THE FUGITIVE. A lovely lady! A wonderful actress! And two years later I had my wish fulfilled to work with Beulah Bondi again. THE WALTONS brought her Martha Corinne character back for THE PONY CART, and Beulah's performance was awarded the Emmy!
As I remember, our Catlin estate was in Bel Air. We were scheduled to go there for 3 days filming, both exteriors and interiors. The schedule for this show was different than any of the QM Productions I had directed. As compared to the usual 3 days location and 4 days studio, it was 6 days of location, 1 day at the studio. I didn't realize it then, but I now think it was not QM emulating Bert Leonard (NAKED CITY and ROUTE 66), but rather a matter of studio space. QM Productions that season had 4 series in production. THE FBI filmed at Warner Brothers Studio in Burbank. THE STREETS OF SAN FRANCISCO filmed on location in San Francisco. Based at the Sam Goldwyn Studio were CANNON and BARNABY JONES, and I think QM Productions didn't have enough soundstages to service 2 series. And that gives rise to something else. I was told Buddy was not too happy with the situation. He felt BARNABY was not as respected in the company as the other series, although his ratings were fine and except for the 9-year run of THE FBI, BARNABY JONES' 8-year run outlasted the 5-year runs of both CANNON and THE STREETS OF SAN FRANCISCO.
In the late 60's I had seen Robert Pine on THE LUCY SHOW. I think he was 26 years old at the time and I was very impressed with his performance. His comedy technique matched the great Ball shtick for shtick, so in 1971 I cast him in an episode of DAN AUGUST. At that time he still had not risen in rank to have his name listed as a guest star on the opening billboards. By 1974 he had, and I was happy to have him come aboard (couldn't resist the pun) as the leading man for MURDER ONCE REMOVED. Robert is still working today. Oh, I almost forgot. He's the father of Chris Pine, Captain Kirk of the latest STAR TREK feature films.
MURDER ONCE REMOVED was the first and only time I directed Pamela Franklin. Pamela's English, which I don't think is evident in her speech. Why are English actors so good at dialects? Pamela entered film at the age of 11 when she portrayed Flora, one of the two young orphans possessed by the spirits of their former governess and valet in THE INNOCENTS starring Deborah Kerr. Before she reached the age of 20 she had also appeared with William Holden, Bette Davis, Marlon Brando, Trevor Howard and Maggie Smith, to mention just a few. I love one of her quotes about acting: "Of all the actresses I've played with, I learned most from Deborah Kerr because she's "so graceful in everything she does. With Bette Davis, it's every man for himself! If it looks as if someone else is going to steal the scene, she shows who's the star. And why shouldn't she? She's a Great Actress."

Our 2nd day we returned to Marina del Rey and Buddy got to appear in a scene on his boat, but this time the boat was docked
Bill Quinn (Lawyer reading the will) was one of those actors with grease paint rather than blood flowing in his veins. His career started on the Broadway stage when he was 7 years old. I think he was one of the most respected actors in Hollywood. We did 8 films together, and he was a close personal friend. Bill and his wife May were part of our small group that attended theatre productions at the Ahmanson Theatre in Los Angeles.
MURDER ONCE REMOVED was the 8th time I directed Kristina Holland. The first time I worked with her was on THE COURTSHIP OF EDDIE'S FATHER, when she played Bill Bixby's daffy secretary. She had a delicious sense of comedy, and I always feel if an actor can play comedy really truthfully, he or she can play anything. That's why I cast her so against type here as Junie.
Kristina's apartment was one of the two sets beside Barnaby's office that was filmed at the studio on the 7th and last day of filming.
Our 2nd day (Friday) that began at the dock in Marina del Ray for Barnaby's scene on the boat, moved to a nearby canyon off the Pacific Coast Highway where the following daytime scene was filmed before we filmed the committing of the crime. After dark we filmed the night sequences. The interior of the car with Melissa and Arthur was filmed in process on the 7th and final day.
MURDER ONCE REMOVED was a welcome reunion with three former associates. Producer Phil Saltzman had left THE FBI at the end of its 8th season to produce BARNABY JONES. Three years earlier I had directed 5 THE FBIs which he produced, Even more exciting for me, when THE FBI concluded its 9th and final season, art director Richard Haman and director of photography William Spencer moved over in the QM organization to take over the same duties on BARNABY JONES. If you've read my posts, you know that Richard and Billy were two of my most respected associates.
In 1961 as I remember, the running time of a one-hour episode of DR. KILDARE was 51 minutes. The balance of the hour was for 6 one-minutes commercials, the opening billboard, the closing credits and halfway through the show a station break for the local channel outlets to identify and run their own commercial. The running time for MURDER ONCE REMOVED was a few seconds under 45 minutes – 6 minutes less. A key scene between Melissa and Aunt Meg ended up on the cutting room floor eliminating, an interesting element in the drama.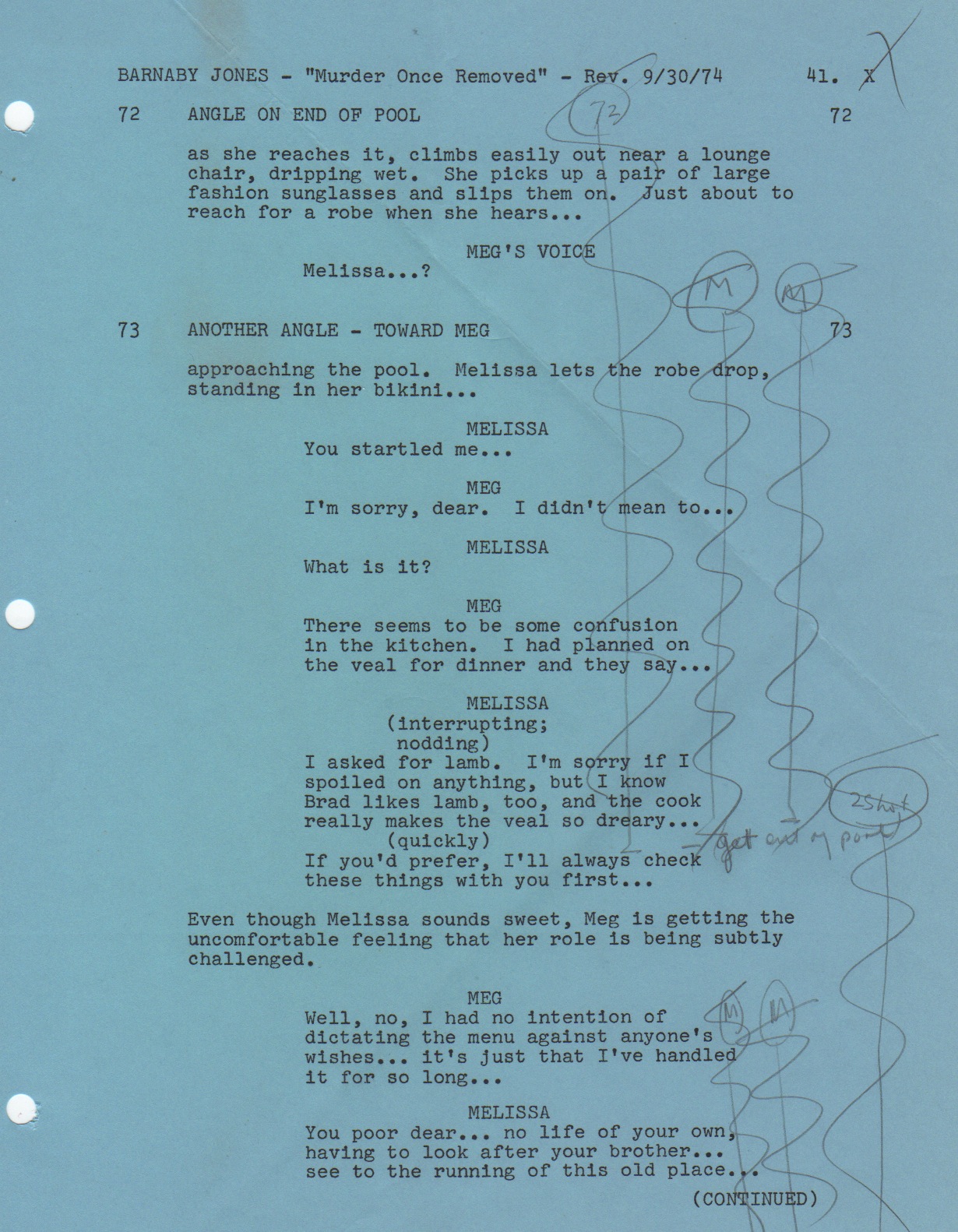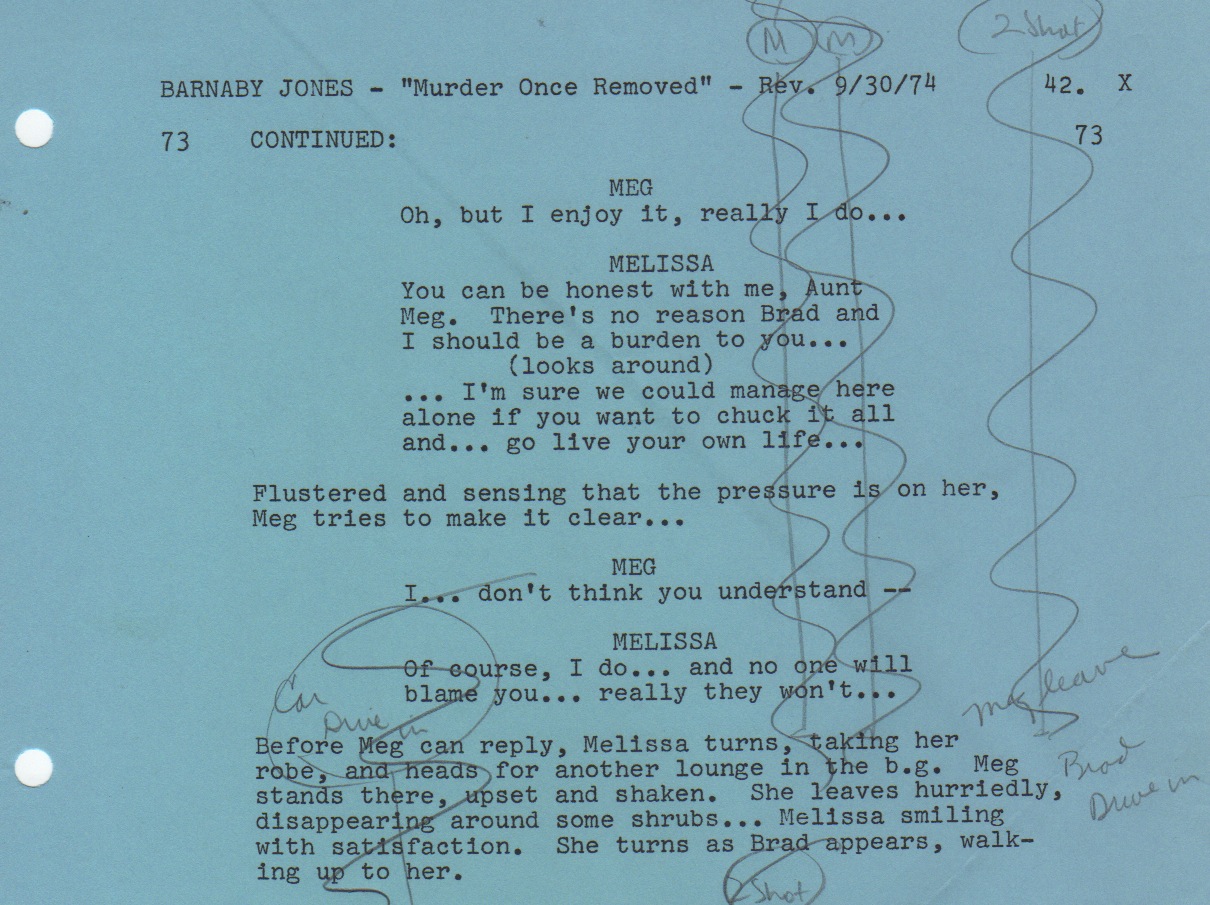 We had a difficult location to find for our 6th and final day of filming away from the studio. The problem? The scene was going to involve fire, and it was necessary to find an unpopulated area where that would be permitted. As we searched for the location, I was aware of how things had changed in the decade since I directed my first QM production. On THE FUGITIVE we had to find locations that did not look like southern California, locations that could represent all the varied topographies of the United States. Los Angeles was a constantly expanding city, and we now had to travel further to find areas without homes. As I remember we traveled well over an hour before we found a beautiful scenic unpopulated area where we could film.
Our work wasn't completed when we wrapped there. We had another location in the general area where we were to shoot the first scene of the film. Remember?
It was nearing the end of a long day. We made the move, the crew cleaned the blackened camper, we started filming and I was concerned. It was a fairly wooded area and had seemed perfect when I selected the location. But it was October with its shorter days and I feared we would lose the light. Wonderful director of photography Billy Spencer reassured me. Years before we had had a similar situation on an episode of THE FBI. We were filming in the wooded area of Franklin Canyon, it was an early morning sequence and it was so dark it seemed like night. Back then Billy had reassured me and by the magic of his camera settings and his directions to the lab for developing, the result was perfect. But I said that had only been one set-up and it had been a confined shot. The sequence we were now doing was 4 set-ups and the camera angles were much wider. We proceeded. By the time we got the last shot I felt I was shooting night, but the dailies the next day miraculously showed a day scene. See why I loved Billy Spencer.
Doesn't that seem abrupt for the ending of our drama? Well it was. The balance of that scene, also a victim of the curtailed running time, ended up on the cutting room floor.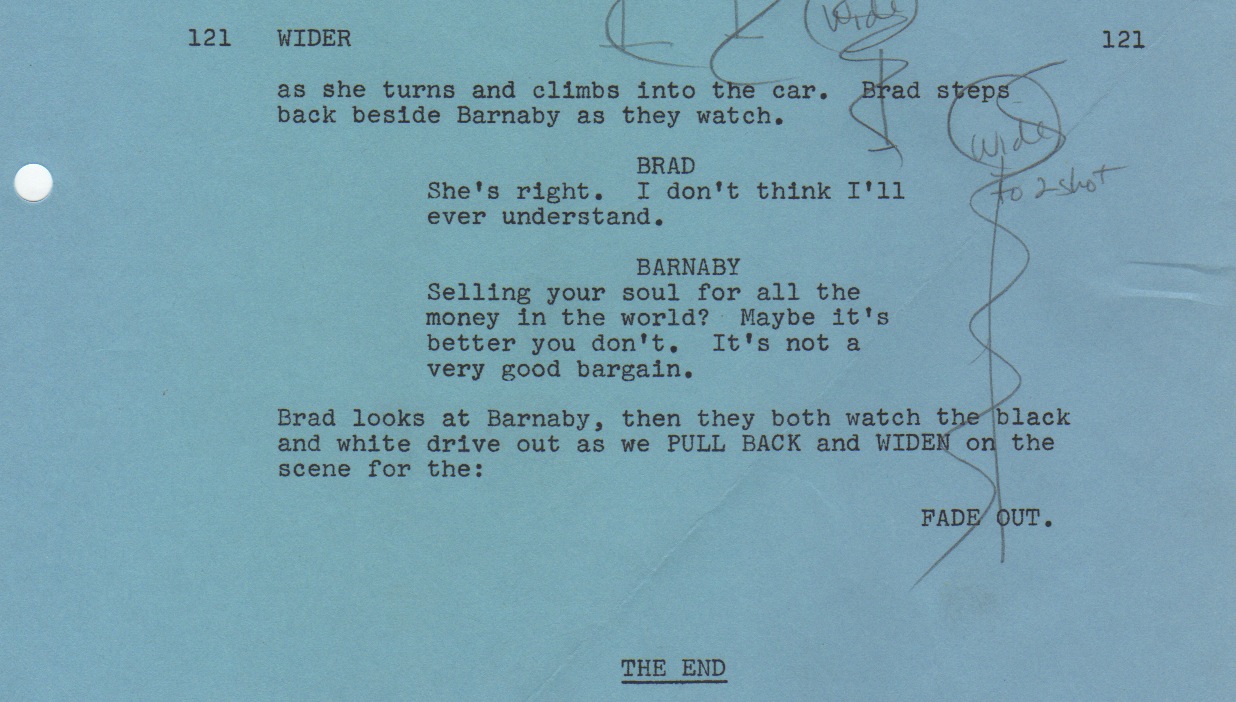 As you watch the credits roll by, notice the Associate Producer Russell Stoneham. This was the second time we worked together. Seventeen years earlier at CBS he was the Assistant to the Producer on PLAYHOUSE 90. I was his secretary.
The journey continues