Filmed January 1986
My second and final assignment for THE PAPER CHASE: THE GRADUATION YEAR was not going to be just another episode. It was the film concluding the series that had debuted on CBS in 1978, had been cancelled after a single season and then reemerged four years later in 1983 on SHOWTIME to run for three more seasons. What could be more appropriate than to end THE GRADUATION YEAR with a movie entitled GRADUATION?
The opening of a film is IMPORTANT. As quickly as possible you have to hook your audience, grab their attention, get them involved with your characters. Most of the time this is done in the editing room, not on the typewriter (then) or the computer (now). Screenwriter Joe Landon had provided a rich, fully detailed scrip; the problem was there was too much of it. To get our story moving we did some cutting, starting with eliminating the final few moments of the previous scene …


… a long sequence of Hart "thinking it over" …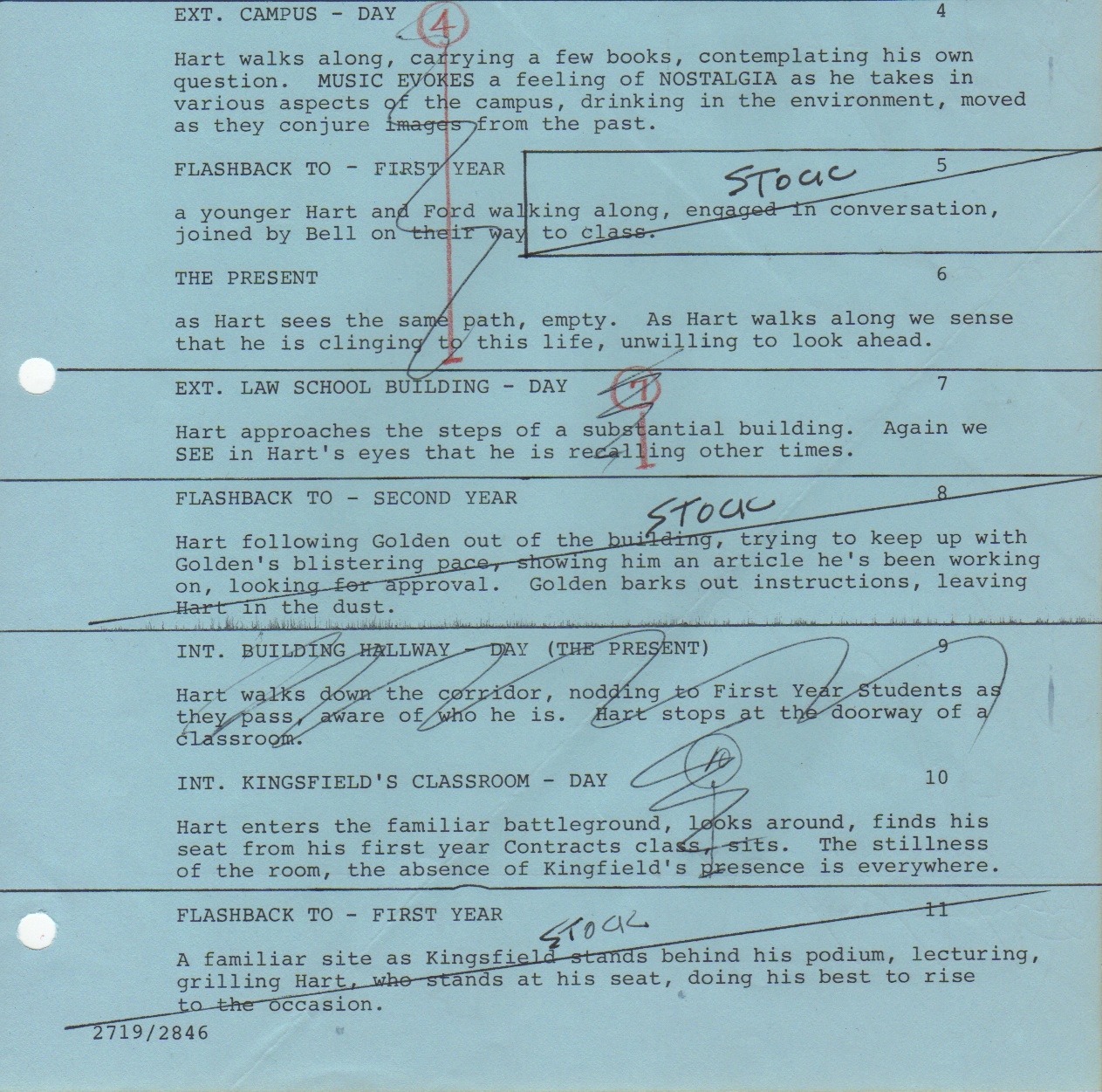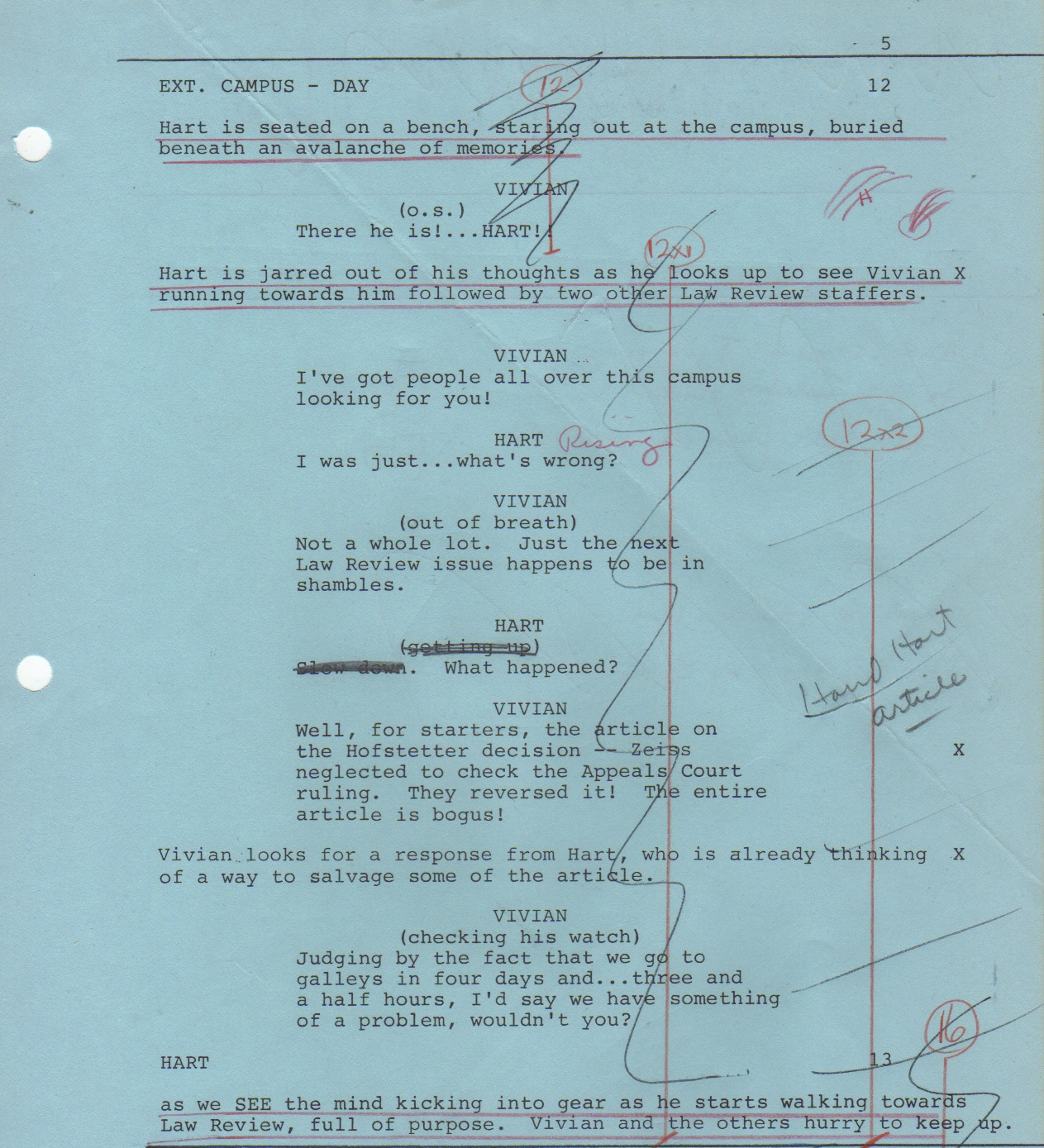 … so that we could get back to the business of telling our story.
As usual I never met the author, Joe Landon. His was a formidable task. THE PAPER CHASE had a long history starting with its successful novel, then its 1974 screen adaptation that earned John Houseman an Academy Award for best supporting actor and finally its four-season run on television. It had amassed an impressively long list of supporting and interesting characters, and all of their stories had to be dealt with as the saga drew to its conclusion.
As you can see, our film is not going to restrict itself to the graduating class; it's going to cover students in the first and second years as well as some of the faculty.
Diana Douglas (Professor Tyler) joined the series the same season I did. She was a beautiful lady, an excellent actress with a wonderful sense of humour (spelled the British way in her honour). She told me (and I've forgotten whether this event happened on her honeymoon or early in her marriage to Kirk Douglas) that once when she was out with her husband, she bumped into some friends. She started to introduce him to them, but couldn't remember his name. She said she knew then the marriage was in trouble. Diana passed away three months ago.
Has there ever been a better presentation of the purpose of college education than that stated by Professor Kingsfield:
"The first three years of your existence has been cradled within the curriculum of this institution. Each challenge you've faced has been carefully provided for you by the faculty with the express purpose of fostering your understanding of the law. Within the structure you've functioned as a student and I as the teacher. It is both pointless and inappropriate to cling to an identity that is no longer valid. The questions you will soon be facing will be of those of your own design; the specific answers that only you can provide. It is for you and you alone to choose the path that you will follow."

But I remember a time long ago, sitting on the porch with my dad at 4 North Jefferson in Mason City, Iowa, telling him of some problem I was having. He listened and then discussed with me the options I had to solve my problem. He then said, "You have to decide what you're going to do." I was seven or eight years old at the time.
When directing one of the sources for information is one's own past. While directing GRADUATION I didn't remember during my graduate year at the Pasadena Playhouse School of the Theatre having the intense, almost vicious competition that I was staging with law school students. Oh sure some of those students intent on an acting career were acquiring skills like "upstaging," but that wasn't vicious. That was fun!
Somebody on the Paper Chase staff must have had a predilection for "dream" sequences. This was the third one I staged in the six productions I directed. There had been two in the two-hour DECISIONS, one dreamt by Golden in the first hour (which I liked; it was literate, surreal, original and definitely appropriate to the situation). I had problems with the second one dreamt in the second hour by Hart. It was unnecessarily Freudian and too cartoonish. I didn't think it illustrated the problem Hart was facing, the stress he was experiencing, and that was my reaction to the one in GRADUATION.
Hart's fears would have been focused on his own performance as a teacher. Professor Kingsfield would not be an obstreperous student seated before him. He would be a towering presence hovering over  him, challenging him to be the professor he aspired to be. I thought the 'real' sequence following, when Hart visited the classroom and anticipated what it would be like to stand there as a professor and also remember when he had entered that same classroom years before for the first time, more accurately illustrated his turmoil.
On all series, if the ratings were not in the top ranks, filming the final episodes of a season was a stressful time. Would the series be picked up to return the following season, or would the regular cast of the series be out on the open market, seeking employment? The cast of THE PAPER CHASE: THE GRADUATION YEAR didn't have to wait till the final episodes. They knew the day they reported to begin filming the season's first episode that this was the end. I think there was always an underlying feeling of sadness during filming that season.
The scene between Professor Kingsfield and Professor Tyler was the third and final scene on the 9th day. It took 29 set-ups to film the two previous scenes totaling 6½ pages, all in one set and involving several characters with very important speeches. It was late in the day when we moved to Professor Tyler's set to film the 3¼ page final scene, which had to be completed that day. It was our final day at the studio. We were going to be filming at USC the following three days, which would complete photography on the film. Normally I would plan at least 2½ hours to film the Kingsfield-Tyler scene. I think we had less than an hour and a half. I had planned 13 set-ups. I quickly revised my staging and camera set-ups and filmed it in 7. Director of Photography Al Taylor was brilliant and fast. I tried not to let the pressure extend to the actors, but I'm sure they too were aware of the problem. The point is we did it, and I applaud John and Diana for their professionalism and talent. I don't have the records, but I don't think any set-up took more than one take.
I wish I had a better print of the film. That Bell-Laura scene was an example of just how fine Al Taylor's photography was. It totally reflected Bell's emotional mood. Do you know on a feature film that 2-page scene could take a full day to film, or at least a half a day! On our schedule it was one of 8 scenes in 7 different sets. And Al accomplished this working under different and strange circumstances. He was filming 16 mm film, which required different lighting (and don't ask me to explain that). The negative was developed but never printed. The negative was transferred to tape, which was how we edited and produced the final product.
James Stephens was a brilliant bit of casting for this series. His quiet manner belied his authority. He had a magnificent understanding and sense of comedy timing, which he used impeccably, as he microscopically dissected his words and reactions
To be continued