Filmed November 1984
Face it! Many changes had taken place in the 23 years plus a month that had elapsed since I directed JOHNNHY TEMPLE on DR. KILDARE. I had progressed from being an unknown new director through being a veteran director who no longer needed to be interviewed before being hired, then back to being the required interviewee for a job. So I was not surprised when my agent called and tentatively asked if I would go out to 20th Century Fox to meet Lynn Roth, the executive producer of THE PAPER CHASE. He was tentative because the previous week he had asked me to meet the producers of a new nighttime soap opera, and I had responded that I wasn't interested. THE PAPER CHASE interested me, and I agreed to go to the meeting, where I was pleasantly surprised. In 1962 my agent Mel Bloom accompanied me when I went out to Universal to meet Norman Lloyd, the producer of THE ALFRED HITCHCOCK HOUR. Mr. Lloyd told me the production for which I was being interviewed was a suspense show set in an advertising agency, so what did I have to show him like that that I had directed? I, of course, had nothing. At that point I had directed the one episode of DR. KILDARE, not a suspense show and set in a hospital, not an ad agency. I didn't get the job, but wasn't it strange that the forty-five stage productions I had directed were given no consideration. Lynn hadn't brought me out to question me about my background. She had only two questions: how did I feel about the subject of abortion, and would I be willing to direct a show on that subject. I told her I had no problems with either of her questions. I wonder if I had had a problem, would I have changed my mind when I read the script. I think I would have. It was a beautifully written script titled THE CHOICE. So come with me as we head back to Harvard Law School to meet a group of young third year students and the demanding Socratic Professor, Charles W. Kingsfield.
THE PAPER CHASE had an interesting history. It first appeared in 1970 as a novel, written by John Jay Osborn, Jr., a 1970 graduate of Harvard Law School. Three years later it made its way to the big screen as a 20th Century Fox film starring Timothy Bottoms and John Houseman. In 1978 it was adapted into a television series, again starring John Houseman with James Stephens taking over the role of brilliant student, James Hart. It aired on CBS, but was cancelled after one season. PBS subsequently aired that entire season, and in 1983 pay-cable network SHOWTIME brought back the show for three more seasons. I was coming aboard for the second of those three seasons. So let's go look up some of those law students, and where better to find them than in Ernie's, the bar close to the university.
I am still intrigued by the creation of a film as it moves from the author's typewriter (in those days, still pre-computer) through the director to the editing room. That scene was an example. The script cut away in the middle of Diana's joke to a couple seated at the bar: Laura, a fellow third-year student, and Tom Ford, Franklin's younger brother in his first year in law school.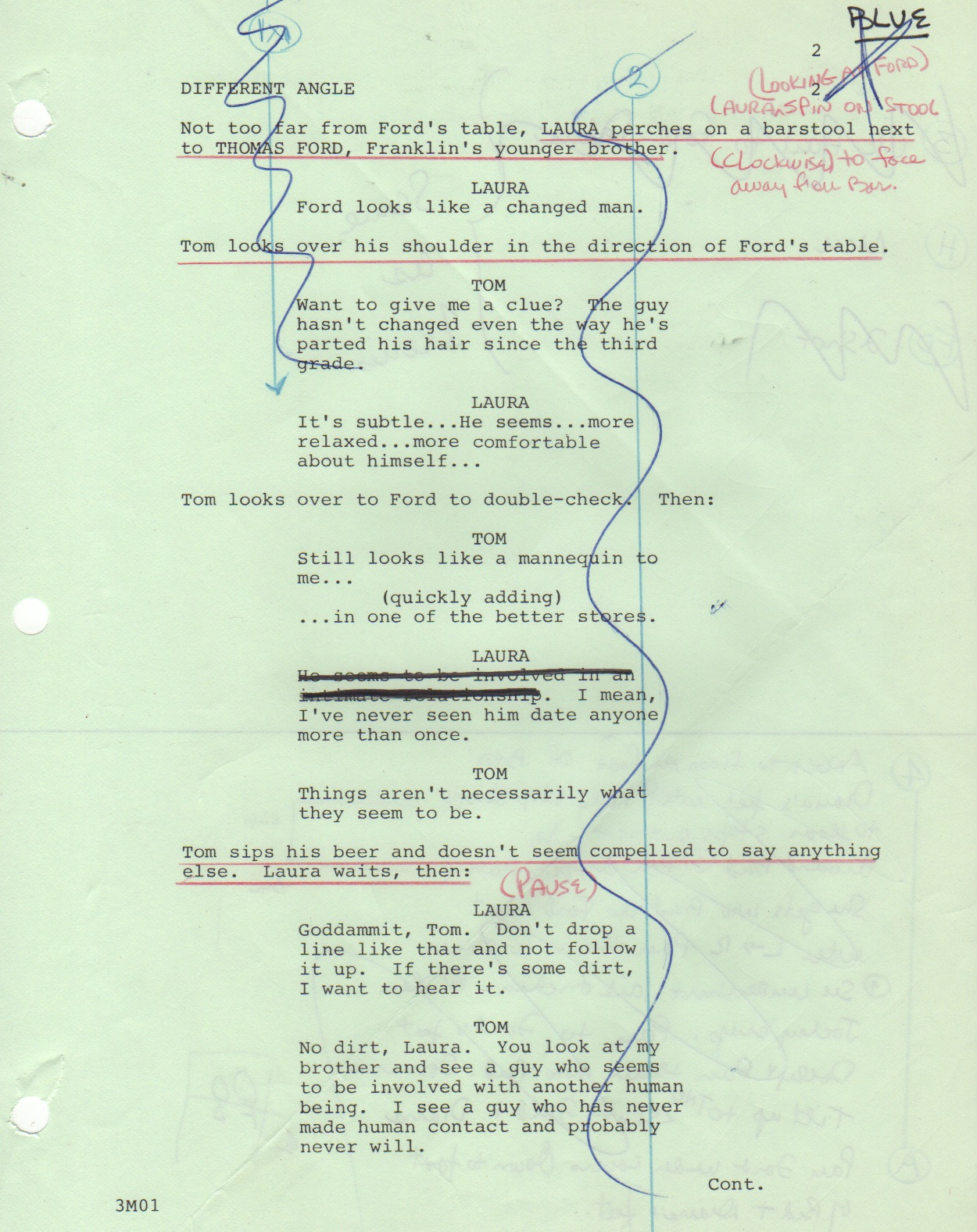 The two were like a Greek chorus, pointing out that Diana and Franklin Ford weren't a well-matched couple. Cutting to them interfered with the rhythm of the scene and the completion of Diana's joke. I filmed it, but fortunately that bit ended up on the cutting room floor.
Another change happened at the beginning of the following scene with my staging.

When James Bridges directed the film THE PAPER CHASE, his first choice for the role of Professor Charles Kingsfield was James Mason. When Mason proved to be unavailable, attempts were made to cast Melvyn Douglas, Edward G. Robinson, John Gielgud, Paul Scofield and other famous actors. All turned the role down. Bridges then cast his mentor, John Houseman, who had acted very infrequently. His early theatrical association had been with Orson Welles' Mercury Theatre and then Orson Welles' CITIZEN KANE, but not as an actor. Houseman moved on to became an illustrious film producer. He played Professor Kingsfield and won an Academy Award for best supporting actor. The following fifteen years were spent as a very successful film actor.
This was a professional reunion for John Houseman and me. When I was one of the two alternating production supervisors on PLAYHOUSE 90 in the late 50's, John was one of the three producers who replaced the departing Martin Manulis. Then in 1961 when I was at MGM as the assistant to the producer on DR. KILDARE and John was at the studio producing ALL FALL DOWN, I read in Daily Variety that John was going to direct Eugene O'Neill's THE ICEMAN COMETH for his UCLA-based Theatre Group. One day when I bumped into him on the lot, I congratulated him, wished him well, and said I hoped he enjoyed doing it as much as I had when I directed a production at Gilmor Brown's PLAYBOX. John's response was, "You directed that production?" The result of that meeting was that I came aboard as his co-director for the Theatre Group production. We had no contact after that production until I came to do THE CHOICE. John personally was very much like his character of Kingsfield, so I remember being surprised when at our first meeting he grabbed me and hugged me.
Three new continuing characters were added to the series for THE PAPER CHASE: THE THIRD YEAR: Professor Tyler, Rose Samuels and Tom Ford. Interestingly the show introducing them had not yet been filmed. You haven't met Peter Nelson who played Tom Ford, since his bar scene was cut. You have just met Diana Douglas, who is Professor Tyler. Diana had an elegant charm that, although she was American, reminded me of my close English friend, Mavis Palmer. I was impressed with Diana's acting, which was very real and meticulously detailed. She had been married to Kirk Douglas and was the mother of Michael Douglas. I probably shouldn't tell this, but when has that ever stopped me. Diana told me that once when on vacation in Italy with Kirk, she bumped into friends. She started to introduce her husband to them, but she couldn't remember his name. She said she knew then her marriage was in trouble.
Cathy Silvers (Weinstein) was the daughter of legendary comedian/actor, Phil Silvers. It was the first and only time I worked with Cathy, but it was the second and not the last time that, though at a distance, my path crossed Phil Silvers. I never worked with Silvers. I never met Silvers. I was just a huge admirer of his work, both from a theatre seat and a seat at the movies. My first job on PLAYHOUSE 90 had been as secretary to Russell Stoneham, who at the time was married to Jo Carroll Dennison, the first wife of Phil Silvers. That was path-crossed #1. Now over three decades later #3 has cropped up. The son of one of my close friends is going to marry Cathy Silvers' niece, Phil Silvers' granddaughter.
Something very rare happened on this production. Lynn and I auditioned a host of young actresses for the role of Diana before selecting Annabella Price. I knew that the Ford/Diana relationship was one of the most dynamic and complex that I had ever directed. Fortunately Tom Fitzsimmons (Ford) had time when he wasn't needed on the set for the current production filming, and Annabella was willing and eager to report to the studio early without pay, so we could rehearse their scenes. It was really like rehearsing a one-act play.
Interesting sidebar: In fact, 2 interesting facts. In 1963 BREAKING POINT made a revolutionary breakthrough when in the episode, THE BULL ROARER, one of the characters uttered the word, "homosexual." And a dozen years earlier Lucille Ball was pregnant in real life with her son, Desi Arnaz, while at the same time her character on I LOVE LUCY was also pregnant. Network restrictions prevented the word "pregnant" from ever being uttered during the long term of Lucy's pregnancy.
I remember thinking that last sequence between Ford and Diana was staged and shot just like it might have been in live television — one camera set-up in the corridor, one in the bedroom with no cuts, no close-ups and no difficulty cutting from the corridor camera to the bedroom camera.
The USC campus was the location site for our Harvard exteriors, but there was a matter of selection and avoidance. There were many great buildings on campus that matched the look of Harvard, but there were also structures that were very southern California.
The unique thing about this script was that it was presenting both sides of the abortion problem — pro and anti — but it did it from a unique angle – a father's rights.
There was another female/male conflict in that scene. Baby Emily was played by a baby boy.
THE CHOICE was filmed in six days – five days at the studio and one day (the third day) on location on the University of Southern California campus. There were four sequence scheduled that day totaling 7 ¾ pages. Three of the sequences were day; one (that final scene you just viewed) was night. Usually if a location was within thirty miles of the studio, cast and crew drove to the location, but because of the limited parking at the university, we reported to the 20th Century Fox lot at 6:00 am and were bused the short distance to the university. Since we were filming near the end of November, we lost the light early, so it was a long day, but we still wrapped in the very early evening.
Have you noticed there has not been one bar of background music? That was a decision that was made in postproduction after I had moved on. It was a decision of which I heartily approved.
Cathy Silvers was 23 years old when we filmed THE CHOICE. I recognized her relaxed demeanor before the camera and the reality of her performance; but mostly I was impressed that her comedy came out of a very serious Weinstein and that it came from character, not shtick.
This script had one of those rare scenes I relished like the book burning scene in THE FIRESTORM and the green bean scene on GRANDMA COMES HOME, both on THE WALTONS, and the father/son confrontation scene regarding the boy's homosexuality on the DYNASTY pilot. It was a quieter scene than any of those, two pages long with two characters, Ford and Hart, and took place in the Law Review set. The scene was scheduled as the last scene on our sixth and final day, a day that had eight other scenes totaling eight pages on five other sets. Because I considered it such a special scene, I hoped I could better my usual allotment of time and have three hours to film it. The reality as we approached the end of that day was that I had an hour and a half.
Now remember this was my first directed show on the series. For James Stephens and Tom Fitzsimmons it was their third season playing their roles. After I took them through the first blocking and while the cameraman and crew were lighting, the two came to me and James hesitantly but graciously said that because of their relationship a scene like that would usually be played with the two of them sitting down and discussing the situation. I responded by hastily describing what I was trying to achieve. I probably was verbose. Tom finally stopped me, looked me directly in the eye and quietly said, "I trust you." We filmed the scene as I had staged it. Two set-ups, a master shot and a close-up — and on time!
I wish the film was not so faded. Director of photography Al Taylor did an outstanding job under extraordinary circumstances. I don't know if the previous year had been filmed as we did it, but the series the two years that I worked on it was shot on 16 millimeter film. Al told me he had to light differently than if we were filming in 35 millimeter. Only the negative was developed. There were no prints made. The negative was transferred to tape, and that's how the show was edited.
Eleven episodes were filmed for the third season of THE PAPER CHASE. The opener for the season was a two-hour episode, DECISIONS, written by John Jay Osborn, Jr., the author of THE PAPER CHASE, the original novel that provided the basis for the movie and television series. At the completion of filming on THE CHOICE Lynn Roth asked if I would stay on and direct DECISIONS. I did, and that will be the next post as …
The journey continues