FILMED June-July 1978
On Saturday, June 24, I flew with key members of the film crew to Denver. There we transferred to a small craft (pretending to be an airplane) to be shuttled to our destination in Aspen. I was well acquainted with that vehicle (I have difficulty calling it an airplane), since I had flown in and out of Mason City, Iowa many, many times in sister-models. It was small and barely accommodated the fifteen in our party plus our luggage. I remember that one of our crew was a burly guy; he sat across the aisle from me, he was terrified of flying, and he made no secret of it. He admitted he had prepared for the flight by imbibing what he hoped would be a sufficient amount of distilled spirits to get him fearlessly to Aspen. As he boarded our craft, he realized he had not anticipated the final lap by shuttle and was probably a few shots shy of the amount it would take to get him there. We were blessed in having a stewardess who was a less sophisticated and earthier version of Eve Arden. Noticing his discomfort she took immediate action to relieve his anxiety. As we buckled ourselves into our seats, she announced that, unlike usual flights where, once airborne, passengers could unbuckle, she recommended we stay buckled until we reached Aspen. She explained that air currents in the mountains could toss a small aircraft like the one in which we were traveling so violently that passengers who were unbuckled had been known to hit the ceiling. All aboard except our burly one were amused, and all, including our burly one, reached Aspen safely.
Sunday was spent scouting the many locations I would be filming. But before embarking on our mountain adventure, let's return for a short time to the Swiss village of Dorfli on the Columbia Ranch.
Five sequences on a mountain slope were scheduled for our first day of filming in Colorado. We were blessed with a beautiful, warm (but not hot) comfortable day. There was someone from Switzerland visiting the set that day. When asked what he thought of our using the Rockies to fill in for the Alps, he commented, "It's all very nice, but we don't have red poppies in the Alps." Our art department had decorated the slope with plastic red poppies to make it look more real.
Because of length, two of the sequences on the mountain slope did not make the final cut. I almost didn't make it myself. At the end of that first day in the mountains, I suddenly became violently ill. I immediately crawled into bed, shaking with the chills. I had sunstroke. Our production manager hovered over me, helping when he could and worried about filming the next day. Somehow through the night I recovered, so that the next morning I was able to return to the set. But before I did, I went shopping and found a blue denim hat with a very wide brim. Thirty-four years later I still have the hat and can be seen walking Carmel beach wearing it.
I liked to do research for projects on which I was working. It was a way of embellishing Beulah Bondi's mantra, "True acting is being, not seeming." It was a way of expanding that mantra so that the entire project was to be … rather than to seem. In the early years of my film career some projects offered me the opportunity to do that. On HASTINGS' FAREWELL (DR. KILDARE, 1962) I went with the authors to the Long Beach Naval Hospital to visit their Aphasia Unit. On FUNNY MAN WITH A MONKEY (ARREST AND TRIAL, 1963) I spent hours at Synanon, a rehabilitation establishment for drug addicts. For SHADOW OF A STARLESS NIGHT (BREAKING POINT, 1964) I attended classes at the Guide Dog For The Blind institution in San Rafael, CA. where I observed ten blind people being trained to use their newly acquired companions. Information and knowledge acquired greatly affected what I was able to turn out. But the scripts I was booked to direct by the late seventies no longer offered me such opportunities. THE NEW ADVENTURES OF HEIDI provided me a different source for research -– Johanna Spyri's original novel, HEIDI. I had a paperback copy of the novel, which I pored through, using a red pencil and boxes of paper clips to mark incidents and bits of business I thought could be included in our script. The following scene, which was inspired by something I read in the book, was one of them. But when it came time to trim our show in the editing room (we were very long) I was about to cut it. Charlie, very wisely, kept it in.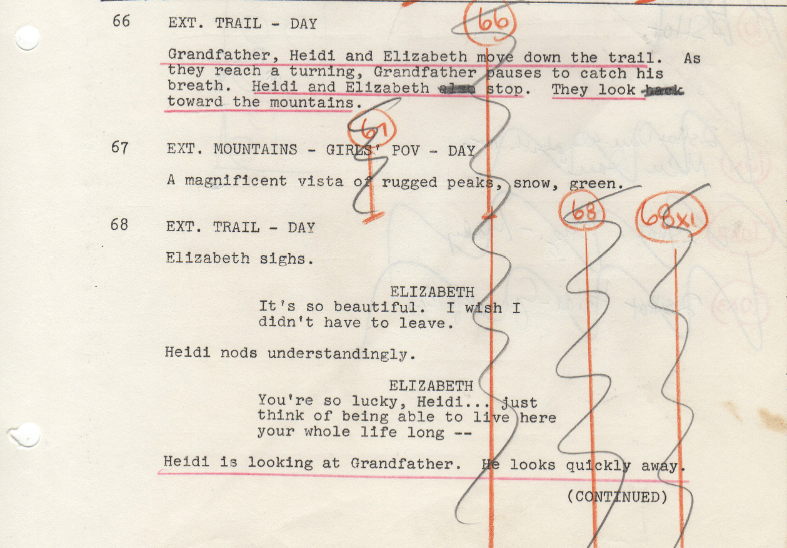 The half-page scene of Grandfather, Heidi and Elizabeth moving down the trail to the village was one of the sequences eliminated in the final editing. It was a cut I regretted having to make; there was a telling moment between Heidi and Grandfather about her coming departure, plus which I hated losing any sequence that included the scenic beauty of the mountains.
Katy's remarkable concentration and emotional involvement when she acted truly fascinated me. I once asked her how she approached doing a scene. That twelve-year old's answer was so simple. She shrugged her shoulders and said, "I just believe."
Songs named for the leading lady of musicals have been around forever. In 1929 Ruby Keeler played a dancer named LIZA in George Gershwin's SHOW GIRL, and his song LIZA is still with us if, even if SHOW GIRL no longer graces any stage. Even earlier in 1924 Rudolf Friml gave us the song ROSE MARIE in a musical of the same name, and if productions of that musical no longer appear on our stages, the two MGM musical productions with that name can be seen on television or via DVD. In more recent times we have had GIGI and MAME. Regarding the latter musical Bea Arthur made a hilarious appearance in the 1994 Hollywood Bowl tribute to Jerry Herman when she introduced herself by saying, " … my very first starring role was in Jerry's Broadway musical, VERA ,,, No wait, it wasn't called VERA. 'Nothing could rhyme with VERA,' Jerry said." Long, long pause. "Sondheim could have rhymed it." So not to be outdone by the past, Charles and I asked Buz Kohan to write a song named for our leading lady, which he did.
We filmed on the slopes and around Grandfather's alm hut for seven days. Midway through that seventh day, Sunday, July 2, our production manager came to me to ask if I thought we could film one more day before taking a break. That would avoid our working on July 4, an expensive day to work because it was a holiday. It had not been an easy week. We were working at an elevation of 7,890 feet. There were oxygen tanks available on the set at all times. At a usual location, trucks bearing the equipment would park as close as possible to the filming site, the camera would be mounted on a crab dolly and rolled to the set. But the trucks could not get near to where we would be shooting and the terrain was too rough to use a crab dolly. All the equipment – camera, tripods and camera mounts, cans of film, sound equipment, props — had to be carried over rough terrain to our filming locations. My illness the first day seemed to set off a torrent of visits to the infirmary. Besides the injury to the steadicam operator with the broken ankle, there was a steady daily stream of crew with ailments. And late in the week, while working around the alm hut, a late afternoon threatening storm produced a sudden heavy wind that tore the wooden tiles from the roof of the hut and sent them hurtling through the air. Several members of the crew were hit. I decided a day off was long overdue. In spite of the added expense we would take Monday off and work on the fourth of July, which did produce an unusual thrill. Our location for the rescue of Peter was Independence Pass. We would be working in Independence Pass on Independence Day.
Sean Marshall's mother, and rightfully so, was very concerned about her son being placed in that "raging river". We had one of the crew go down and stand in the water by the rock where Peter was going to be placed. She felt reassured when she saw the water came to just a couple inches above the man's knees, and the river was not as treacherous as it looked. The cliff was also not that steep. The challenge to make it look more dangerous was met by the use of wide-angle lenses and a careful selection of camera angles to film the rescue
To Be Continued