Filmed January 1963
Halfway through the month of January, 1963, I had been a member of the Directors Guild for fifteen months. During that time I directed six television shows. That might seem like an exciting accomplishment, but six shows in fifteen months amounted to about sixteen weeks of work for a gross income of $11,370, which is far from princely. And since it was January, and the television season was winding down, my prospects for additional work before the beginning of the new season looked lower than dim.
And then on a Tuesday I got a telephone call from one of my agents. He said that I had an interview the next day with producer Herbert Leonard about the possibility of directing an episode of ROUTE 66. The following day at the appointed time I went to Columbia Studio at Sunset and Vine and was ushered into the producer's office. Mr. Leonard, a very short man sat behind a very large desk. I sat down and waited for him to finish his telephone call. In the room there was much activity, different meetings going on all over the place. I felt like I was in a scene from YOU CAN'T TAKE IT WITH YOU. Mr. Leonard did NOT finish his telephone call. He would ask me a question, and while I was answering, he returned to his telephone. This went on for four or five minutes, after which I was summarily dismissed. I went home and soon was surprised when my agent phoned to tell me I'd gotten the job. I was to call the studio the next day to see about the script. So at the appointed time on Thursday I called and was told by the associate producer that the script hadn't come in but the writer had. He had returned from the location; he said he had solved his plot problems and was going home to start writing the script. I was to report to the studio the next day at three o'clock, bringing my luggage because I would be leaving that night for Corpus Christi, Texas.
My agent called me again on Thursday. He told me he had worked for the Bert Leonard organization before he became an agent, and he wanted to give me some advice. He said go out there, do the best you can, keep your nose clean, and always remember that those guys on the crew, with their union scale, their overtime, their gold time — you may be the director, but you are going to be the lowest paid member of that group.
On Friday at the appointed time I reported to the studio. I was handed nineteen pages of a script by Stirling Silliphant. It was IN THE CLOSING OF A TRUNK, and, what little there was of it, I thought was exciting. Before I left that night, I was given an additional four pages. I was also told the starring roles in the show had been cast: Ed Begley, Ruth Roman and Don Dubbins. I was especially happy to hear about Don being cast, because he was the one actor I knew. I had directed him in a play at the Pasadena Playhouse and in an episode of CHECKMATE.
When I left that night, I realized what a challenge I was facing. The six television shows I had directed had all been filmed in the studios. One short sequence for a home-movie scene in a DR. KILDARE had been filmed on a local location at a residential swimming pool. I had also filmed some sequences on the MGM back lot. Distant location shooting was a whole new ballgame.
That night at eleven o'clock I boarded the plane and arrived in Corpus Christi, Texas, Saturday morning. I was picked up at the airport and taken to the production offices. I learned we were to begin shooting the episode Monday morning (the usual time frame for a director's preparation was six days) so in the next two days our immediate chore was to find our locations. Based on the scant twenty-three pages of script we had, that meant a ferry boat and a large old house on stilts on a lonely stretch of beach, no houses to be visible in either direction. The ferry boat was easy. Stirling had been there and had literally written the show to fit the area. They took me to the ferry boat, I made my notes (oh, to have had the small digital cameras of today) so that I would be able to lay out the staging and filming for the long opening ferry boat sequence. Then began the search for the large dilapidated old house on stilts. We drove up and down the beach, and there was no such house. Sam Manners, the production manager, said, "It has to be here. If Stirling wrote it in the script, he saw it. It has to be here." So we drove up and down the beach again, but there was no house like the one described in Silliphant's script. Finally we found a one-room shack on stilts that was totally isolated, and since there was nothing else available, we knew that one would have to do.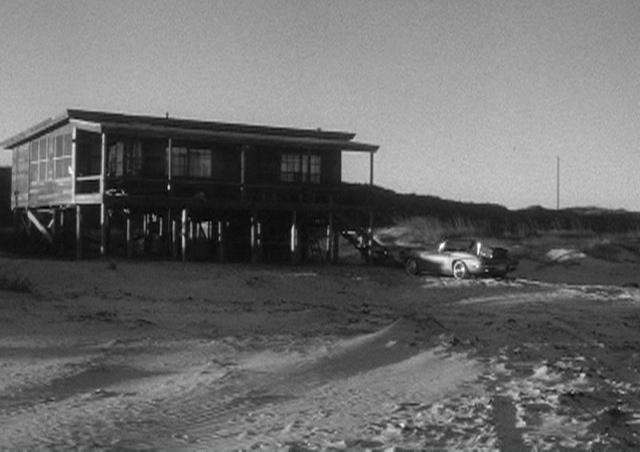 We were also going to have to shoot our interiors in that house. In the twenty-three pages of script that we had, Alma at one point had to exit into another room. But there was no other room. However there was a small closet with a curtain over the opening. We decided that if we hung a door, she could just exit into the closet. That meant that there was going to be some time needed to prepare the room. That didn't seem to be a problem; since exteriors were always shot first, we scheduled the ferry boat sequence for Monday morning.
Sunday as I was strolling with Sam Manners through the center of Corpus Christi, a small rundown, New England style fishing village, Sam suddenly stopped. There, right in the middle of the village was a huge house on stilts. Sam saw it and said, "That's the house Stirling saw. That's the house he described in his script." And Sam chuckled and said, "Stirling saw the house he wanted, so he just moved it to the isolated spot on the beach that he needed for his story." Unfortunately we couldn't do that.
Early Monday morning, we gathered at the ferry boat to commence filming. It was a dull, overcast, drizzly day, and Jack Marta, our great director of photography, said he couldn't film. This was the first day in the history of ROUTE 66 filming that they were weathered out. We spent the day at the end of a pier in a large enclosure, hoping there would be a break in the weather that never came. Under normal conditions like this, when a company is weathered out, they move inside to a cover set. We had no cover set. The only interior in our first twenty-three pages was Alma's house, and that was being prepared. The bad news was the weather forecast for the next day was more of the same.
That evening our production office spoke to the producer's office in Hollywood. They were told the script was finished, and that an associate producer would be flying to Texas to hand deliver it the next day — arriving AROUND NOON. That meant we still didn't have anything to film the next morning. So someone in Hollywood dictated three scenes to a secretary in Texas. (Oh for the convenience of today's e-mail!) Those scenes were typed up and distributed to cast members, crew and me. Mr. Leonard phoned me and told me the rest of the plot and the positions in the story where the new scenes occurred. Then while the location manager went out to find and make arrangements for our use of the needed locations, the involved cast studied their parts, having only read the first twenty-three pages of the script, and I planned my staging and camera coverage for my first ever location scenes, to be filmed in places I hadn't scouted.
Tuesday morning we reported to a fish house for a scene with five people: Ed Begley, Don Dubbins, Guy Raymond, Harry Hickox and Jon Lormer, all flown in from Hollywood. By the time we broke for lunch, we had completed the six page sequence. I felt FINALLY we were on a roll. But then Jack Marta came to me and said, "I hate to tell you this, but there was a camera malfunction. We're going to have to reshoot everything after lunch." So now a day and a half into the shooting schedule I was still on square one. Immediately after lunch we very quickly reshot the fish house sequence.
That afternoon we completed the two other sequences, only one of which made it into the final cut. I will discuss that scene later. That evening I received a note from Ruth Roman. It was very funny. Two days had passed, and she had yet to work. She wondered if we thought we had lost her, and assured me she was still present and ready to work.
The story was told in flashback. I was faced with the task of filming a climactic scene in the interior of Alma's house between Ruth and Martin, and at the same time filming the necessary extra coverage for an abbreviated prolog.
I remember the graciousness and kindness of Jack Marta to a very inexperienced director. When I staged that scene, Alma opened the door, and the trunk was on the porch. It was awkward for Todd to pull it into the room, as I directed him to do. Jack quietly suggested that I have it leaning against the door, so that it would fall into the room.
The ferry sequence was another big first for me. This was filming on a much larger scale than anything I had yet attempted. And I had never filmed such an extended sequence with so much to establish and with so little dialogue to do it.
The ferry was in movement for every shot. I very soon became aware of swarms of sea gulls, and I wanted to use them as flying extras. The good thing was they worked cheaper than members of the Screen Extras Guild. All it took was a couple of the crew who were stationed, out of camera range tossing bread crumbs onto the water.
If MGM was my film school, the five shows I directed for Leonard proved to be my graduate course. In Hollywood I had filmed scenes in moving cars in process (MAYBE LOVE WILL SAVE MY APARTMENT HOUSE on DR. KILDARE) and poor man's process (PRINTER'S DEVIL on TWILIGHT ZONE). I was about to learn how to do it live, with the camera and lights mounted on the back of a camera car, filming the actors in the Corvette, which was being towed.
Tuesday evening on the day the scripts arrived from Hollywood, Bert Leonard called me again. There was a scene in the newly received pages where Ed Begley and Martin Milner were surf fishing. Bert requested that when you do that scene, don't put them in shallow water. Put them out in water up to their waist. So that's what I did. It was a cold January in the Gulf of Mexico. I was out in the water with the actors and the crew, all of us in wet suits. Unfortunately my wet suit had a slit in it, and I was soon soaking wet. As the tide came in, the water kept getting higher and higher so that the waves would come up to our shoulders. As I watch the scene today, I marvel (considering the conditions under which the scene was shot) at the performances of Martin Milner and Ed Begley. I also am in awe of the work turned in by the sound crew. I was used to the very high standards set by the sound crews at MGM. Even on a quiet set, many was the time the mixer would demand another take because the quality was not acceptable. Here I had two actors out in roaring surf. I just knew all of what we were about to film would have to be looped later at the studio. How wrong I was. The mixer with his tape recording equipment was set up on the beach. Cable was stretched out to the mike boom far from shore. The cable of course had to be kept out of the water. The boom man straddled a tall ladder, arms outstretched above his head holding the long boom with the microphone at the end, suspended over the heads of the actors. And under those impossible conditions the sound crew delivered a track absolutely perfect, exciting because you see and hear the waves, and the performances are crystal clear. It is an incredible scene because of the actors' performances and the technical achievement of both camera and sound.
Ed Begley made a career of playing characters like Kyle Hawkes. On Broadway he won a Tony for INHERIT THE WIND, and in Hollywood he won an Oscar for SWEET BIRD OF YOUTH. Off screen he was a pussy cat, a sweet, gentle man with a wonderful sense of humor.
Sam Manners told me that he was a friend of Joan Crawford, and this episode would have been a perfect vehicle for her. She wanted very much to do a ROUTE 66, but she needed advance notice, which of course, without a script, we couldn't have given her. She finally guest starred in an episode the following year, the show's fourth and last season on the air.
We battled the problem of the weather constantly. We would be filming inside the house, because the sky was overcast. Suddenly the sun would come out. We would finish the shot we were on and move outside immediately. The amazing thing was that the crowds from Corpus Christi would have come out to our location and would be lined up to watch us by the time we were ready to roll. One day a woman came rushing up to tell me, "Your filming here is the most exciting thing that has happened here since Hurricane Delilah." (I'm not sure I've remembered the correct hurricane, but I do remember the woman.)
There was one shot I was going to need, shooting from inside the house out to the beach that would require good light. One day as we were working inside the house, the sun broke through. We hadn't even staged the scene between Ruth and Martin, but I asked Ruth if she could do one shot for me out of context. Being the pro that she was, she of course agreed.
Then we blocked, rehearsed and filmed the full scene
The second of the telephone-dictated scenes that we filmed the second day was the climactic scene for Don Dubbins' character of Mattie. Not only was he filming the scene on his first real day of work, he had received the scene the night before, and as of that time he still didn't have the full script. It wouldn't arrive until the following day.
The script called for Alma to be singing "Happy Birthday to you…" as she entered with the cake. Fortunately I filmed the scene through the window. It turned out the producers learned there would be a royalty payment necessary to use the ditty. Goodbye ditty. And because the scene was seen through the window, it was natural to play it in pantomime without sound.
Don Dubbins was another of that large horde of actors I speak of whose luck didn't match their talent. He had starred with Deborah Kerr in the national company of  TEA AND SYMPATHY, playing the role John Kerr had played on Broadway. After some small roles in Hollywood films (FROM HERE TO ETERNITY, THE CAINE MUTINY) James Cagney took a shine to him and had him co-star in two of his movies, TRIBUTE TO A BAD MAN and THESE WILDER YEARS. The following year he appeared with Jack Webb in THE D.I., where he gave another fine performance. Don worked for another twenty-five years, mainly in television, before retiring to South Carolina where he succumbed to cancer at the age of 63. Another one of Hollywood's eight million stories.
There were two major confrontations between Alma and Kyle. It bothered me that the first meeting had to be cut, because the original assemblage of film was long. I was afraid the second meeting wouldn't work without that first one. But it did, and was really the more important of the two scenes because of Mattie's presence.
Ruth did something as an actress that I have never seen anyone else do. As her method of emotionally preparing for a scene she carried an ammonia capsule (smelling salts) wrapped in a handkerchief. Before each take she would break a capsule and take a couple of quick whiffs. It gave her that throaty on the verge of tears feeling, and her performance took it from there.
Once I had the complete script, I had only one MAJOR complaint. After Alma's breakdown scene there was a scene between Mattie and Kyle in the car when they pull up to the ferry. Mattie had a long, long speech explaining why he was going to leave with Alma. I felt there was no way an expository scene could top what I felt we would be achieving (and did achieve) with Alma's breakdown. I told Bert that I thought I could do it more effectively visually without all those words. I felt a silence between Mattie and Kyle would be more revealing than any words. And then Mattie's long walk past all of the villagers, acknowledging that he was what they had called him. Bert bought it.
Jack Marta had told me that one of their trucks had a hoist on the front. He said if we laid a board as flooring on the hoist, we could place a camera on it and create a camera boom. The only draw back was that it could only be used descending; when it ascended, it jerked. I planned to use the lighter Arriflex camera with its zoom lens. Since there was not going to be any dialogue (we would be shooting MOS — mit out sound) the noisy Arriflex would be usable.
We completed photography after the eighth day. That was two days over the unreal aspiration of completing such an episode in six days. However since I had lost a day because of inclement weather and a half a day because of camera malfunction, I actually had completed the film in six and a half days. I was told that both ROUTE 66 and NAKED CITY almost always went over at least a day; that in fact the only episodes shot in six days were directed by one of Hollywood's legendary veterans, George Sherman.
On the plane back to Los Angeles I sat with director of photography, Jack Marta. I told him that since this had been my first location show, I felt I was going to have to be more careful in the future with what I planned, so that I could complete the work in the time scheduled. His reply was, "No, don't you do that. You plan your show according to your vision. It is up to us, the crew, to deliver it." Those were marvelous words of encouragement that I have tried to live up to.
When I returned to the studio I found the show had already been assembled. (I was later to learn the unusual and incredible way that Bert Leonard oversaw the editing process.) Jackie Gleason, not the comedian but one of the film editors, told me that the first assemblage had been 67 minutes. That was really a feature-length film. They had to cut it down to 52 minutes, which meant taking out the first confrontation of Ed Begley's and Ruth Roman's characters. I also learned I had been booked to do an additional four shows to finish up the season — two ROUTE 66 and two NAKED CITY. Until this time I had directed six shows in fifteen months. Now I was directing five shows in less than three months. Maybe I did have a future in film.
The journey continues