Filmed August 1975
I missed the anthology series that had disappeared from television by the mid-sixties; exciting shows that I had directed like TWILIGHT ZONE, SUSPENSE THEATRE, CHRYSLER THEATRE; shows I didn't get to direct like ALFRED HITCHCOCK, THRILLER, THE OUTER LIMITS.
Stephen Bowie on his CLASSIC TELEVISION HISTORY blog wrote:
As the great anthologies of television's Golden Age died off in the late nineteen-fifties and early sixties, independent producers like Fred Coe, David Susskind, and Herbert Brodkin quietly supplanted them with continuing dramatic series that offered equally challenging and intelligent content.

But even challenging dramatic series with intelligent content produced by those gentlemen, and you could add Herbert Leonard (NAKED CITY and ROUTE 66) to that group, were no longer visible. In 1973 David Gerber Productions produced POLICE STORY, true, another television crime drama, but an anthology series based on the writings of Joseph Wambaugh dedicated to presenting a realistic depiction of police work. It was a critic and rating success and ran for five seasons. Emboldened David Gerber Productions came up with another anthology series in 1975.
MEDICAL STORY was co-created by Abby Mann and David Gerber. I had directed for David Gerber earlier at 20th Century Fox when he was the Executive Producer for NANNY AND THE PROFESSOR. Much earlier I had been associated with Abby Mann (no stranger to writing about controversial subjects) when I was the production supervisor on JUDGMENT AT NUREMBERG, the distinguished PLAYHOUSE 90 production Abby had written. Later produced as a feature film by Stanley Kramer, the television production had starred Claude Rains, Melvyn Douglas, Paul Lukas and Maximillian Schell. Produced by Herbert Brodkin and directed by George Roy Hill, the production was a critic sensation and a cause celebre. In the final act there was a scene between the judge played by Claude Rains and the German Paul Lukas in which reference was made to the gas ovens of the Nazi concentration camps. Problem! One of PLAYHOUSE 90's sponsors was Your Gas Company. Pressure was exerted by the sponsor to have the reference to the ovens deleted. Herbert Brodkin and George Roy Hill refused, and when the show aired at 5:30 pm, the word "gas" was plainly heard. But later at 8:30 when the tape of the show was rebroadcast for the west coast, the lips of the actor (and I have forgotten which of the two gentlemen uttered the speech) were seen to form the word "gas', but there was a notable lapse in the sound track, and the west coast never learned just which ovens were being referred to.
Mart Crowley's THE BOYS IN THE BAND was a boon when it came to casting. Unfamiliar east coast actors were suddenly very visible. I first saw Cliff Gorman (Dr. Duffy) at the Hartford Theatre in Hollywood when he was the only cast member of the original Broadway production to perform in the national company. He stole the show, as he had done when THE BOYS IN THE BAND opened off-Broadway in 1968, and Cliff won an Obie! In 1972 Cliff won a Tony for his performance as Lenny Bruce in the play LENNY. When the film of THE BOYS IN THE BAND came out, I cast Peter White and Laurence Luckinbill in episodes of DAN AUGUST. Finally with MEDICAL STORY I was getting a chance to work with multi-talented Cliff Gorman.
Tom Drake (Ralph Willis) made his first screen appearance in 1940, the year I was a junior in high school. His career spanned thirty-eight years. He never attained super-stardom, but he still achieved screen immortality. He was the boy next door, the boy Judy Garland sang about when she belted out the Trolley Song in the classic musical, MEET ME IN ST. LOUIS. That was only his tenth screen appearance, just four years after his screen debut. I must confess, there was an added pleasure working with a legend.
AN AIR FULL OF DEATH was the first time I worked with Clu Gulager (Dr. Harry Carlisle), but I had been aware of him almost from the beginning of his career. Way back in 1959 when I was on staff of PLAYHOUSE 90, casting director Ethel Winant cast Clu in a major role playing an Elvis Presley type character. Clu had debuted on television just three years earlier and had only six previous performances on his resume. Since then he had appearances all over the tube. Star of two series, one of them THE VIRGINIAN, and he's still going strong. Today, a year shy of sixty years since he started, he is still working.
Columbia Pictures studio was located at the southeast corner of Sunset and Gower – Gower Gulch. My earliest employment at CBS had been at the same corner, but the northwest corner. My first directing for Columbia (then known on television as Screen Gems) was on ROUTE 66 and NAKED CITY, but those productions were filmed on location, so the only time I saw the interior of the studio was when I reported to Herbert Leonard's office. Later I again worked for Columbia on THE PARTRIDGE FAMILY, but not at the Gower Gulch location. Those films were shot at the Columbia Ranch in Burbank. In 1970 I finally got to direct on the lot where MR. DEEDS went TO TOWN, where MR. SMITH went TO WASHINGTON, and where Jean Arthur was MORE and MERRIER. And it was scary. I've forgotten the plot of the film, but I remember Meg Foster was the guest star playing a blind girl. The thing I most vividly remember is filming an interior scene with a room on fire – a big fire with blazing drapes, a veritable flaming holocaust. I had visions that we were going to burn down the entire studio. Fortunately we didn't, although I now know that Columbia at that time was facing bankruptcy and might have thanked us. Soon after that the studio was sold. In 1972 Columbia and Warner Brothers formed a partnership and shared the Warner Brothers Studio in Burbank, then rechristened The Burbank Studio. I found the change in location when directing a Columbia production made a tremendous difference in the sets of their television films. For one thing, standing sets of former major motion pictures were now available for television productions, as witness the home for Cliff Gorman's Dr. Duffy.
This is "Hang my head in embarrassment" time. One of the Comments posted by a viewer on MY NAME IS MARTIN BURNHAM starring James Whitmore asked:
Ralph, did you ever work with or meet his son, James Jr.? He started in acting and went into directing.

I responded:
As for Junior, I never got to meet him.
As I worked on this post, I remembered writing that. Well coming up, meet James Whitmore Jr.
Did you figure out which one was Whitmore? Here's a little help.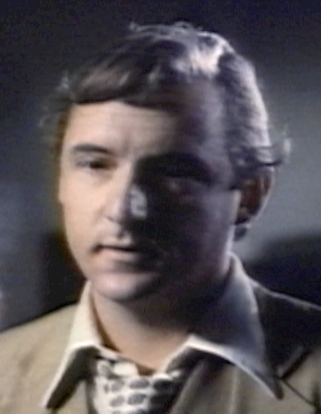 This was a script that could have been produced in the live New York studios of the Golden Age of Television. I don't think I realized at the time I was directing the production of just how remarkable it was that I was doing it in 1975. Except for the opening scene at the factory, the script has been strictly intelligent talk – not a staple of 70's television.
AN AIR FULL OF DEATH had a seven-day shooting schedule. Six of those days were filmed at the studio. The third day was scheduled for a factory in South Gate. If a location was within thirty miles of the studio, cast and crew reported to the location. A map with instructions of how to reach the location was issued to cast and crew.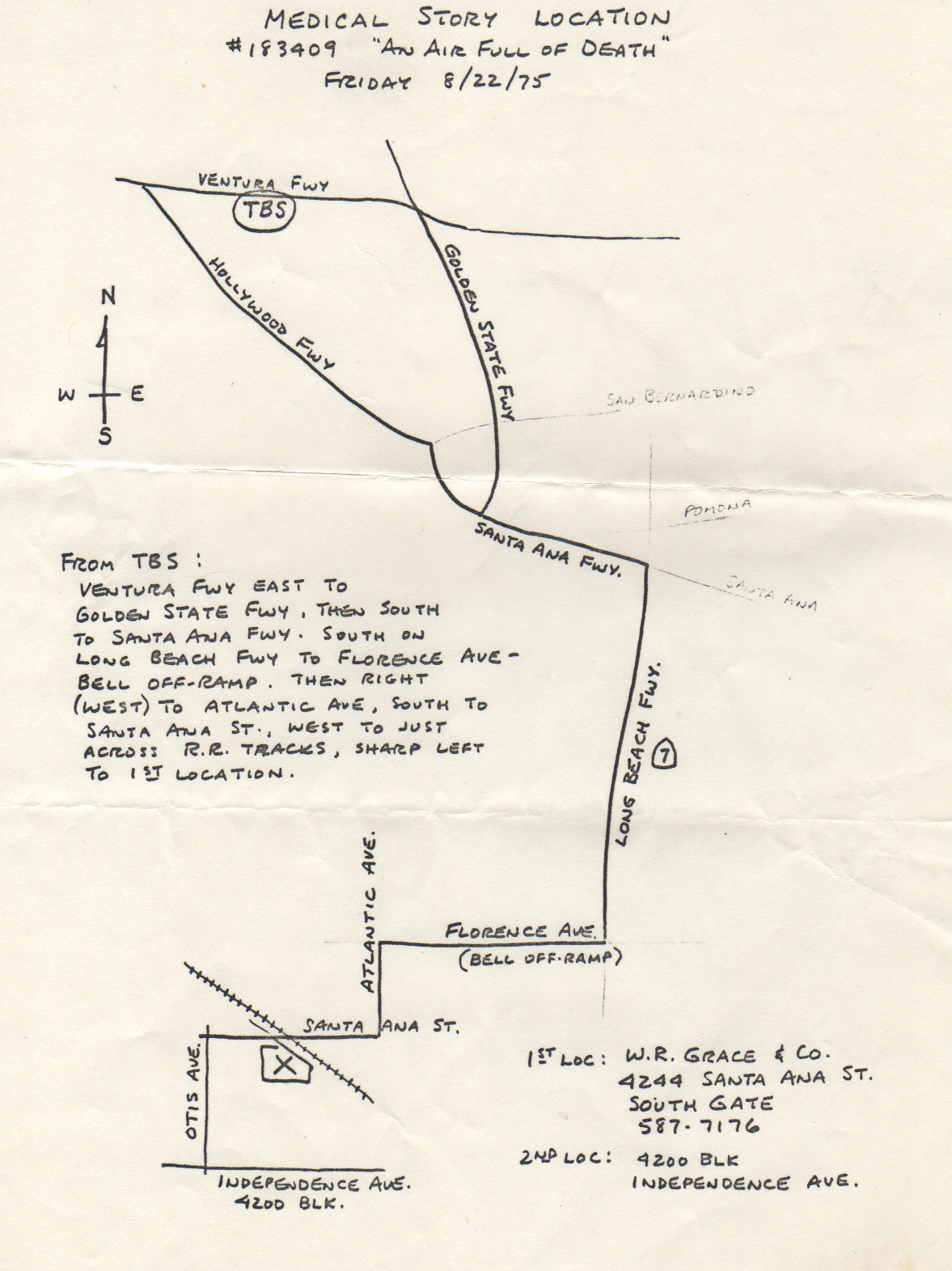 Fortunately AN AIR FULL OF DEATH was filming in August, which meant longer daylight. The total page count for the day was 8 2/8, but the scenes were in six different areas of the factory. You've already viewed the opening when Ralph collapsed. That was the fifth scene we filmed. Our first scene was in the parking lot.
The script had originally designated the second part of that scene, the area "away from Carlisle's office," to be shot in a small park. I'm not sure there was a park near the factory, a move to the park would have taken time, but for the scene I liked the two men backed by the industrial feel of the factory rather than the comfort of a green park.
The sequence of Ralph's driving and accident was the final scene on our location day. We did it in the area of the factory. There was a stunt double for some of the driving shots and of course for the final collision. I liked that we were doing it all on location rather than part of it in process as I used to have to do it at QM Productions.
I realize AN AIR FULL OF DEATH and programs like it are not going to appeal to everybody. It is a film that requires the audience to listen, to pay attention, to think. Is that such a bad thing? In the 1950's live television drama and early 1960's filmed television drama — not all of it, but some of it did that. I wish that its continuation had been a responsibility of the networks in repayment for the free use of the public airwaves — in the case of MEDICAL STORY, at least to have kept the show on the air long enough to seek out and build its audience. But that was not to be. MEDICAL STORY was cancelled after only eleven episodes.
The journey continues