TAPED April 1977
It had been a decade since I directed my first INSIGHT for Fr. Kieser and Paulist Productions. In that time I directed eleven productions, but I still felt frustrated. Because the shows were pre-taped, a big part of the challenge of directing a live television show was mitigated. There wasn't the accomplishment or the pressure of directing a show from the beginning to its finality in one continuous operation. As in film, scenes could be taped out of sequence to be spliced together later in editing.
And then for my twelfth production I was handed the script for REQUIEM FOR THANKSGIVING. There were only four characters, and the entire action of the play took place in twenty-six consecutive minutes in one set. I decided that rather than breaking the script down into smaller pieces, I would shoot it in one long continuous take. Well on second thought, because of the short opening scene that ended with the billboard title sequence, I would do it in two.
During postproduction the title of the show was changed to I WANT TO DIE.
suicide |ˈsoōiˌsīd| noun
the action of killing oneself intentionally
ORIGIN mid 17th cent.: from Latin sui 'of oneself' + caedere 'kill.

It was a rare experience; I knew and had directed all four of the actors before. Earlier in the month of April, 1977, I had directed an episode of EIGHT IS ENOUGH, where Grant Goodeve, (Bill) and Laurie Walters (Kate) played two of the eight. I guess I was impressed with what I saw when working with them, so I cast them in these two demanding roles.
I've already documented my long experience with Walter Brooke. I met Walter in 1952, when I was the assistant director at the Chevy Chase Summer Theatre in Wheeling, Illinois, a community north of Chicago. He was part of a summer stock theatre package starring Franchot Tone that our theatre booked, and I served as the stage manager for the production. Our friendship and collaborations resumed later in Hollywood when I directed him in episodes of THE FUGITIVE and MANNIX.
Jeanne Cooper (for years Katherine Chancellor on THE YOUNG AND THE RESTLESS) had appeared in an INSIGHT I had directed seven years earlier, but our association went even further back than mine with Walter Brooke. In 1947 Jeanne and I were in the same class entering the Pasadena Playhouse School of the Theatre.
I couldn't continue in one long take. The staging was going to move from the dining room into the living room, and Camera 4 in the doorway behind Walter, which had been covering Jeanne Cooper's close-ups, had to be repositioned.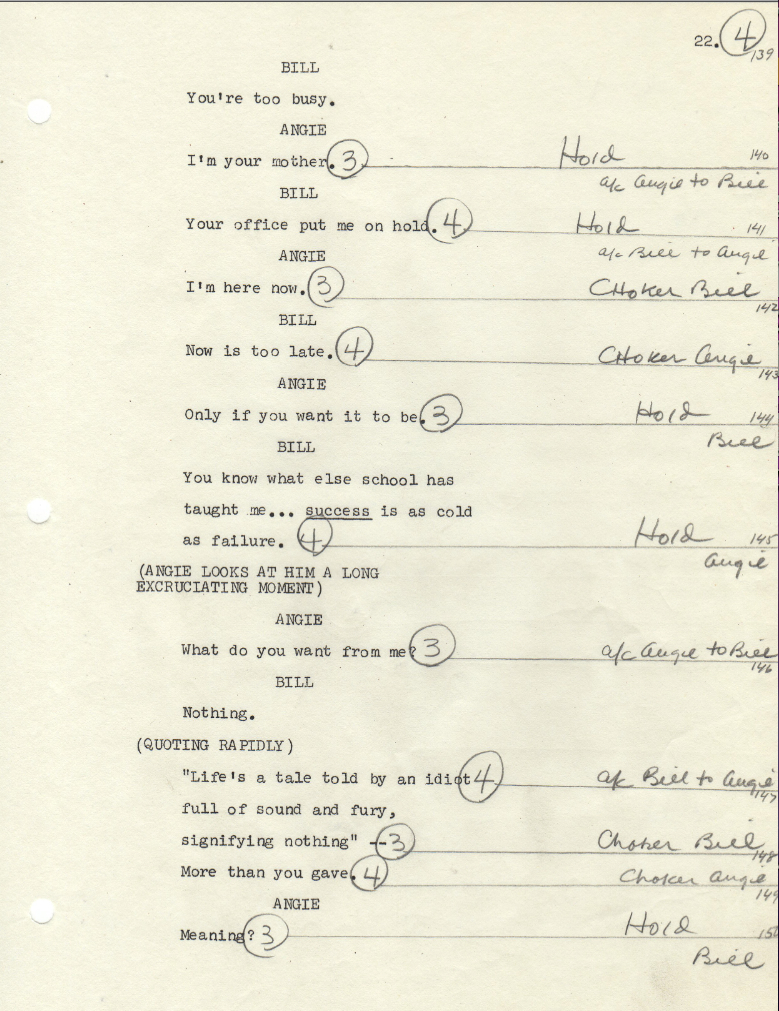 For the wider shots when the doorway was in the frame, the cameraman had to move it out of the doorway, out of sight. The layout at the studio made it impossible to move the camera to its new position while taping continued. If this had been a live presentation, that would have been something the set designer would have considered in his original plans. And then of course a live presentation would have had commercial breaks. The camera would have been repositioned then.
The four actors are to be commended, not only for their superlative performances, but technically they had to physically hit specific positions and marks while being photographed by 4 cameras. And the scenes were long. The first one around the table was over 9 minutes; the second one after Walter left the scene was over 11 minutes.
The teleplay was by five-time Emmy Award winner Fr. Terrance Sweeney, a Paulist Priest associated with the production of INSIGHT. During that time he wrote ten scripts in addition to creating the Longform T.V. and Feature Film Division for Paulist Productions.
Again this was a production that would not have been on any prime time series schedule. And if by some miracle it could have been, I am positive Bill's cynical prayer, "Dear God, wherever you are, whoever you are, IF you are …" would have been found objectionable by the program practices department, even though it had been written by a Catholic priest.
The journey continues