FILMED November 1969
The third episode in this back-to-back bunch, THE ROAD TO YOU-KNOW-WHERE IS PAVED WITH YOU-KNOW-WHAT, was written by Blanche Hanalis, who would later create the much-loved series, LITTLE HOUSE ON THE PRAIRIE.  I didn't meet Hanalis at the time I directed this episode, which was not unusual in television. I met very few of the authors whose works I directed. I didn't meet her until 1981 when I directed a pilot she had written, BIG BEND COUNTRY. That was a short association; the pilot didn't sell.
I left the MGM lot for location work only once during the first seven COURTSHIP episodes — the few exterior shots at the Culver City police station for THE LIBRARY CARD. This episode called for extensive location filming. In fact there was so much (and most of it involved Brandon), it was listed on the schedule as EXTERIORS TO BE DONE AT A LATER DATE.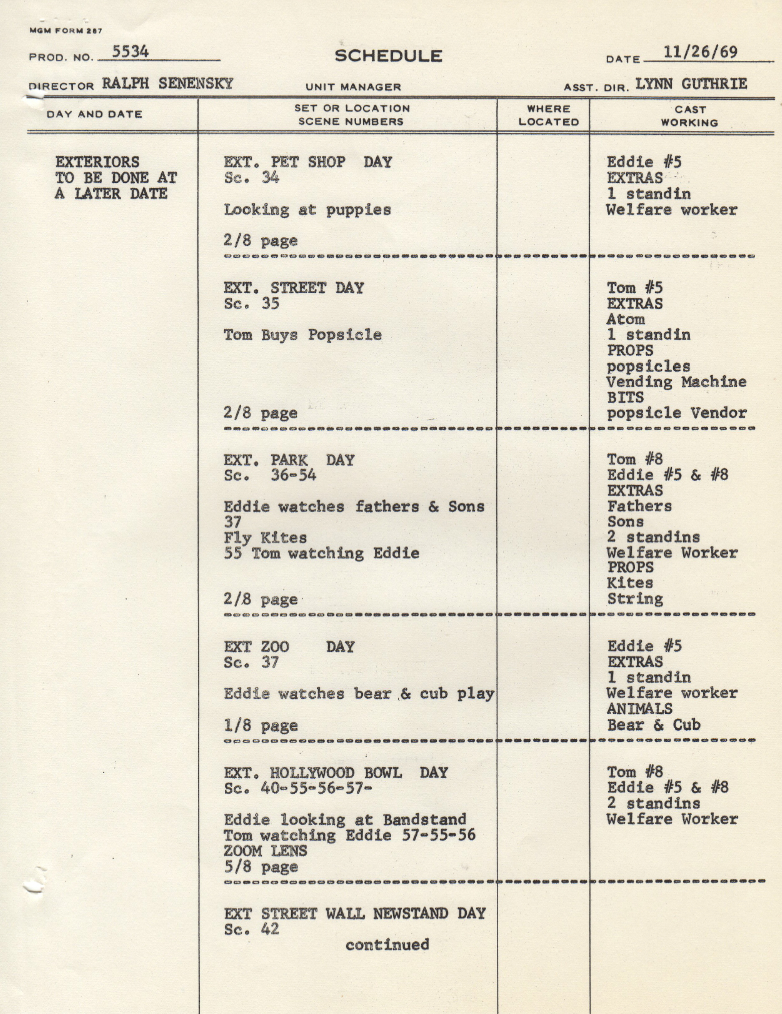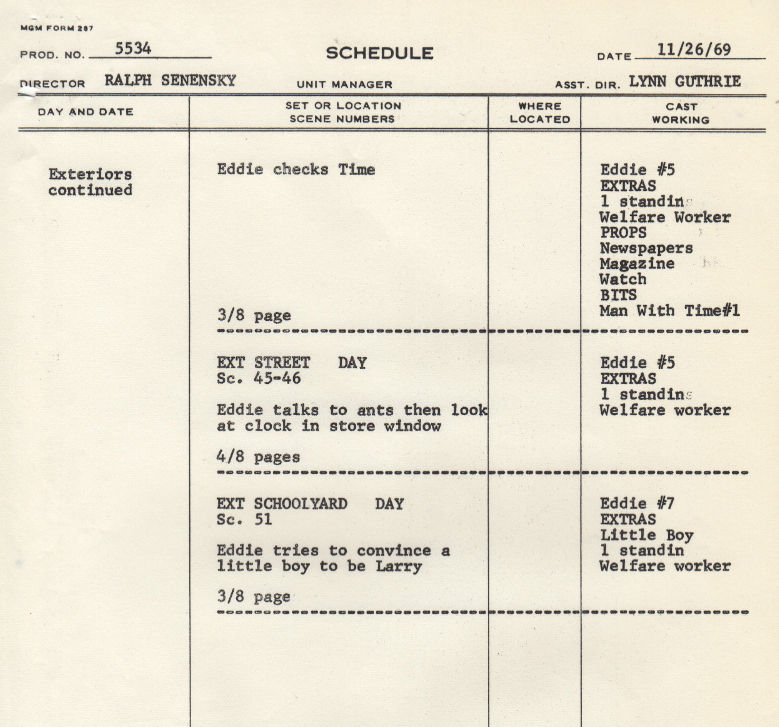 When that later date arrived, there proved to be not enough work for a full day's outing, so I ended up filming some Peanuts-style footage of Bill and Brandon to be used for the opening and closing vignettes. The following opening includes some of that film and as before the dialog was written later, recorded and laid in over the footage.
Three years before I had tried unsuccessfully to cast Bette Davis in THE COURIER on THE FBI. (You can read about that misadventure in my posting of the show.) Now three years later I only had to secure approval to cast her from my producer, which was graciously and immediately given, so an offer was submitted to her agent. Unfortunately she was not available. Disappointed as I was, I must admit that our next choice, Ruth McDevitt, may have been a boon for the production. Many times the presence of a dynamic star like Miss Davis in a supporting role can be a distraction.
Also on the first seven COURTSHIPS the relationship between Eddie and his father had been a loving one, but it was never the main focus; it was subordinated to the plot of the week. This time that relationship was very much down front and center stage; it was the plot of the week.
When we viewed the rushes for that first scene in Tom's bedroom, Jimmy Komack wanted to know how much added construction had been needed to create what appeared to be a new set. It was explained to him that no construction was needed; we just took out the back wall of the closet — voila — a new never-before-seen camera angle in the apartment.
In postproduction when they viewed the assembled footage, it was decided that the upcoming scenes of Miss Bristol talking to Eddie and Tom (separately) came too abruptly. A little more preparation for those confrontations was needed. Now ordinarily the required scene would be written and filmed, adding two or three hours to the schedule. That was the beauty of Jimmy Komack's creation of what he called the "Peanuts-style" sequences for his openings and closings. Here all he had to do was have the scene written, voice recorded by Bill and Brandon and then laid in over Peanuts-style footage, some of which I had filmed in Century City. Production time for filming the added scene was zero.
When I left the Pasadena Playhouse in 1948, there were two plays at the top of my agenda I wanted to direct: Maxwell Anderson's WINTERSET and Ibsen's THE WILD DUCK. So far I hadn't directed either one of them, although at one point early in my career I almost directed a production of the Anderson play. Interestingly THE ROAD did touch on the same theme as the Ibsen play. Like Ibsen's Gregers Werle who had by his meddling tragically disrupted the lives of friends, our Miss Bristol, with the best of intentions, did some disturbing disrupting in the Corbett family.
There was fluidity in the approach to production of this series that I thought was just great. And we all seemed to be in sync with each other. That was especially evident when it came to the next sequence. First the script for what had been labeled in the schedule: EXTERIORS TO BE DONE AT A LATER DATE.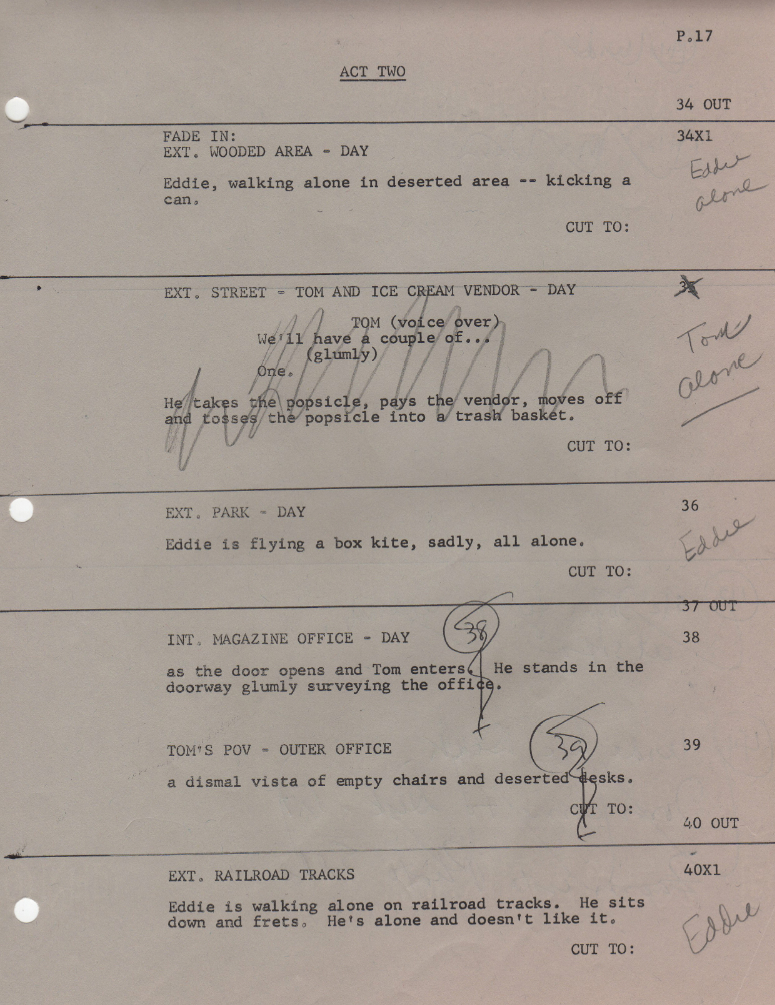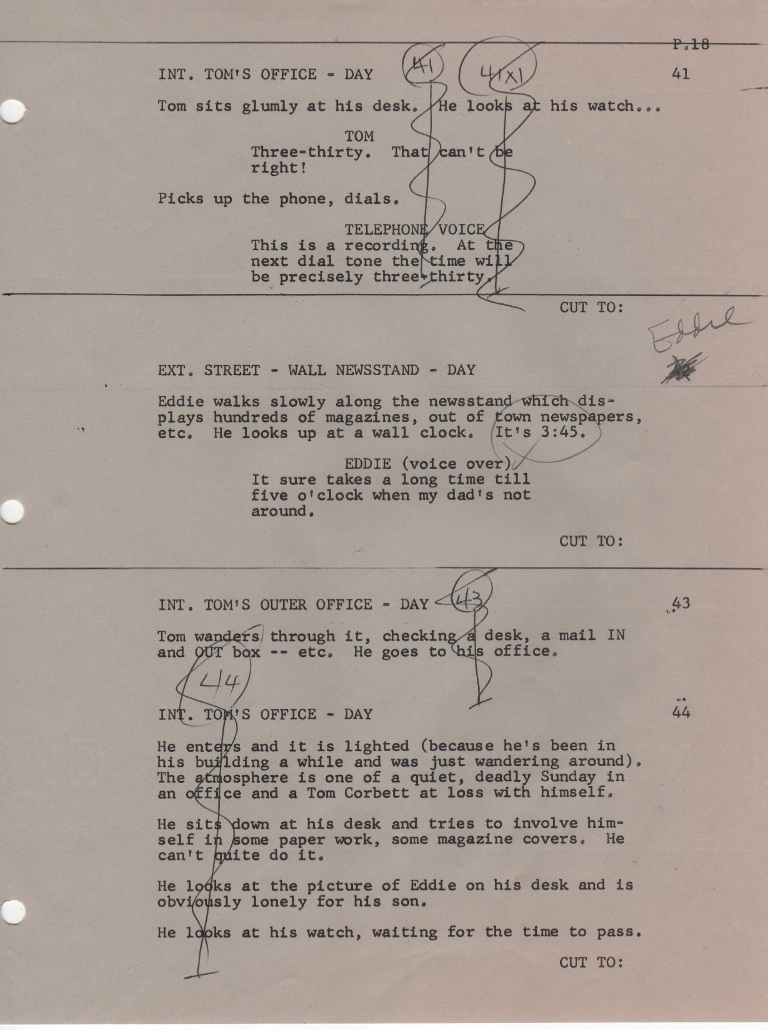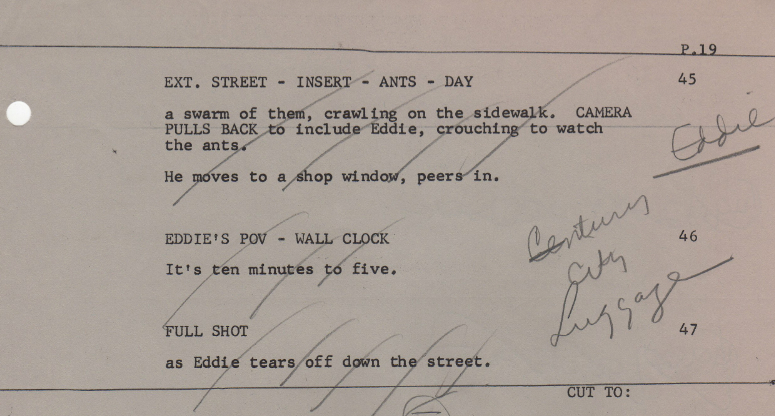 For the scenes involving Tom it was decided to eliminate scene 35 and confine his activities to the office. I chose to stay in his inner office. I felt the more confined he was, the less activity he had, the longer the afternoon would drag on.
The confining of Eddie's activities to the Century City location was made for reasons artistic more than budgetary. With him too I wanted to confine him, to limit the distractions for entertainment. I liked the visual of the small figure surrounded by large, cold, gray buildings. I did film scene 33 of Eddie at his fish tank, but that scene was eliminated in editing. Eddie's recorded dialogue was used as part of the onscreen narration, the narration a postproduction addition by Jimmy that I think was inspired; and all of it was culled from previous scenes of Tom, Eddie and Miss Bristol..
The ending of Act One was moved. In the script the act ended with Eddie at his fish tank (the cut scene) saying, "I have to help my dad make a new life, don't I?" Extending the act to their later reunion back at the apartment after the lonely Sunday each had experienced provided a more powerful ending for the first half of the show.
I truly don't remember when we filmed the sequences with Eddie in Century City. Looking at them today they look like they must have been shot on a Sunday; how would it have been possible to get those empty vistas in Century City on a weekday pre-Christmas. But budget-wise Sunday filming even with a skeleton crew without sound would have been prohibitively expensive. Whenever they were shot, I am very proud of what I feel is the poignant heart of this episode.
There was a short scene of Eddie looking for a Larry in the final shooting script.
That scene was on the schedule to be filmed on the "exteriors to be done at a later date" day. We never shot it. We must have realized that more was required than that scene provided. I do not remember directing the scenes of Eddie looking for a Larry. I think the sequence may have been assembled from stock footage. Or someone else may have directed it after I left the production. My guess would be it was the former. I think Brandon looks younger and smaller. If you look closely, you will see one of the children is Max, Eddie's friend from GUESS WHO'S COMING TO LUNCH.
Since first publishing my posts of THE COURTSHIP OF EDDIE'S FATHER on my blog a year and a half ago, I have had responses from several people regarding the series. One man wrote:
I am absolutely loving re-watching Eddie after all of these years (decades!). What impresses me is how well it holds up. I still am inspired by its thoughtfulness and kind humor and wit. I have been lucky enough to have three kids and this show always resonated with me on how to talk to children with intelligence, kindness and patience. Not that I was always so, but it was a guiding light.
Another man wrote:
I watched some of 'The Courtship of Eddie's Father' with my son. What a different experience to watch the show as a father, rather than from the perspective of my boyhood, when I first watched the program. It was even more emotionally powerful, sentimental and tender than I remembered it. It was a poignant moment to see some of the scenes with a son of my own.
When Jimmy Komack took on the responsibility of converting THE COURTSHIP OF EDDIE'S FATHER from a feature film into a weekly television series, his task was to move from a big screen feature film success in theatres to a small screen equally successful television series in homes. Responses like those above are testimonial to the fact he may have accomplished even more. In our present culture with the every present emphasis on family values, most of the time espoused by the very people most lacking in them, Jimmy's vision glows with a fervent intensity. Within the format of what would have been an acceptable family sitcom he created a most tender love story, that between a father and a son.
The journey continues