Filmed December 1968
And so the first leg of this journey is completed. In the seven years between October, 1961, when I filmed JOHNNY TEMPLE and August, 1968, when I filmed THE THOLIAN WEB I directed 66 films. But then as I wrote at the conclusion of my THE THOLIAN WEB posting about the circumstances of my being fired on that production:
It seemed in the aftermath of what had just occurred that a meeting must have been called of all the producers in Hollywood. Don't hire Senensky! I was suddenly, totally unemployable. This went on for a very long time.
Now to continue our current journey, it was late in November when I received a call from one of my agents. I was to go out to MGM (my old home studio) to meet James Komack. JImmy at that meeting told me that he had visited his friend Carolyn Jones seven and a half years before when she was guest starring in an episode of DR. KILDARE. The episode was THE MASK MAKERS, the plastic surgery story I directed where Carolyn played a girl with a large nose. Jimmy had been a working actor in Hollywood for about eight years, had gone back to New York to appear in the smash Broadway musical, DAMN YANKEES, and later appeared in the screen version of that production. He had recently moved behind the cameras to pursue a career directing and producing in addition to his acting. He told me he had liked that when I talked to an actor to give them corrections, that I did it quietly and privately. (I never wanted an actor to have everybody on the set checking to see whether he (or she) was doing what the director requested.) As an actor he appreciated that. He was now producing a new series for MGM, THE COURTSHIP OF EDDIE'S FATHER, a transferring of the popular MGM feature starring Glenn Ford, Shirley Jones and Ronny Howard, into a weekly television sitcom. But Jimmy had other aspirations for the series and he did not want to use sitcom directors. He invited me to come aboard. I readily accepted his offer.
I don't know what the actual commitment was between MGM and ABC. A pilot for the series had not been filmed, but although the series would not go on the air until the following September, it was already in production filming six or seven shows. My guess was that the network had the option after viewing these first productions of ordering more episodes or canceling. After filming was completed on these initial episodes, Jimmy planned to go out with a skeleton crew (no sound) and film a large series of sequences involving Bill Bixby as Tom Corbett, Eddie's father, and six-year old Brandon Cruz, an absolute newcomer to the profession, in the role of young Eddie. Later short vignette-type conversations between Eddie and his father would be written, recorded and laid in over the wide-angle shots he had filmed. These were to be the opening and closing sequences for each episode.
Except that's not how it was done on GUESS WHO'S COMING FOR LUNCH. I filmed the opening scene of Act One.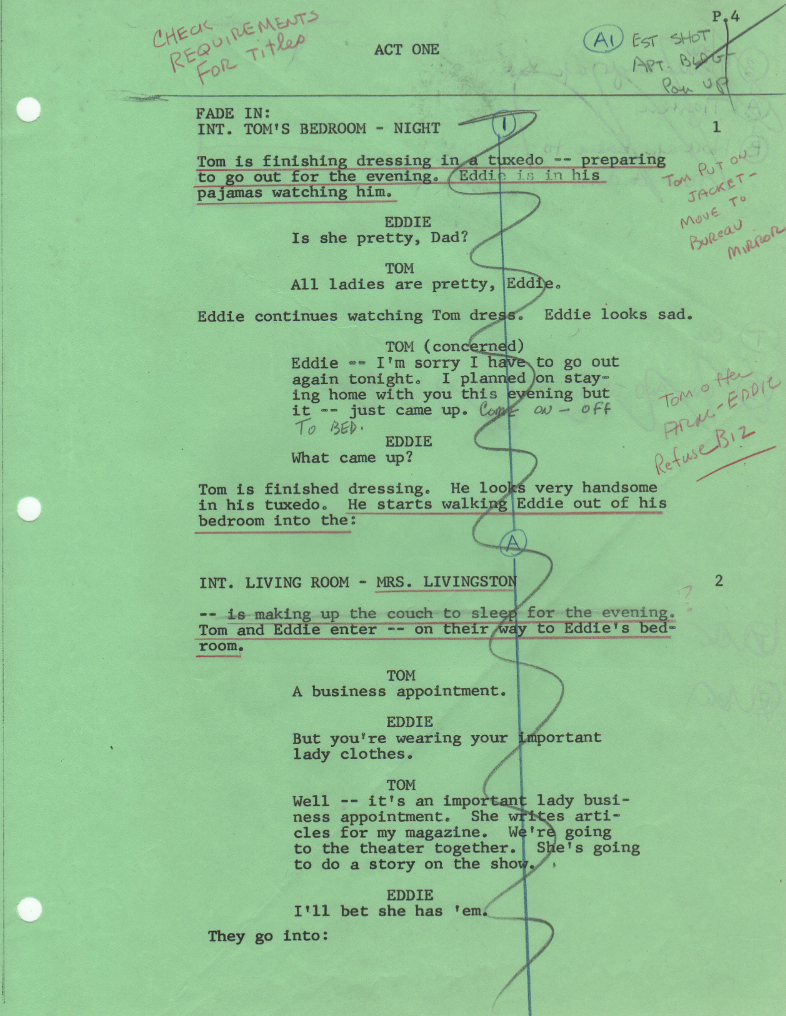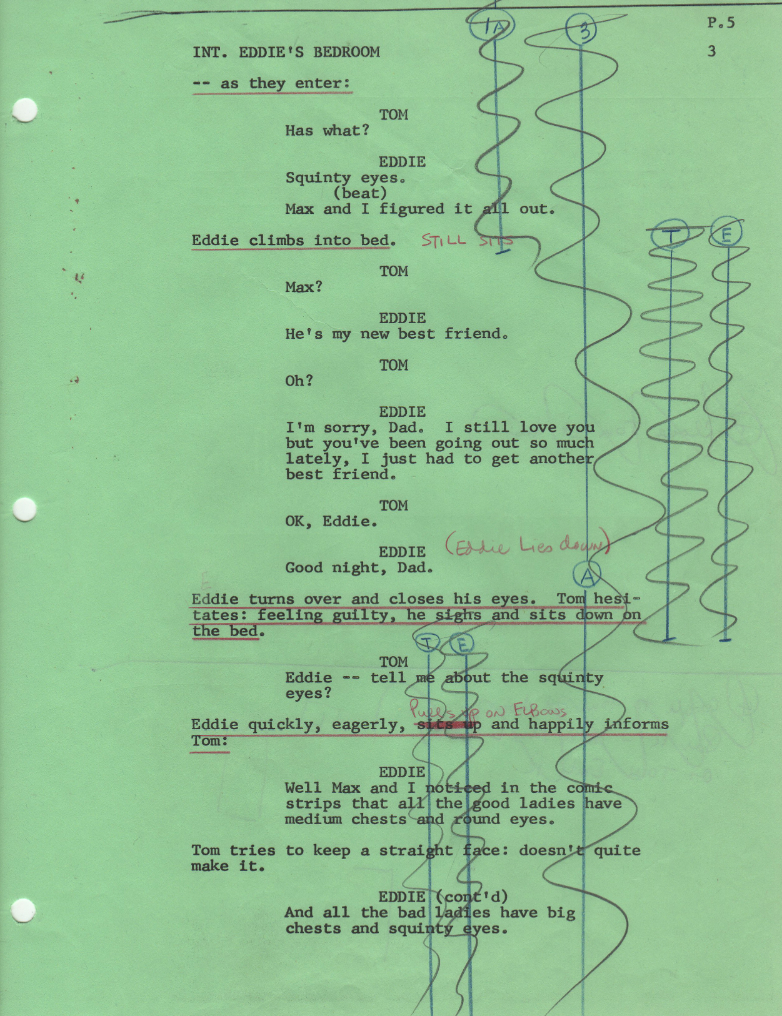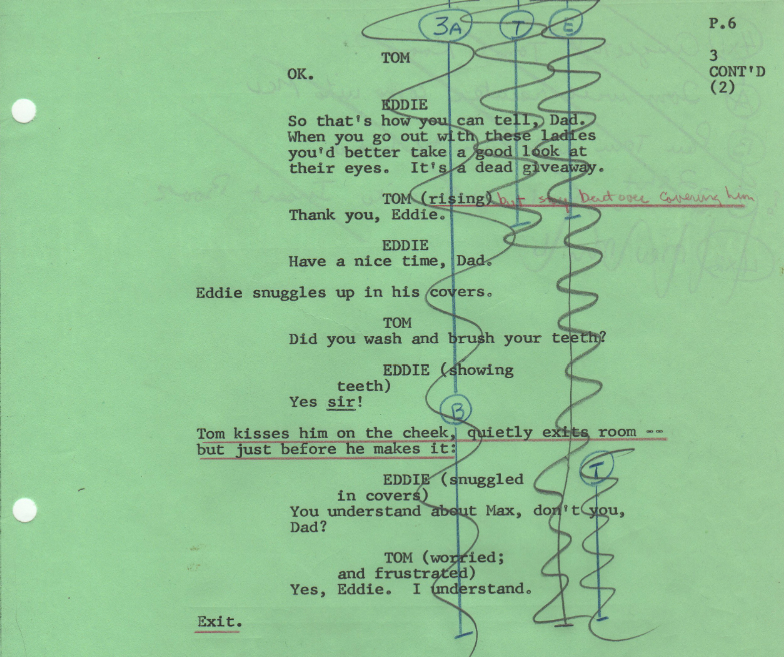 In postproduction it was discovered the film was long, so the film of the scene ended up on the cutting room floor, the dialogue was edited and rerecorded and was used as the voice-overs for shots that Jimmy filmed later at the beach.
In the nine episodes I eventually directed for COURTSHIP, this was the only one that drew from material in the original feature. In that film, Eddie (Ronny Howard) had a serious conversation with his father about girls with big chests and skinny eyes; in our television film, skinny became squinty.
I was not surprised to find that the set for The Corbett apartment was just great. After all this was MGM. The nice thing was that the many rooms were not a bunch of disconnected sets; they were all connected like a real apartment would be. There was the large living room with a terrace overlooking the city, Tom's bedroom and Eddie's bedroom, both with bathrooms, the kitchen and then out the front door there was an extensive corridor with an elevator.
And Tom's office suite was just as impressive.
You may take the man out of acting, but you can't take the actor out of the man. Producer James Komack cast actor James Komack as Norman Tinker, who works for Tom on his magazine. Just because he moved behind the camera to write, produce and direct didn't mean that he was going to give up acting. In this episode he was functioning in three of his four categories. He produced the show, he wrote the episode and he was acting in it. The directing he left to me.
And of course Tom had a secretary. In January, 1968, LAUGH IN debuted on NBC. It was an immediate success, and one of its shining stars was Goldie Hawn, who giggled a lot. Since imitation is the greatest compliment that can be paid, thank you LAUGH IN for Tina, the secretary as played by Kristina Holland. Kristina, however was not the first actress hired to play Tom's secretary. There were others who preceded her, but once she arrived, she was there to stay.
Today the opening of that door would not produce much of a ripple. But for television forty-two years ago — it was BOLD! This was a reunion for Cicely Tyson and me five and half years after EAST SIDE WEST SIDE. She had a running role on that series, although her involvement in the stories was usually minimal. And at one point James Aubrey, the head of CBS programming, offered George C. Scott a renewal of the series if Cicely could be replaced by a white actress. George of course refused. This time there was to be no pushing her into the background because of the color of her skin. Black was beautiful!
I think the casting of Miyoshi Umeki as housekeeper Mrs. Livingstone was inspired. Miyoshi was the first Asian performer to win an Academy Award, which she did for her performance a decade earlier in the Marlon Brandon starrer, SAYONARA. In her low-key style she was an amazing performer.
This was not a series being developed along the usual guidelines employed in Hollywood. How was this possible? I think the recent move of Herb Solow from head of production at Desilu Studios (where under his command STAR TREK and MISSION: IMPOSSIBLE were developed) to MGM, where he was now the head of production, could have been a major factor. Herb had an open mind when dealing with creative people; he was willing to tread where many others feared to go. And he was a very nice, kind man. On my arrival he made it a point to come and welcome me to the studio, at which time he said, "When Jimmy requested hiring you to direct for the series, I did not object." I knew then he was very aware of what had transpired with me on STAR TREK after he left Desilu.
It was so nice to be back with people who scheduled by the reality of the situation. This episode was filmed in three days. Most of the episodes I did later went three and a half or four days. It all depended on how many scenes involved Eddie (and in several instances, friends of Eddie) all of whom had to spend three hours a day in school; and the workday for a minor ended nine hours (allowing an hour for lunch) after they arrived in the morning. The three hours of schooling did not have to be consecutive. It was worked into those times Brandon was not involved in filming. Sometimes he could go to school for an hour, or two hours; if there was a day when the workload was less, he could spend more than three hours in school and bank the extra hours for later days when he would be required to be on the set for a longer period of time; and sometimes he might have to go to school in twenty minute increments. I was always impressed with the concentration those young people could bring to the set, considering those circumstances.
A problem in filming for television was the final running time of the film. Because the television networks had adopted the scheduling of radio, prime time programming was either a half hour in length or an hour. That was the overall time; from that time was deducted for the commercials, the network station break, the opening billboards and credits and the closing credits. This had been an even bigger problem during the live television era. Shows literally had to be timed to the second. Filmed television had an intervening factor in its favor — the editing room. After the film was assembled, if it was found to be long, cuts could be made to bring it down to proper length. That happened on this show. In addition to the elimination of the opening scene, which I described above, a large part of a later scene was dropped. Part of the elimination was made prior to filming; but an additional cut to a scene that had been filmed was made later in the editing room.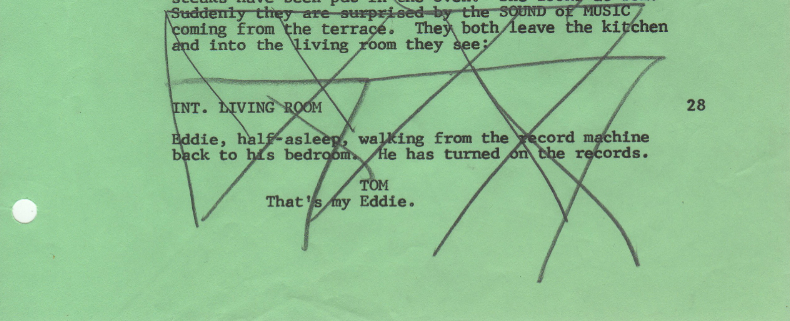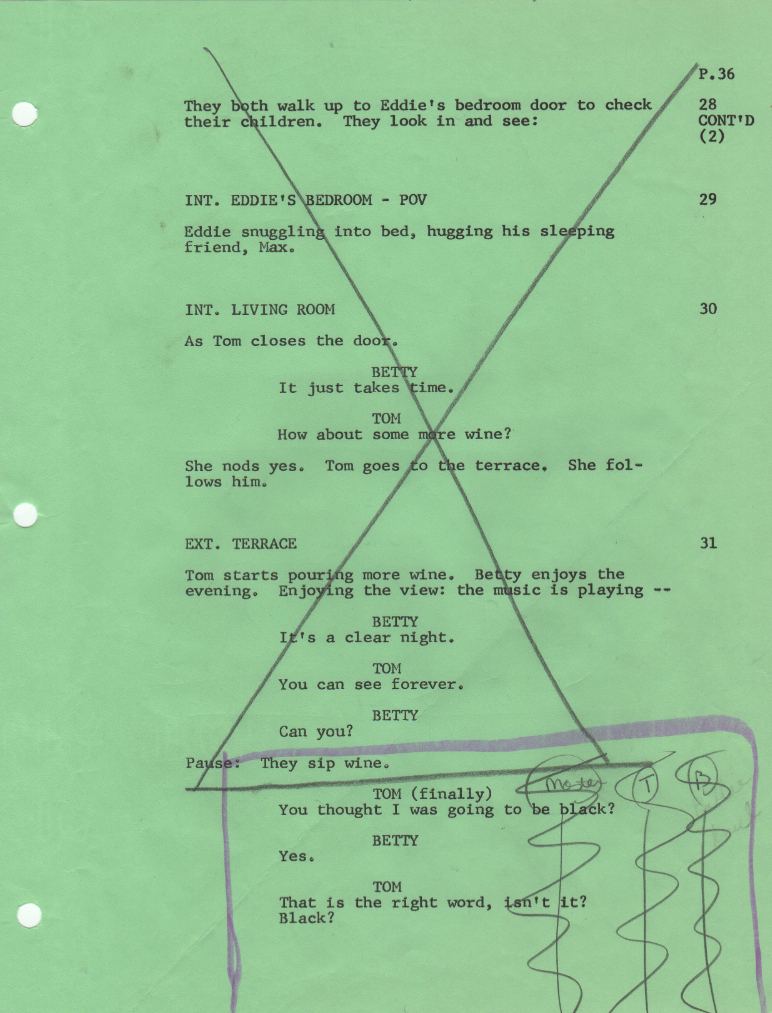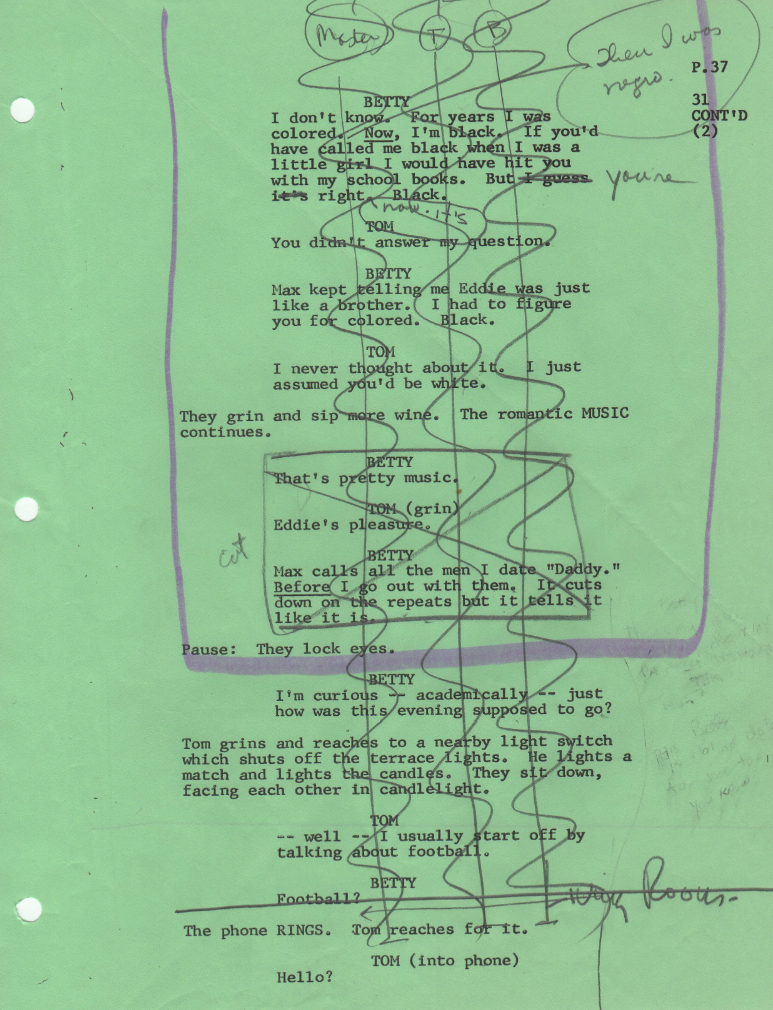 A final comment about timing. Jimmy Komack, with his concept for the short vignette scenes between Eddie and his father to begin and end each episode, had provided himself a cushion in case an edited film came in short. All he had to do was lengthen the vignettes.
Brandon Cruz was only six years old, but incredibly professional for one so inexperienced. And lucky. The child actor is a breed unto itself. I had worked with many children (and hordes more were in my future). In the mid-fifties I directed a play in Hollywood and cast a twelve-year old to be in it. I'll call him Jackie (not his real name). Jackie at twelve was already a Hollywood veteran. At a younger age he had been a running character on a very successful situation comedy that was no longer on the air. Jackie had a very ambitious stage mother. Money was being poured into recording sessions to launch him as a teenage singing star. It wasn't until after the stage production had concluded that one of the members of the cast told me that Jackie, each evening as he sat in front of the mirror applying makeup for that evening's performance, had tears streaming down his face. The recording career never developed. When Jackie reached the age to make his own decisions, show business became a part of his past. That's why I say Brandon was lucky; he had Bill Bixby. Bill from the first day was his anchor. But let's let Brandon tell it in his own words:
"Well, when you're around the guy known as 'the nicest guy'in show business.  You learn a lot and you're in awe, an awful lot of the time. Bill was such a professional, such a giving actor, and caring person that it didn't even seem like work. It seemed like I was hanging out with my best friend. It was corny, but he was so wonderful to work with, you could not pay anybody to say a bad word about Bill. He was giving to a
fault, basically."

Two years after Bill Bixby died in 1993, Brandon named his first son Lincoln Bixby Cruz.
The journey continues