It was said of Irving Thalberg:
He didn't make movies for people to see.
He made movies for people to feel.
As I sit at my computer three months after completing photography on THE RIGHT REGRETS and one month before the short film (I still call it a film, although there were no reels involved) is set to premiere at the Rhode Island Film Festival, I feel compelled to take a moment and assess this short trip I have just taken. I am drawn back to early in the year 1981 when I directed BIG BEND COUNTRY, a CBS pilot for Norman Rosemont Productions. The pilot didn't sell; my VHS tape has long since deteriorated (the show only aired once), and I remember very little about the production, except that was when I met Gene Ruggiero, the film editor for the pilot. I spent hours in the editing room with Gene and heard his most fascinating history.
Gene, an Academy Award winner for his film editing of AROUND THE WORLD IN EIGHTY DAYS, was 70 years old, and like so many older veterans of the film industry found employment in his senior years working in television. (The art director on BIG BEND COUNTRY was Preston Ames, winner of 2 Academy Awards for AN AMERICAN IN PARIS and GIGI.) Gene was born in Long Island, New York, and as a young man he was passionate about the game of golf. In his early twenties he worked as a caddy at one of Long Island's prestigious country clubs. One of the club members for whom he regularly caddied was Nicholas Schenck. Schenck was an impressive man. At the death of Marcus Loew in 1927 he had taken over management of Loew's, Inc., an entertainment empire that consisted of the Loew's thriving theater circuit and Metro Goldwyn Mayer Studios in Culver City. During the 1930's by some estimates Schenck was the eighth richest individual in the United States.
Many times when Schenck was lacking somebody to complete his foursome Gene was invited to play with his group. This did not please the golf pro at the club, who considered it against the club's policies, and finally after one such infraction he summoned Gene to his office and fired him. Gene was distraught. Not only was he losing a job he truly loved, but it was the depression, and ANY JOB was hard to find. He went to see Mr. Schenck and presented his case, hoping this wealthy member of the club would be able to speak in his behalf and bring about his rehiring. Schenck's response surprised him. "I own a movie studio on the west coast," he said. "Why don't I send you out there with a letter of introduction, and you can work in my studio?"
Gene was delighted and eagerly accepted the offer. In no time he found himself on a train heading west. He told me he began considering where he might work. He decided he would like to be a director of photography. Gene, letter of introduction in hand, arrived at the MGM studio in Culver City to find Mr. Schenck had already notified the studio of his imminent arrival, and he was assigned to the film editing department, where he was put to work over a hot splicer.
A film editor in creating a first assemblage did no physical splicing. He would select shots from the raw footage and combine them into sequences. Rather than taking the time to splice these pieces of film together, he would use paper clips to connect them as he built his reels. These reels were then sent to the hot splice section where a host of apprentice film editors did the actual splicing. At each splice the editor had added a single frame beyond where the edit would be made. Gene's new job was to cut away part of both of those extra frames, place one side of the edit in the splicer, scrape with a razor blade the emulsion on the two pieces of film to be connected, apply the glue, lay the second side of the edit onto the piece of film already in the splicer, lower the heated clamp and then wait until the combination of pressure and heat completed a single edit. That was certainly not as exciting as playing golf.
Gene told me that after a time he rebelled. He found a golf course and reported there to play rounds rather than reporting to the studio. Oh, he did go to the studio – on Thursdays to the payroll window to pick up his check. He didn't explain how he got away with doing that or when he returned to the studio, but return he must have, because he eventually was promoted out of the hot splice department and assigned as an assistant to a film editor. He told me he was involved with some of the Johnny Weissmuller TARZAN films, and that he was occasionally given a sequence to edit. In 1939 Gene was promoted again and assigned to edit TARZAN FINDS A SON.
In 1939 when it was announced that Ernst Lubitsch was returning to MGM to direct a film, a major problem surfaced in the editing department. None of the established film editors would accept the assignment to edit this film. Mr. Lubitsch had directed THE MERRY WIDOW at MGM in 1934, and there obviously had been problems. As the low man on the totem pole of the editing department, Gene was assigned to the production. The film was NINOTCHKA with Greta Garbo, a smash hit both critically and at the box office. Not a bad accomplishment for Gene on his sophomore effort. MGM was so pleased, Ernst Lubitsch was contracted to return to the studio to direct THE SHOP AROUND THE CORNER with Margaret Sullavan and James Stewart, hot after his Oscar-nominated performance in 1939 in MR. SMITH GOES TO WASHINGTON. Gene, on learning this, immediately contacted Lubitsch to request the opportunity to work with him again. Mr. Lubitsch readily agreed. But in the film editing department at the studio things had changed. No longer was Mr. Lubitsch persona non grata. Now all of the star film editors in the department were clamoring to do his next film, and Gene found himself assigned to a lesser film with a conflicting schedule that would preclude his doing the Lubitsch film. He called Mr. Lubitsch again to relay this sad news. Mr. Lubitsch's response: "No problem, Gene. I will wait for you." Gene was then relieved of the assignment he had been given, assigned to the Lubitsch film, so that in 1940, the following year when THE SHOP AROUND THE CORNER repeated the success of NINOTCHKA, thirty-year old Gene Rugggiero's career behind a moviola was firmly entrenched.
I remember reading some time in the latter part of the 1950's something director Mervyn LeRoy wrote. He said, "If you want to direct movies, look at movies." I thought, "Okay." The Los Angeles area was dotted with neighborhood theatres with low admission prices, where feature films played after their initial runs in the major theatres, and I remember going to many, many movies. At my first viewing of a movie I was intent on responding emotionally to what was on the screen, and for those movies that impressed me I made it a point to return to the theatre (sometimes several times) so I could study what it was on the screen that had so involved me. That was all way before the age of tapes and DVD's, but fortunately it was also way before the exorbitant admission prices we see today.
Almost sixty years later I still follow the same formula in my movie watching. The cheap neighborhood theatres are gone. Today it's the world of DVD's (I own somewhere in the vicinity of 2,700, most of them from the glorious past), cable and the internet. I do my viewing seated in my comfortable recliner before my large screen television set. But before I return to where I started and my feelings about my latest venture, there's an addenda to my story about Gene Ruggiero. One day in his editing room, Gene, Norman Rosemont and I were talking after a session of editing on the pilot. Norman was extolling the KEM, a German-made flatbed editor for editing motion picture film.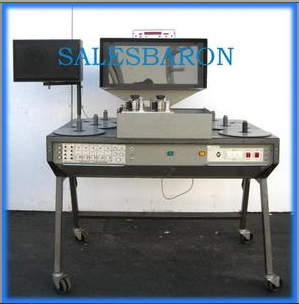 I never worked with a KEM, but as it was described to me, the editor sat at the table with a larger viewing screen than a moviola, and the film rolled past on the deck in front of him. When he wanted to make an edit, he stopped the film, made his mark on it with his grease pencil and then resumed viewing. As Norman continued his fervent praise, Gene looked at me and shook his head. He held up his right hand and rubbing his thumb against the next two fingers, he quietly said, "You can't feel the film." That to me sums up the role of the film editor. Film editing is often referred to as the "invisible art," but the job of an editor isn't simply to mechanically put pieces of a film together, cut off film slates, or edit dialogue scenes. A film editor must creatively work with the layers of images, story, dialogue, music, pacing, as well as the actors' performances to effectively "re-imagine" the film to craft a cohesive whole.
THE RIGHT REGRETS introduced me to the digital cinema world looming on the horizon. I am computer-savvy, but as I sat with my two young editors in front of my computer, where the "film" was being assembled, I had conflicting thoughts. I was impressed with the enormous range of functions accomplished by merely tapping the keyboard of the computer. But I was also concerned. There was a cold, mechanical, impersonal feeling to the complex, technical process, seemingly so involved there was no room for those layers of images, story, dialogue, music, pacing, as well as the actors' performances that are the responsibility of a film editor. Those were things aspiring editors learned in their long apprenticeship as assistants. I'm afraid they're not teaching that in the digital editing classes. Are they going to get lost in the coming transformation? I hope not!
An accompanying fact is that they cannot edit in the editing room what is not put into the camera on the set or on location. My focus in directing, whether on stage or on screen, has always been to tell the story, and I have always believed that people should be the main focus of that telling. That sometimes got me labeled as a "sensitive" director, and again I state, in Hollywood that wasn't a compliment. But that's what I believed then, and what I believe now. That's why I love the movies of the 30's and 40's, the kind of movies that Thalberg strived for — to make people feel, what Gene Ruggiero referred to when he said, "Feel the film."
I know I tried to direct film for people to feel, and with the aid of fine scripts, wonderful performers, beautiful photography and perceptive editing, I honestly feel that sometimes I succeeded.
The journey continues