FILMED July 1969
The third and last of my contracted commitments on THE COURTSHIP OF EDDIE'S FATHER in the summer of 1969 was again a change in the tone of the script, but also changes in the visual presentation.
Mrs. Livingston had been important in all of the stories I had directed so far, but always as a supporting character. In AN F FOR MRS. L., it was her flunking her English course that frightened Eddie into thinking she was about to commit hara kiri; in THE PROMISE it was the threat of her deportation that created a major problem in Eddie's relationship with his father. In each of those two segments her predicament was not the episode's story, it was the McGuffin to trigger the main plot; but this time Mrs. Livingston was front and center. She and her GENTLEMAN FRIEND were our main course.
With the production of RASHOMON, imported Japanese films arrived in the States in the fifties and introduced a fresh visual style in filmmaking. I felt this story had room for some of that kind of treatment, and I wanted to use as much as I could. Jimmy Komack had used in his openings and endings for each episode what he referred to as a Peanuts-style. Given the following script, I aimed to combine the two styles. How far did I have to travel to film to merge the styles? Only across the road to MGM's lot 2.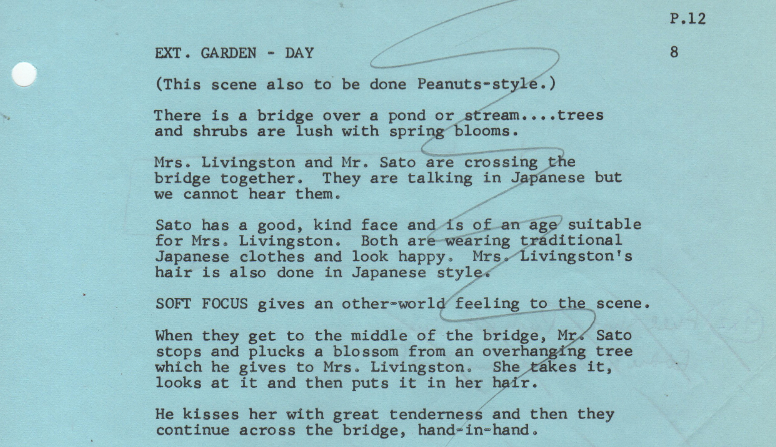 Miyoshi Umeki was a very unusual performer. In person she was a stereotypical docile Japanese lady, but her shy and innocent appearance hid a fierce and formidable talent. Against her parents' wishes she began her career in Japan as a nightclub singer using the name Nancy Umeki, specializing in singing American-styled songs. She became an extremely popular radio artist, which triggered a move to the United States in 1955. She was a one-season regular on the ARTHUR GODFREY AND HIS FRIENDS musical variety show. Joshua Logan next cast her in the Marlon Brando starrer SAYONARA, a role that won her the Academy Award for best supporting actress. She was the first Asian actor to win an Oscar. This was followed by her Broadway debut in the musical, FLOWER DRUM SONG for which she won a Tony nomination. Her casting as Mrs. Livingston in COURTSHIP was inspired. Mrs. Livingston in the Vincente Minelli directed feature THE COURTSHIP OF EDDIE'S FATHER was a straight-talking Caucasian woman. Miyoshi's Mrs. Livingston was a polar opposite of the big screen housekeeper.
I must interrupt the scene to say that Eddie's line about the pack on her back was not in the script. Talk about out-of-the-mouths of babes, or at least of seven-year olds; when Brandon and Bill came on the set, and Brandon saw our extra garbed as a waitress Japanese style, he asked Bill that question? I heard it and knew it had to be in the film.
George Takei is primarily known for playing Hikaru Sulu in the television series STAR TREK and the ensuing six features. He was the first of the only two STAR TREK regulars (the other was Nichelle Nichols) with whom I worked following my departure from that series. George has had a very long (he's still working) and varied career, acting in television, feature films, live theater and radio. What I didn't realize until I checked his IMDB record for this post was that at the age of twenty-two he appeared in the PLAYHOUSE 90 production of MADE IN JAPAN. I was the production supervisor on that production.
When I cast close friends like Claudia Bryar (interviewee) in a production, I liked it better when the role I was offering was a large and important one. But I was also aware that if the role was not as significant, I would be assured of a fine performance and a day's work meant a paycheck for them. And none of my friends ever turned me down when I asked them to come in for only a day's work in a small role.
The length of the script was just under twenty-six pages. Eddie's scenes added up to eighteen and a half pages. Since it was summer, and Brandon didn't have to go to school three hours a day, I think the show could have been completed in 3 days. But this wasn't Universal; this wasn't Paramount. The show was not only given a four day schedule, we filmed a two page scene between Eddie and Mrs. Livingston at the end of Monday, the day before principal photography began, and another two-page scene between Eddie and his father was scheduled for later filming Peanuts-style, but was never shot because the show was already overlong. I credit Herb Solow for this sensible approach to scheduling. He had been the head of production at Desilu Studios at the time of creation for STAR TREK and MISSION: IMPOSSIBLE and had been deposed from that position when Paramount bought the studio, He was an executive who understood production, and his goal was to provide the time needed to assure the highest quality.
Now what actress who had an Academy Award and was now appearing in a successful television series would seriously consider giving it all up for a marriage destined to take her back to Japan? Heading back to lot 2.


Writer Peggy Chantler Dick had been added to the staff when production resumed in the summer of 1969. I know she had added immeasurably to the first two scripts I directed during my three-show commitment that ended with GENTLEMAN FRIEND, but there had been no screen credit for her on those two productions. I don't remember what the ratio of rewriting was required for the rewriter to receive screen credit, but whatever it was, she obviously surpassed it, because this time she was credited as the co-writer.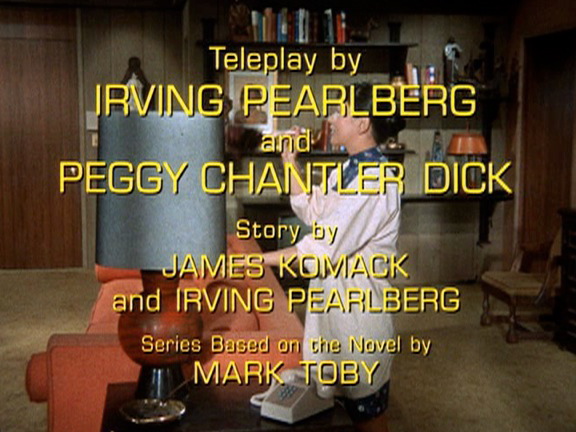 Peggy's contribution to the scripts cannot be overemphasized, but I think the major benefit of her involvement was the depth she brought to the character of Mrs. Livingston, a dimension that humanized her beyond being just the housekeeper. And Miyoshi grabbed the ball Peggy threw her and took it way past the goal line.
The Journey Continues