Filmed August 1970
On Thursday, August 13, the day after I wrapped BACK TO NATURE, I was back on Stage 11 at the 20th Century Fox studio filming the Professor putting around on E.S. Putt.
As with the earlier NANNY's I directed, we had a four-day shooting schedule: the first two days at the studio, the third day on location at a golf club and the final day back at the studio. But to continue with our first day's filming, let's establish the incident that would drive (pun intended) our current story.
Writing posts for this website has unexpected bonuses. It's amazing the things I learn from Comments left by viewers. The following was left on my last post for THE INDIA QUEEN:
Ralph, did you know that you were the only director on Nanny to shoot from inside the closet? Not once but twice.
I was impressed forty-five years ago with the professionalism of the three youngsters, David Doremus, Trent Lehman and Kim Richards. They always knew their lines, always stayed in character and always LISTENED. That was a major accomplishment for children their age. David was 12 years old; Trent was 9, and Kim was 5, but a high bar of professional behavior had been set for them many years before. Robert Osborne on a recent screening on Turner Classic Movies of the film, NOW AND FOREVER, related a great story. The film, directed by Henry Hathaway, was the second time he directed Shirley Temple. A year earlier she had played a bit part in a film he directed, a Randolph Scott western, TO THE LAST MAN. Osborne talked about the shooting of a scene in that film involving Shirley and a horse. In that scene the horse was supposed to beg Shirley for a lump of sugar, but the horse took things a bit too far, and at one point while cameras rolled he reared up on two legs and tried to kick Shirley. Well Shirley never missed a beat. When the horse stopped bucking, she scolded it to never do that again. Hathaway then called, "Cut," and asked Shirley if the horse had scared her. She said that it had. Hathaway then asked, "Well, why didn't you stop the scene?" Shirley responded, "Oh, I would never do that." At the time Shirley was 4 years old.
I wonder if NANNY had been produced by someone other than Charles FitzSimons, what would have been the chances of the story line not having a romantic relationship develop between Nanny and her Professor! My guess would be slim!
There was an explanation for the professionalism of the three pre-teenagers: Juliet Mills and Richard Long. Not that the two coached the youngsters, because if they did, I never saw it. Just the example they set by their own professional on-set behavior and the high excellence of their performances. The previous scene of the Professor's rage is a perfect example. To play anger comedically (I know there is no such adverb, but I prefer it to comically) takes great skill, which Richard exhibited matched by Juliet's. And it would have been even funnier without the laugh track!
Our third day of filming was on location at a golf course. I don't have the call sheets for this episode, so I have to rely on my memory, and as I recall, we filmed at the Hillcrest Country Club located south of Pico Boulevard across the street from the 20th Century Fox Studio. Hillcrest opened in 1920 and was the first Los Angeles country club for the city's Jewish community. It was established because in the early days of the movie industry in Hollywood, Jews were not permitted to join non-Jewish country clubs. Keenan Wynn told me a wonderful story relating to that period. Keenan's father, the great star Ed Wynn, was allowed to be a member of one of those restricted clubs. One time he took his young son Keenan with him, and there was an objection raised when Keenan prepared to go into the swimming pool. Ed Wynn spoke up and said Keenan would only go in the water up to his waist, which would be okay because he was only half Jewish.
That was hardly a strong enough ending for the episode, and it wasn't. The final tag scene that aired on ABC during the series' network run was eliminated when NANNY went into syndication. Here's the script for that scene: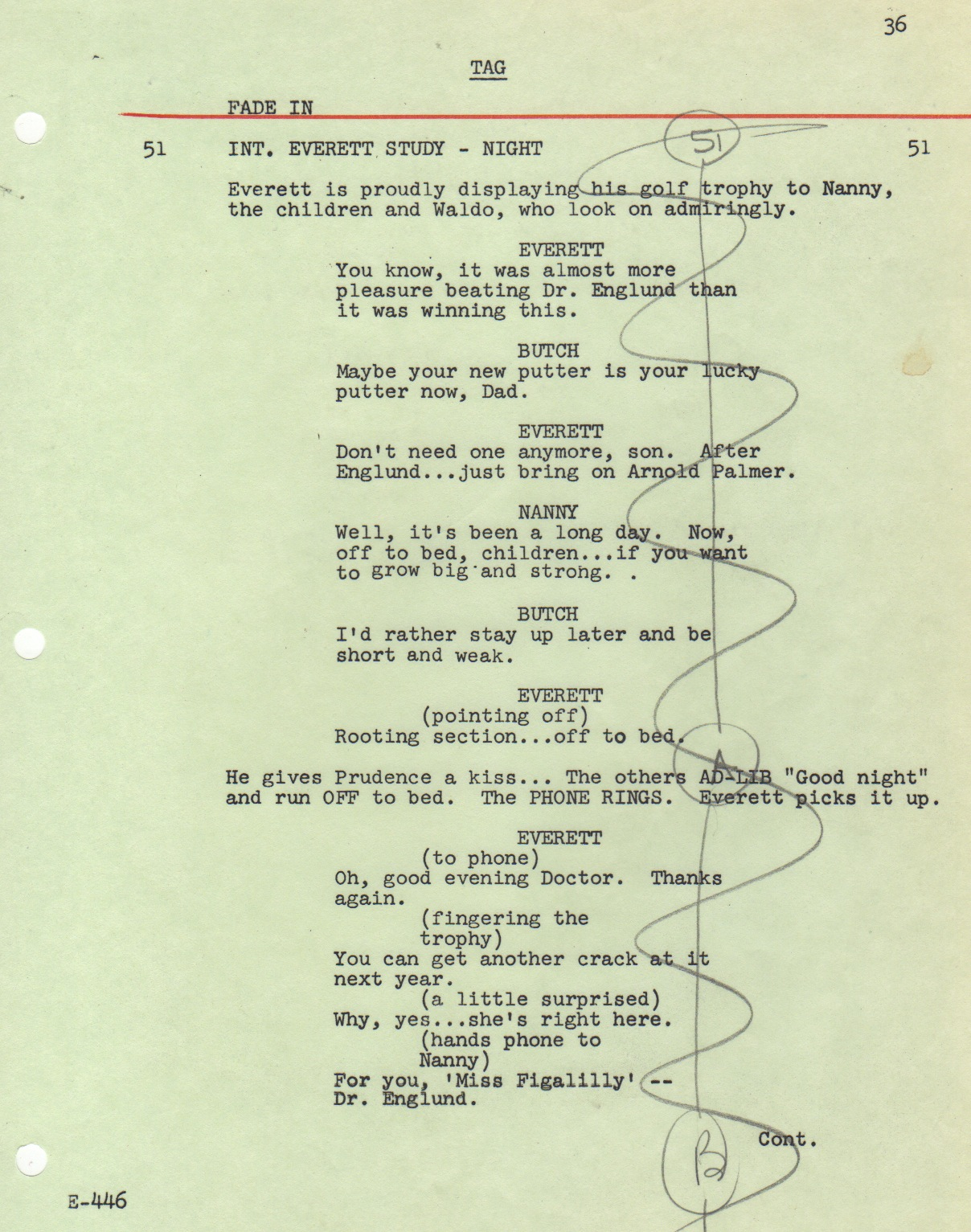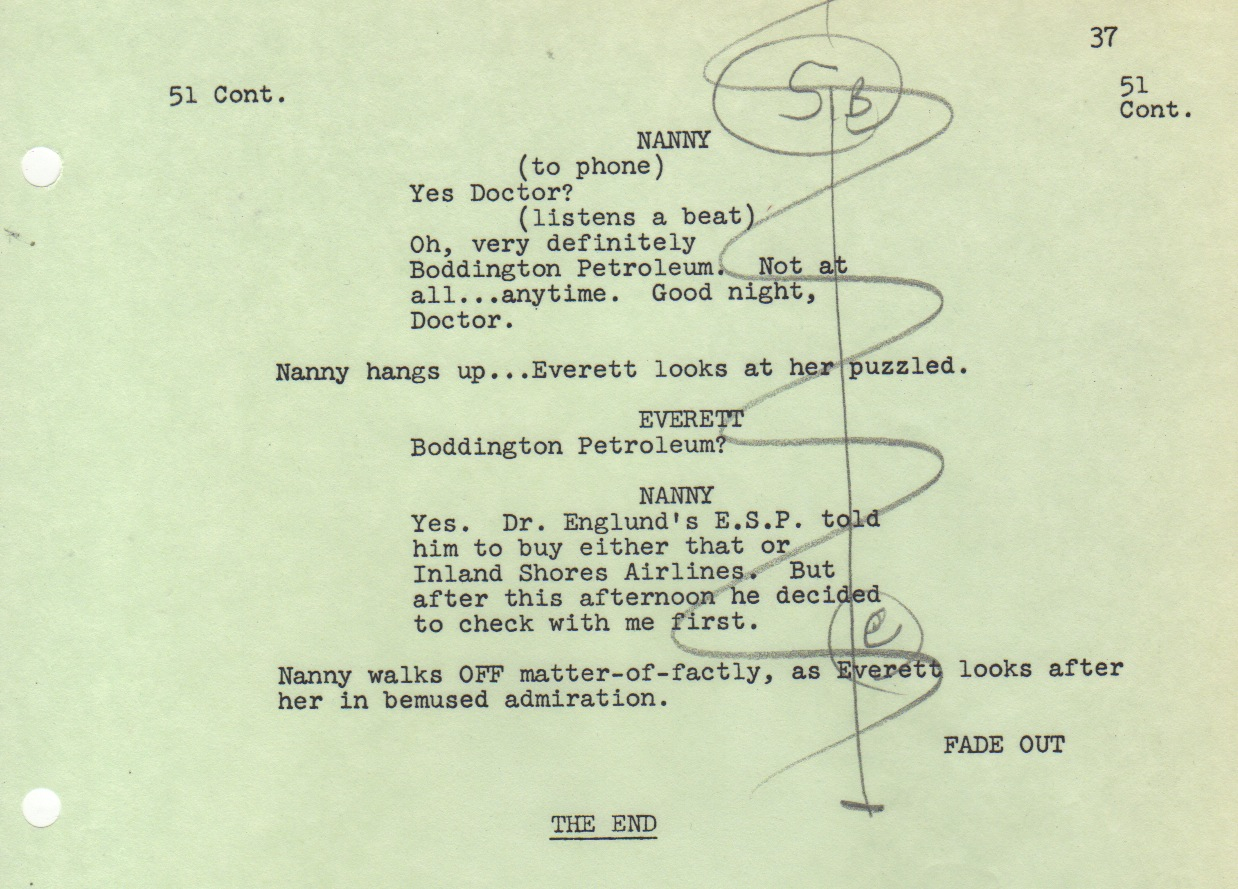 The journey continues